Every head coach assuming a new role shows up with plenty of ideas and most importantly, his/her philosophy. Charles Akonnor was no different when the opportunity of his life – coaching the Black Stars – came his way. Akonnor wanted to play free flowing football, a philosophy he carved as "Agr) ball."
To achieve this style of play, Akonnor's mission was to form a closely knit group who will be able to demonstrate his tactical expectations in games.
Akonnor relayed his intent in an exclusive interview with Joy Sports a month after announcing his maiden squad as Black Stars coach.
"We have 40 players on our data. I think 40 should be a good number. Within the 40 we can be changing but we will keep the number 40 and then we will be looking at it," the 47-year-old coach said.
Although he made room for slight changes depending on player performances, Akonnor has overly exceeded his quota of 40 players by a significant number so far.
In Akonnor's first 20 months in charge, he has made 6 different call-ups, inviting 75 players. Joy Sports' data journalist, Owuraku Ampofo looks at the head coach's squad selections so far.
Breaking down the 75
After taking over Kwasi Appiah's position as head coach in January, Akonnor had to wait for the March international break to have the luxury of announcing his first squad. The team comprised 23 players and the assumption was they formed a part of the '40-player pool'.
Due to Covid-19 intensifying in Ghana at that point and Africa as a whole, the Africa Cup of Nations qualifiers were postponed.
However, seven months later and a quarter of the squad initially called by Akonnor were absent from his next assignment which was friendly games against Mali and Qatar in Turkey.
It was the beginning of what will be a period of chopping and changing squads every international window. Changes are expected in international friendly windows, but these new additions were still very evident during windows for qualifiers.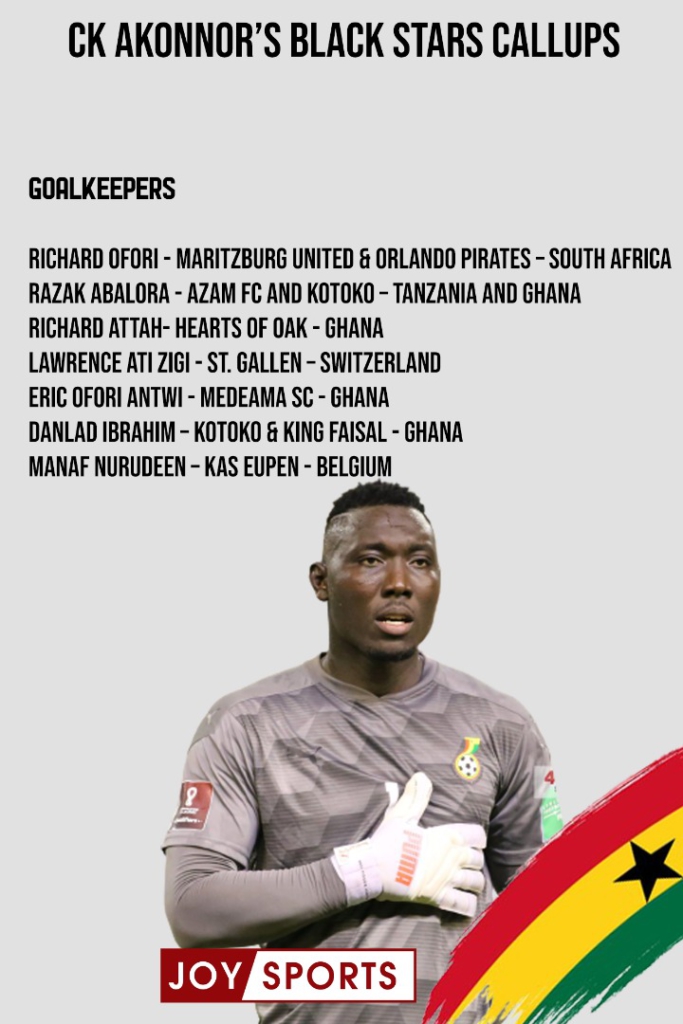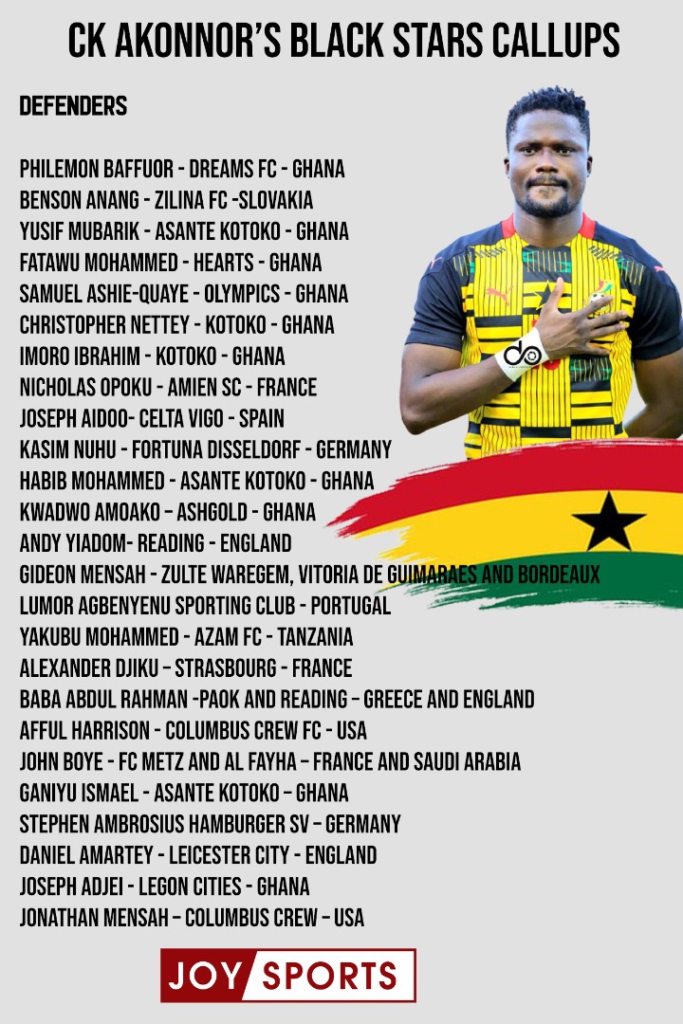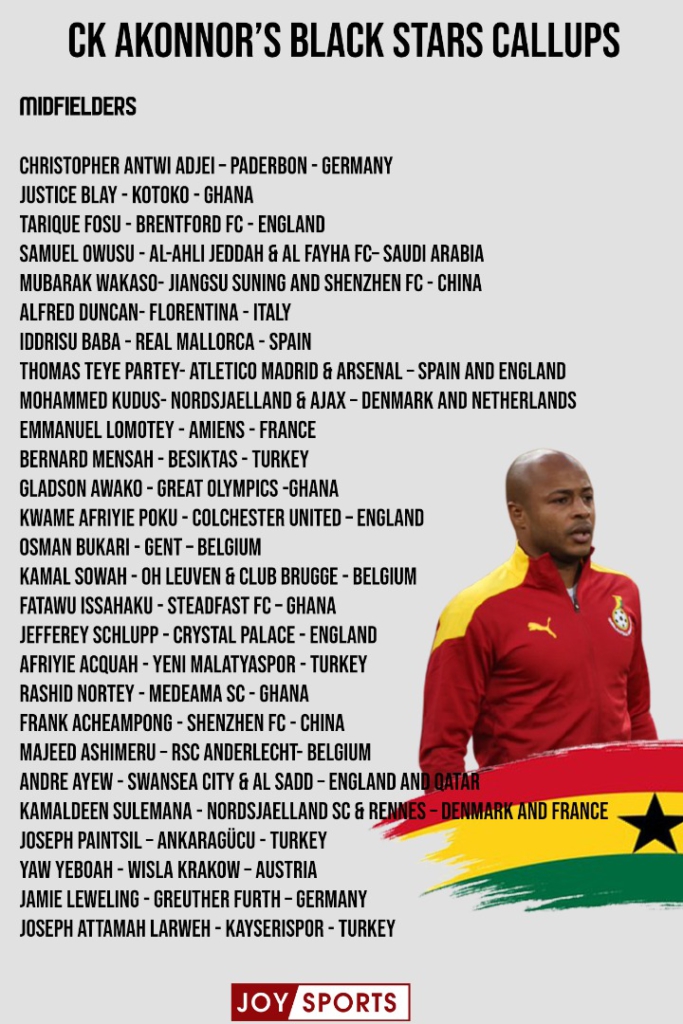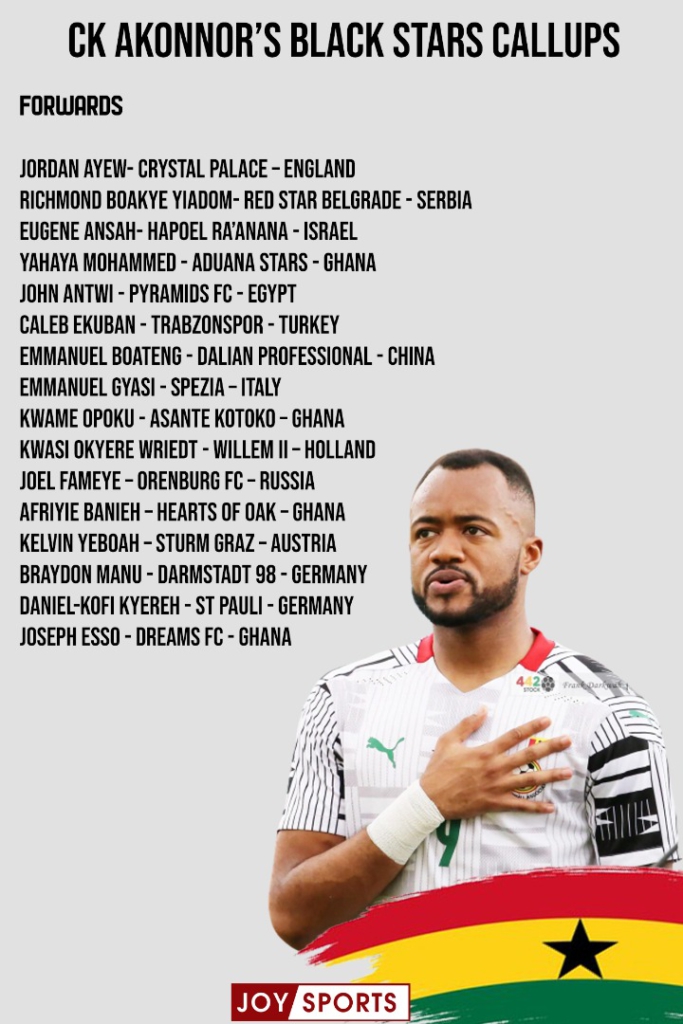 Out of the 75 players, 7 have been goalkeepers, 25 were defenders, 26 were midfielders and the remaining 16 were strikers.
The imminent question is why the need for so many players?
Akonnor admitted it might be difficult to ignore in-form players who aren't part of the pool. However, upon further analysis, it is revealed that most of these players just step foot into the Ghana team and never return.
The one-timers
Along the line, Akonnor's demeanor changed as he opted to give opportunity to new players. This was later accompanied by a swift show of a lack of patience as most first-time call-ups were barely given a second chance.
Out of the 75 call-ups, 31 of them were called once and never retained. The numbers might suggest perhaps Akonnor wasn't too impressed with their performances. This in effect is an indictment to the technical team who couldn't help these new players assimilate into the squad.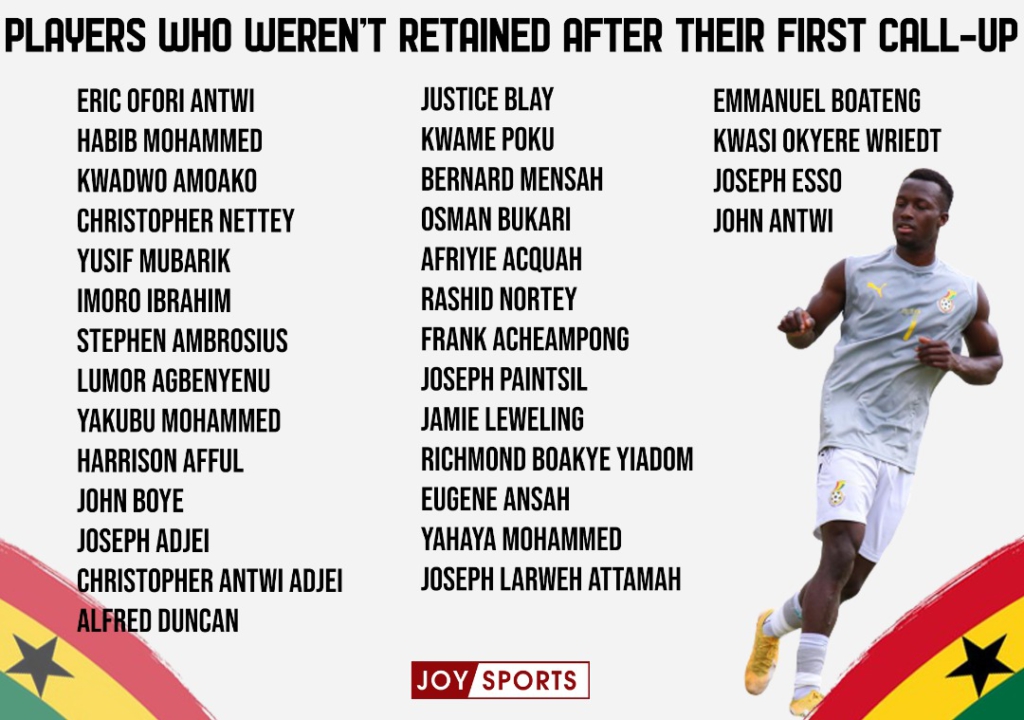 There are other factors such as a drop in form, age and attitude that could influence a coach's retention rate in a national team set up. However, when 41% of call-ups are never retained, then there is a huge gap that needs to be addressed.
Jamie Leweling and Stephen Ambrosius never honored their call-ups and opted for the German u-21 team and as a result were never recalled. Once again, establishing a communication gap between the technical team and the players.
Majority of the players who were never retained in the Black Stars barely got minutes to showcase their capabilities.
At a point, it felt like some of the players were called for just the purpose of it, and not to contribute on the pitch. This specifically applies to the locally based players who were called by Akonnor.
Akonnor's unprecedented love for local players, or maybe not…
The pool for Akonnor's call-ups has been widely spread across 25 countries. Ghana dominates the list with 22 players plying their trade locally.
The former Asante Kotoko coach never hid his admiration for local talents and promised to reward players who impress in the Ghanaian leagues.
Akonnor backed his words and consistently invited locally-based players in each of his call-ups. He placed his trust most recently in Hearts of Oak captain Fatawu Mohammed who played the entire World Cup qualifier against South Africa in Johannesburg.
But Fatawu can be counted as part of the lucky ones, because most of the local players who have been invited didn't enjoy significant minutes on the pitch.
Razak Abalora has benefited the most in terms of minutes, with Ismail Ganiyu coming second after starting the games against South Africa and Sao Tome and Principe. Interestingly, both players weren't included in the most recent squad.
10 of the 22 locally-based players have failed to register any minutes for the Black Stars. Imoro Ibrahim, Gladson Awako and Justice Blay were handed cameo appearances against Sao Tome and Principe in an Africa Cup of Nations qualifier. Despite impressing, the trio are yet to be called again, although Blay has been injured in the last few months.
Christopher Nettey had a vibrant debut against Sudan and lasted for almost 70 minutes. He was dropped in the return leg and was subbed on in added time. The Kotoko full back is yet to make a return to the senior national team after.
Fatawu Issahaku hasn't made his debut, but he has been consistent in Akonnor's squads after he was adjudged as player of the tournament for the U20 Africa Cup of Nations.
Maybe, Akonnor trusts the local players to call them to the squad and not to necessarily depend on them on the pitch.
Philemon Baffuor encapsulates this thought as he's stil yet to play a game despite receiving three call-ups.
The new Black Stars core
Akonnor's intentions about the players he trusts has been evident from the onset.
Richard Ofori has received 6 call-ups under Akonnor, the highest by any player. Even when the Orlando Pirates player has been reported injured, he has still been included in the national team.
Against South Africa, Ofori was clearly injured but stayed on till the dying embers of the game when he was replaced by Ati-Zigi.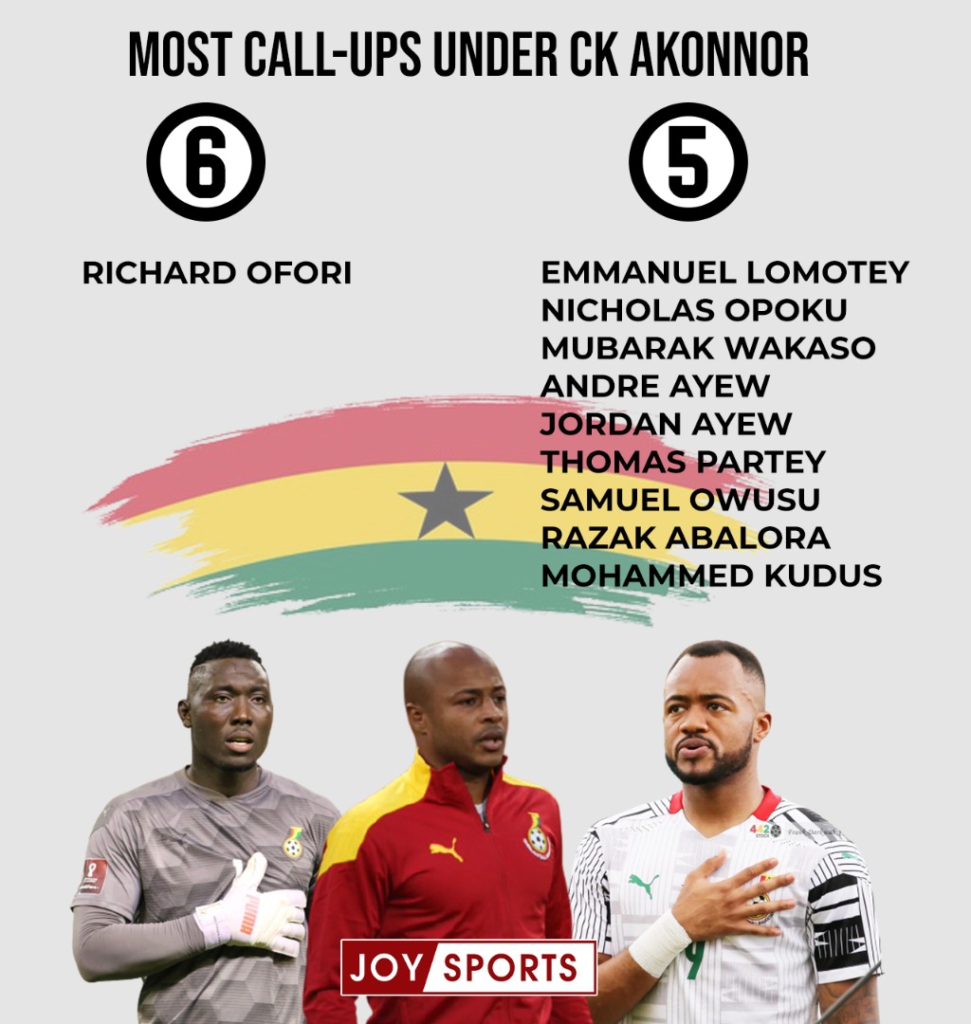 Other players relied on by Akonnor includes captain Andre Ayew, his brother Jordan, central midfielders Emmanuel Lomotey, Thomas Partey and Mubarak Wakaso, then Nicholas Opoku, Samuel Owusu, Razak Abalora and Mohammed Kudus.
These 10 players have formed the core of Akonnor's team and also enjoyed plenty minutes under his regime.
Unfortunately, Kudus and Partey haven't been able to honor recent call-ups but their importance to the Black Stars has never been questioned.
20 months ago, Akonnor said 40 players will be enough. That hasn't been the case and by a margin. Earlier this week, Braydon Manu expressed his shock at being called to the senior team. If the player believes he hasn't done enough, why does the technical team believe he has what it takes to break into the supposed '40-player' pool?
The revelations from the call-ups by Akonnor so far leaves question marks on the processes deployed when selecting players to represent Ghana.
DISCLAIMER: The Views, Comments, Opinions, Contributions and Statements made by Readers and Contributors on this platform do not necessarily represent the views or policy of Multimedia Group Limited.