All the headlines were about how Olivier Giroud's first-ever Premier League hat-trick helped Arsenal beat Aston Villa in the final game of the season to secure a second-place finish at the expense of North London rivals Tottenham.
But for Ghanaians, it was the languid trudge out of the Emirates by a son of the soil that will draw attention.
The season, blessedly, came to an end for Jordan Ayew.
The player will look back at this season as a double entendre, because it has been a big blessing for his personal development while being a blight on his career. Who wants the footnote of his football life annotated with a relegation story?
Jordan may look at the move to Villa as a curse, considering other teams like West Ham, and Liverpool were allegedly in for him as well. But maybe he shouldn't.
A MISERABLE CAMPAIGN
It was a fitting finale to a disastrous season. There was no defiant farewell to the Premier League from Villa as yet another one-sided loss and yet another loss concluded a miserable campaign.
It was not how it was supposed to be, at least not when I wrote this analysis of what he offers Aston Villa last July.
Yes, Jordan's team exit the league without setting a new lowest points total in history, but in all other respects, this has been the worst relegation from the Premier League and particularly in the context of a well-established club — ever-presents since its conception — dropping out.
The following stats are even more damning: the 27th defeat in 38 fixtures, and this storied club have won just three games all season. In the last 13 matches Villa have lost 12 times and they got a whimpering 14 points all season.
The team above them in 19th, Norwich, had 17 more points. It is a damning indictment of the three coaches who have overseen this – Tim Sherwood, especially; Remi Garde and Eric Black.
SILVER LINING
Villa came close when Arsenal went ahead early, and it was – of course – Jordan Ayew who looked threatening. His ball across the Arsenal goal was cleared by Gabriel after the forward had burst past Hector Bellerin and into the box.
The move mirrored his mentality all season, and he has been Aston Villa's best player by a country mile.
His pace, direct running, and clear ambition stood from a set of players who lumbered through games as if nothing was at stake. But this season showed something new in Jordan – hunger. This hunger saw him run to help in defence. He dug into tackles.
The wretched season also brought out more seriousness from him. Where he used to be complacent after a good game, the 24 year old just run and run.
Joy Sports gave him a 7/10 even as they were whipped by Arsenal, while anyone else even close had a 5 – Carlos Sanchez and Kevin Toner.
SEASON LOW
No one quite gets why Jordan did this in February. Against West Ham, he suddenly flipped and elbowed Aaron Cresswell after 17 minutes. For a team that was already on the precipice, they needed his calmness and his anger helped West Ham to a 2-0 win at Upton Park.
BRIGHT FUTURE
Villa are happy for the Ghanaian leave, respecting his wishes to remain in top-flight football, and will be looking to recoup some of the £8.5million they paid for him on a five-year-deal from Lorient last summer.
Experienced Premiership manager Harry Redknapp's glowing tribute to Jordan's work came in April, and will certainly help his cause. "Jordan Ayew looks a decent player, and I think he will get a move away from Villa this summer," the former Portsmouth manager told The Telegraph.
"But can you say the same about any of the others? I can't think of another player in that squad who will get a move back to the Premier League."
"Which means they could go into the Championship with a squad of players on serious money who are happy to wait out the remaining two, three or four years of their contracts," he added.
A win over Norwich in early February gave some a glimmer of hope, but then came loss after loss after loss, eventually culminating in a first-ever Premier League relegation on April 16 and a first in the top flight since 1987.
Despite all these, the club's fans voted him their best player for 2015 in a poll by the official Villa website in January.
And his performances caught the eye of former Ghana international Nii Odartey Lamptey. "For me personally I am impressed with what Jordan did. Maybe people were expecting him to do better than what he did but playing in England is not that easy," Odartey told Viasat 1's SportsXtra recently.
"Different culture, playing three times in a week, training, and all that. Jordan is a material that I am sure the next five years a lot of clubs will fight over, I will not be surprised if one of the big clubs in England grabs him," Lamptey enisaged.
JUST LIKE ANDRE
Before his elder brother Andre became the toast of France, and then Europe, and then the world, he also needed to go down in life. Having been born a legend such as Abedi Pele, it was always almost too easy to get great career moves.
But to this credit, the African football luminary has allowed his sons to experience life the hard way.
Andre had to get valuable experience from Lorient and Arles Avignon in the lower divisions between 2008 and 2010 to toughen up before returning to Marseille to claim his place as a club staple.
The same pattern is seen with Jordan, whose relegation blues with Villa has certainly woken him up from his oft-annoying attitude of laziness and general lethargy.
As Villa's Greg Evans said of the Ghanaian, "He is the player with the highest mark and one of the only performers who can really say that he doesn't deserve to be in a relegated team. Ayew's biggest mistake of the season was getting sent off at West Ham."
GREAT FOR GHANA
Surprisingly, Jordan's spirit has never been crushed by the failings of his club. Conversely, his form for the Black Stars has never been better. He has become a regular starter in a team that has been robbed off the constancy of Asamoah Gyan in the last year due to injuries.
And Jordan has repaid the faith with timely goals. Avram Grant clearly sees progress. "He has big potential," Grant told SkySports. "He's a guy who controls the ball very well. He's strong, has a lot of qualities and is doing very well. It's not easy to perform well in a team that's struggling, so the thing which is most important is all his progress – he keeps getting better and better. He's a good striker."
Jordan has scored key goals more and more, too. And that's a huge credit for his growth as the nation feverishly looks for a long-term replacement for the legendary Gyan.
As bad as being relegated may not be good for his CV, this season can be the catapult for Jordan to emerge reborn, rejuvenated and irreplaceable. The future is his to mould.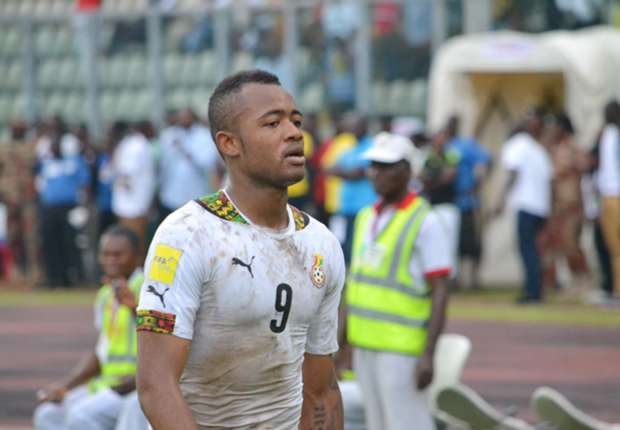 JORDAN EPL REPORT CARD
League position: 20th
Discipline: 6 yellows, 1 red
FA Cup: Fourth round
Capital One Cup: Fourth round
Club goals (league): 7 (team highest)
—
Follow Gary on Twitter: @garyalsmith. Get more updates on Facebook/Twitter with the #JoySports hashtag
DISCLAIMER: The Views, Comments, Opinions, Contributions and Statements made by Readers and Contributors on this platform do not necessarily represent the views or policy of Multimedia Group Limited.