Bono Regional Minister, Justina Owusu Banahene, has urged gender-based groups, like the Reproductive Needs and Fitness (RENEF) Foundation, to collaborate with stakeholders to be impactful in society.

She said working together with agencies within the health, security, education, social welfare, media, and religious sectors would ensure a comprehensive approach to their operations.

The minister made the remarks at the launch of a RENEF Foundation initiative dubbed; "#Beyond16DaysOfActivism against Gender-Based Violence", in Sunyani.
"RENEF will succeed and make an impact in our society if the foundation collaborates effectively with State and Allied Agencies. Institutions such as the Ghana Health Service, the Domestic Violence and Support Unit (DOVSU) of the Ghana Police Service, Social Welfare, and the Gender departments are key agencies the foundation should constantly engage, and work together for an impactful outcome," she said.
Madam Owusu Banahene also stressed the need to work closely with other key stakeholders to help the foundation to be more proactive and achieve its objectives.

RENEF Foundation, formed in 2016 by a group of health workers in Sunyani in the Bono Region, has been championing the course of good health through public education, with a keen interest in reproductive health, sexual and gender-based issues, with support from Cooperate Ghana, international organizations, government bodies, and allied agencies.

While commending the founders of the foundation, Madam Owusu Banahene advised them to stick to the tenets of their vision.

"The focus should be on the welfare of your target audience and how you can ensure proper adolescent reproductive health interventions, such as counseling, mentoring, and coaching, alongside the public campaigns".
The Ghanaian public, she explained, needs a lot of sensitization concerning the reproductive needs of adolescents. She said such issues could bring dire consequences for future leaders if unchecked.

Mrs. Mary Boakye, the president of RENEF Foundation, on her part, said their quest to preach undiluted health facts to people to deliver them from being exploited by quacks brought the foundation.

As health workers, she said equipping people with practical knowledge to enable them to take charge of their health is very key. These she said they do through education on self-help and natural remedies, lifestyle adjustment, and dietary therapy.

Though they support victims of sexual and gender-based violence in cash, medical services, legal aids, and counseling, among others, Mrs. Boakye expressed worry over the interference of some key members of the society against Justice for victims.

"Some always say let's keep it secret, and that is killing us. Let us come out and report violence so that offenders would be punished to serve as a deterrent, while victims get the required support from the right sources", she appealed.
A co-founder and executive member of the foundation, Mrs. Abigail Antwi-Baafi, recounted a recent case where a 16-year-old girl was impregnated by her father and had to be hosted by an orphanage till she was put to birth because some of her relatives were trying to cover it up.

She said though they have reported this and other cases to the appropriate authorities, the foundation went to the teenager's aid, donated items to support the mother and baby, now six-month-old, and also supported her to go back to school.

Mrs. Antwi-Baafi also said some victims they have engaged, reports that some police and medical officers do charge them when they go to report gender-based violence, a situation she said scares the victims and does not motivate them to seek justice due to financial constraints.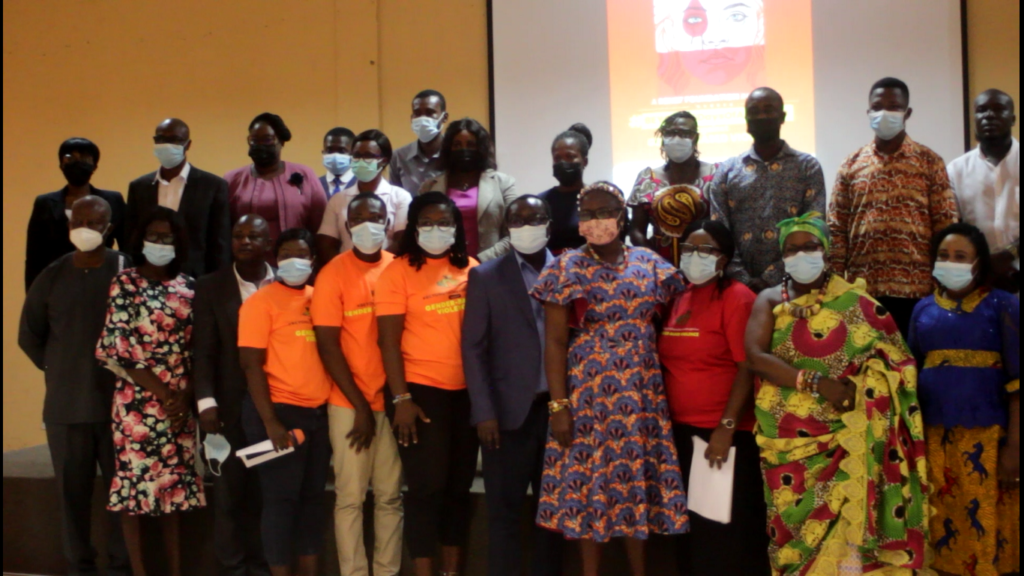 Because of cases like this, Mrs. Antwi-Baafi said RENEF Foundation seeks to execute their current initiative through an Anti-Gender-based violence health sensitization walk through the principal streets of Sunyani and a musical and drama concert on March 7, 2022.

She also noted that there would be health talk shows and seminars among various religious denominations, schools, and other groups with the help of their stakeholders subsequently.
DISCLAIMER: The Views, Comments, Opinions, Contributions and Statements made by Readers and Contributors on this platform do not necessarily represent the views or policy of Multimedia Group Limited.