Sellers of one of Ghana's cheapest complete meals, gari and cowpea popularly called 'gobɛ' or 'Red Red' in the Ashanti Region especially in Kumasi, are no more selling the dish at one cedi.
A bowl is now going for one cedi fifty pesewas at the cheapest.
This is because the price of cowpea has shot up by 100% since October and consumers have started feeling the impact.
In this report, Anita Serwaa Adzoga examines the reasons for the price increase, and what should be done urgently to sustain the sector.
His white plastic spoon slides through the red-palm-oil-fried ripe plantain, scooping a half spoon of gari and cowpea. His stomach gets ready to receive them as his mouth delightfully savours the tripartite mix. Godbless Nuamah is happy, for he knows the meal will commune with him for several hours.
"This is one of my favourite foods. With 4.00 cedis, I'll get satisfied and it can keep me for the whole day," Godbless wouldn't hide his admiration for one of Ghana's balanced but very affordable meals.
That is the daily go-to meal for the 22-year-old university student. A day without Red Red means he has to spend more.
"It's less expensive as compared to the other foods," he said.
But his joy won't be full today as he will be forced to buy extra in order to feel the full redemption of his 'saviour'.
"With 4.00 cedis I used to get satisfied but now I have to buy more than 4.00 cedis or I have to go for a second round to get fully satisfied," he bemoaned.
"The poor man's meat"
According to the Food and Agriculture Organization (FAO), for the almost a billion people worldwide who don't have enough food to eat, 400 million malnourished people are found in Sub-Saharan Africa, with over 240 million currently battling with what is known as "hidden hunger".
The causes of this "hidden hunger" are deficiencies in essential vitamins and minerals. This has devastating effects such as mental impairment, poor health, low productivity and even death.
Cowpea has been found to contain a high-quality plant protein, carbohydrate, minerals and vitamins, making it an important nutritional food for especially resource-poor communities.
Cowpea is said to contain 23.4% protein, 1.8% fat, and 60.3% carbohydrates, and it's a rich source of minerals like calcium and iron. Due to its nutritional value, cowpea is often called "the poor man's meat".
Cowpea has recently garnered more attention from consumers and scientists worldwide as a result of its health benefits, including anti-diabetic, anti-cancer among others.
In Ghana, cowpea is a common component in many Ghanaian dishes. One of Ghana's most popular dishes, Waakye, is heavily reliant on cowpea. It's not only meant to bedeck the rice but give it a special flavor.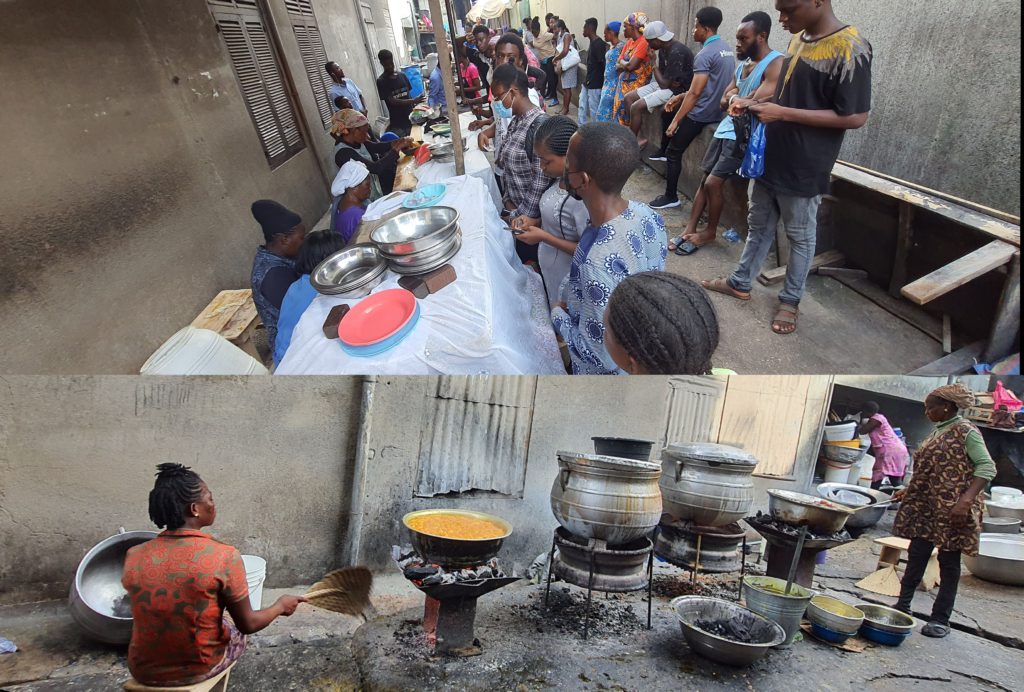 Cowpea in palm or vegetable oil and pepper sauce served with gari and fried plantains, popularly known as gobɛ orRed Red feeds a chunk of the population. With only five cedis, one can get, even an egg in addition.
Rising cowpea prices
I've come to a gobɛ seller, Afia Mansah, who carefully pounds 3 kilograms of cowpea in a mortar. This helps to easily separate chaff from the cowpea properly before cooking.
She then pours the cowpea on a perforated wooden tray, rubs her hands on the cowpea to get rid of the chaff.
The cowpea which is meant for her gobɛ food joint at Ayigya in Kumasi. It's filled with chaff.
The chaff-laden cowpea costs her 70 cedis.
"It's expensive, and full of chaff, too," she said.
Just like other gobɛ sellers, she has increased the price of her cowpea to stay in business. Even that isn't enough to glean some profit.
"I have stopped selling the cowpea at 1.00 cedis, it's now 1.50 pesewas or 2.00 cedis. Though I have increased the prices I hardly make profits like I used to," she lamented.
Cowpea in retail are often sold in locally measured cups, container bowls and sometimes bags for wholesale.
A cup of cowpea in the Kumasi Central Market was sold at 2.50 pesewas between January and September. It has suddenly shot up to 5.00 cedis per cup.
"The price of the cowpea keeps going up, that is why we have increased the prices and our customers complain about the new price," she noted.
Influx of foreign cowpea
In Ghana, cowpea is second to groundnut in terms of cultivation area and quantity produced and consumed annually.
According to a report in the Bulletin of Tropical Legumes, an average of 143,000 Metric tonnes is produced annually on about 156,000 hectares making Ghana the fifth highest producer of cowpea in Africa.
Cowpea cultivation in Ghana is concentrated in five regions of the country namely, Brong Ahafo, Ashanti regions, Northern, Upper West and Upper East.
Can that be said to be enough?
I requested a report from the Ministry of Food and Agriculture on cowpea production between 2010 and 2020 in Ghana.
In 2010, Ghana produced 219, 257 Metric tonnes of cowpea and this appreciated by 17,422 Metric tonnes in 2011.
But in 2012, Ghana produced 13,426 Metric tonnes shy of the 2011 figure.
In 2013, however, Ghana dipped to 200,404 Metric tonnes on 161,966 hectares. Ghana hovered few points around this figure until 2018 when Ghana did 237,037 Metric tonnes with 156,788 hectares. This was impressive as 153,912 hectares achieved 211,470 Metric tonnes in 2017.
Though in 2019, Ghana churned out 253,696 Metric tonnes on 169,480 hectares, the country was able to produce 257,075 Metric tonnes with same hectares in 2020.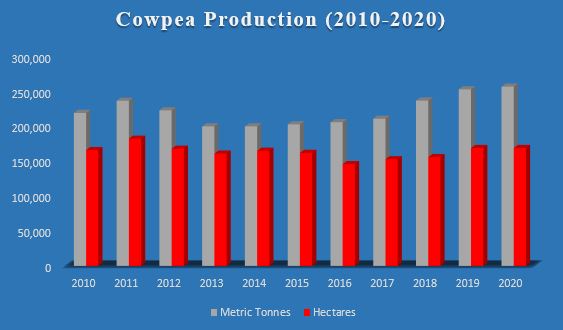 Even that feet couldn't stop the country from importing several hundreds of tonnes.
Dr. Amos Rutherford Azinu, Founder of Legacy Crop Improvement Centre, a certified seed production hub would emphasize "local productions of cowpea don't meet the demand."
A 2011 report in the journal of consumer studies saw the popularity of foreign cowpea varieties in markets of Niger, Burkina Faso, Togo, Lagos and Ghana.
Traders were found to prefer cowpeas without dirt, white seed colour, short cooking time, great taste, big size, and less weevil damage.
Dr. Sylvester Addy, a Plant breeder at the Crops Research Institute notes; "Many consumers in Ghana prefer the white black-eyed compared to the normally small-sized coloured ones that we've released in the past.
"And one of the main characteristics is that they're able to cook faster".
The 100 Kilogram bag of imported cowpea from neighbouring French-speaking countries was sold for between 300 cedis and 400 cedis at the beginning of the year. It's now sold at 600 cedis.
Alhaji Baba, is an importer of the staple food. He attributes the increase to the CFA.
Though January 2021 saw the cedi appreciated against the CFA by 10000.00 West African CFA equals 103.21 cedis, June to October 2021 has seen the CFA gone up against the cedi from between 105 to 108 cedis.
He says most of his colleagues are no more in the business, as a result.
"We import the cowpea from most of the French countries, unfortunately the CFA keeps increasing. Most of my colleagues have stopped importing the cowpea," he said.
The situation has also been compounded by Ghana's border closure since 2020.
Though the measure was meant for the covid-19 pandemic, Dr. Azinu believes trading activities among Ghana's neighbours have also been thwarted.
"When the borders are opened right now, there'll be a lot of cowpea in the system.
Local headache
Ejura Sekyedomase in the Ashanti region of Ghana is one of the largest producers of cowpea in the country. Kandeh Domeh has cultivated 9 acres of cowpea and 10 acres of maize.
Since she can't wait for her maize to take a while to harvest, she depends on cowpea. Most farmers like Kandeh have resorted to growing cowpea as an income booster since it takes a shorter time to mature.
The 49-year-old who has been in the cowpea business for more than a decade, sells a bag of cowpea for 1,400 cedis. This price increase took effect only two months ago after farm inputs and demand soared.
She also blames increases in fuel and labour cost.
"We normally buy the insecticides for 550 cedis and the labourers really charge huge amounts. Fertilizer prices and fuel for the tractor have increased. If we don't increase the prices, we'll run at a loss," she said.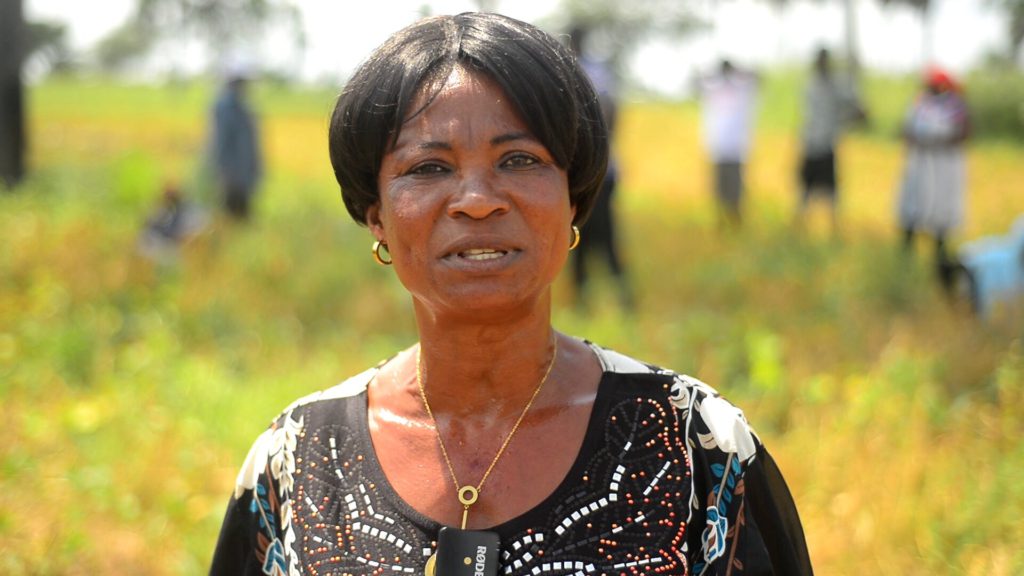 Dr. Addy observes a struggle for the seeds among farmers, traders and vendors has led to price increase.
"There's a scramble for the same grain by consumers. Traders and farmers who have realized they cultivated cowpeas in this minor season would want to go for cowpea grain and use it as seed," he said.
Interestingly, despite the emergence of new farming practices, most farmers at Ejura are still practicing broadcast seeding, where seeds are scattered over a large farm land. The farmers call it "all die be die".
The farmers then use tractors to plow the land and the seeds are allowed to germinate by themselves.
One of the farmers, Iddrisu Adam, believes it's less labour intensive.
"It's easy this way. We don't spend much time cultivating the seeds," he said.
However, a principal technologist at the Crops Research Institute, Paul Marno, has observed the practice leads to low yield and high seed cost.
"Most of the seeds are not getting soil-to-seed contact so they'll not germinate. By doing that you increase cost in terms of seed purchase.
"You'll plow a large acreage of land but the seeds will germinate on only a few portion of it," he explained.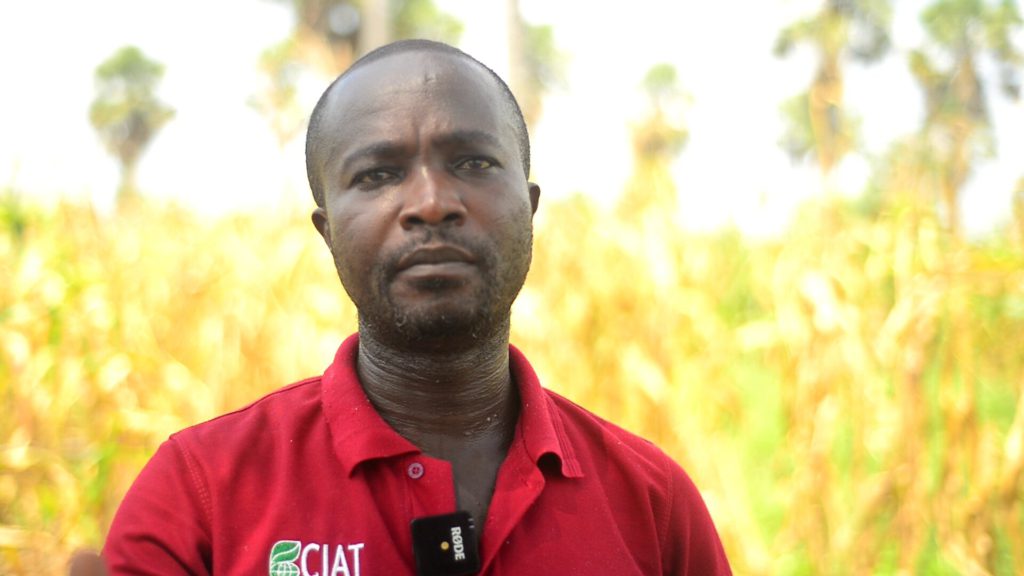 Grains as seeds
The research institutions produce breeder seeds, which are then sent to another company to produce foundation seeds which are then multiplied and released to other companies to produce certified seeds. The certified seeds are then made available to farmers.
Research has shown dependence on grains for seeds has been implicated in low yields.
Dr. Addy says: "After 3 cycles of planting, it's important to go for certified seeds because there's a reduction in the vigour and performance."
However, the farmers at Sekyedomase have largely been unfazed.
Eunice Mensah, also a cowpea farmer at Ejura complains of low yields and pest attack.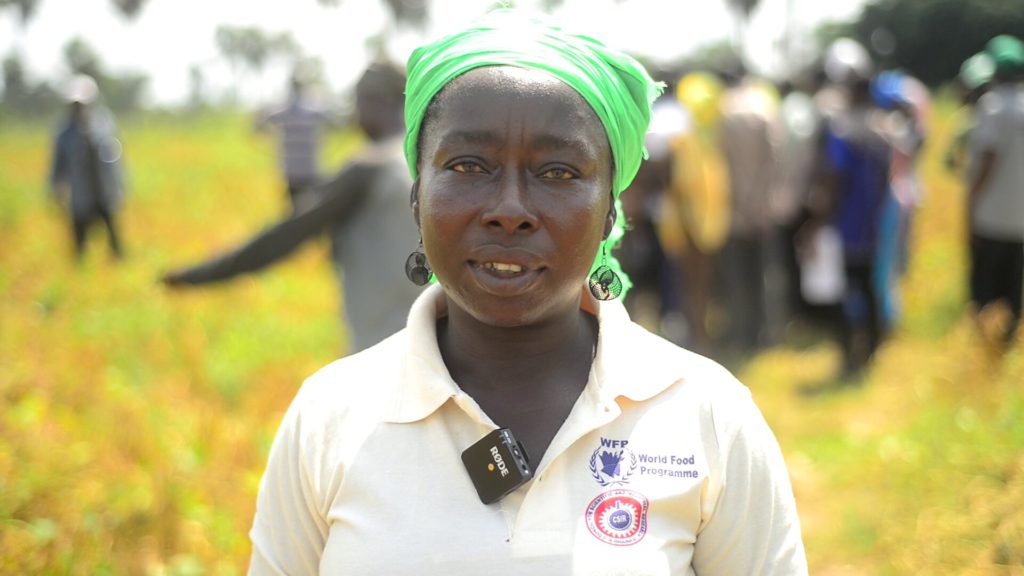 She acquires her seeds from the market.
"I go to the market to get the seeds. It's affected by pests so I spray with more pesticides," she said.
Dr. Azinu notes certified cowpea seed production is not lucrative as cowpea is a self-pollinated plant and therefore farmers find it very convenient to buy it from the market.
"How many farmers will buy the seed? It's a self-pollinated plant.
"The farmer will go to the market to buy the seed to come and plant," he said.
Birth of resilient breeds
Dr. Addy who is also the head of the Legumes and Oil Seed Improvement Division of the Crops Research Institute has been working on breeder seeds which promises 30-minute cooking time, bigger grains and higher yields.
The new varieties including; Zamzam, Nketewade, Hansadua and Agyenkwa were developed by the Crop Research Institute.
The new varieties mature in 65 days, are high-yielding, fast-cooking, nutritious, and exhibit tolerance to drought and common insect-pests diseases of cowpeas.
However, the seeds which were developed in 2016 were made available in 2021.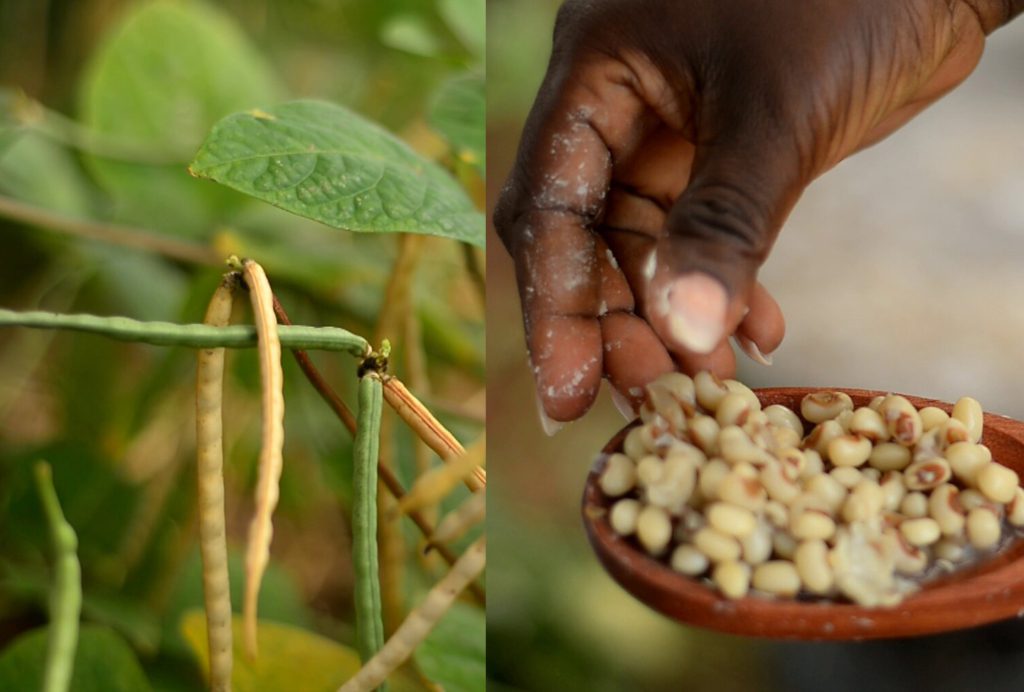 The project is being supported by the Alliance for the Green Revolution in Africa (AGRA) with funding from the USAID.
The programme seeks to bring key actors along the cowpea seed value chain to address bottlenecks so farmers can benefit from existing high quality seeds available in the country.
As part of the project, the farmers are being enlightened on best farming practices.
"We want farmers to take up the best agronomic practices so that they can increase their yield.
"We want them to abide by proper planting distance and proper planting seed range so that they get the maximum planting population," Paul Marno said.
Dr. Addy however bemoaned the lack of government support.
"Certified seeds have not been able to get to the market so they use their own seeds.
"Government is not funding breeding. You need money to conduct trials," he said.
Cowpea for Planting for Food and Jobs
In 2017, the government of Ghana introduced the Planting for Food and Jobs (PFJ) to address the waning growth in the country's agricultural sector.
The programme promoted food security through crops, such as: maize, rice, sorghum, soybean, and vegetable crops.
According to data from the Crops Research Institute, a Kilogram of Breeder cowpea seeds cost 50 cedis, Foundation seeds are 25 cedis, and certified seeds cost 12 cedis.
Dr. Addy believes roping in cowpea in the programme will be crucial in bringing down the price of the commodity.
"The government should come in and provide research funds to Crops Research Institute and other research institutes for us to produce results, and that will help drive the Agriculture sector and the economic sector," he said.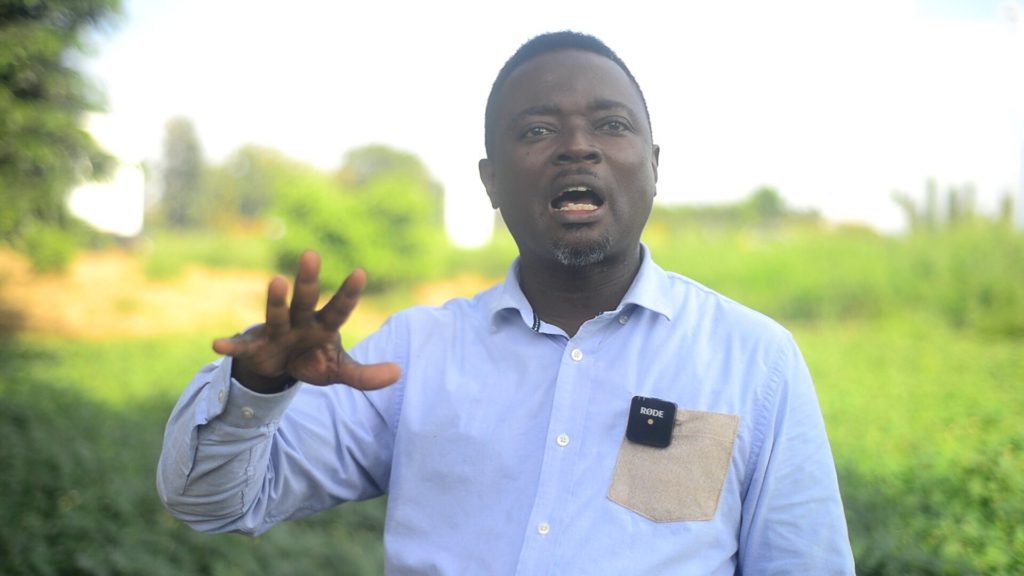 Ready market
Kandeh complains a major challenge is the reduced prices during the bumper harvest.
She says she's mostly compelled to sell the 100 kilogram of cowpea which would normally go for 600 cedis for half of the price.
"If we can get a fixed price for cowpea, it will help us, whether there's glut or not
"The buyers give you whatever they want. We're poor and so we have to take it like that," she lamented.
Dr. Azinu who has, for a long time, been producing soybean seeds has started producing cowpea seeds because of the growing interest.
He says a policy to create a market for the crop will be essential for extensive production. That will include making it mandatory for government institutions.
"When people want to grow cocoa or soybean, they don't think twice because they know there's a high demand for it. We should have a cowpea market. If there's a market, people will buy. Agriculture is market driven.
"Government is a bigger buyer. If government agencies decide to buy cowpea for their workers, do you know how that will increase local production next year?" he added.
Fortunately for Ghana, there are many arable lands suitable for the cultivation of cowpea to help reduce the threat of "hidden hunger".
There's therefore the need for appropriate policies to ensure people like Kandeh and Eunice benefit from their production. A budget-tight person like Godbless Nuamah wouldn't have to worry about the little money reserved for a daily bowl of Red Red.
DISCLAIMER: The Views, Comments, Opinions, Contributions and Statements made by Readers and Contributors on this platform do not necessarily represent the views or policy of Multimedia Group Limited.