Samuel Inkoom.
That's a name that'd ring a bell with most Ghanaian football fans – and for many reasons. Often referred to as a case of what could have been, time might have run out as he celebrates his 31st birthday today, June 1.
Once known as the new kid who was supposed to be the panacea to Ghana's right back problem, the name Inkoom has slowly dissolved slowly into thin air with the process hastened by the emergence of talents such as Andy Yiadom and Harisson Afful.
His current adventure
Inkoom's last Black Stars appearance was five years ago, perhaps the reason why most Ghanaians are finding it easy to forget about him.
However, the same Inkoom that burst onto the scene 11 years ago with enthusiasm and skill was the same Inkoom Joy Sports spoke to on his birthday via video call.
At 31, the skill set definitely would not be the same but the level of enthusiasm hasn't changed.
What you see now is a player full of life who enjoyed his job and looked forward to getting better each day.
"For me it will be lovely [resuming to training], seeing my teammates. Over here we have a traditional something. If you have your birthday, they will enjoy with you," he said.
Inkoom is the ultimate journeyman, 12 teams in 13 years is testament to how easily he is inclined to relocate as a person.
The former Asante Kotoko right back has played in three continents and 10 countries.
Currently, he is plying his trade in Europe with Georgian side Samtredia.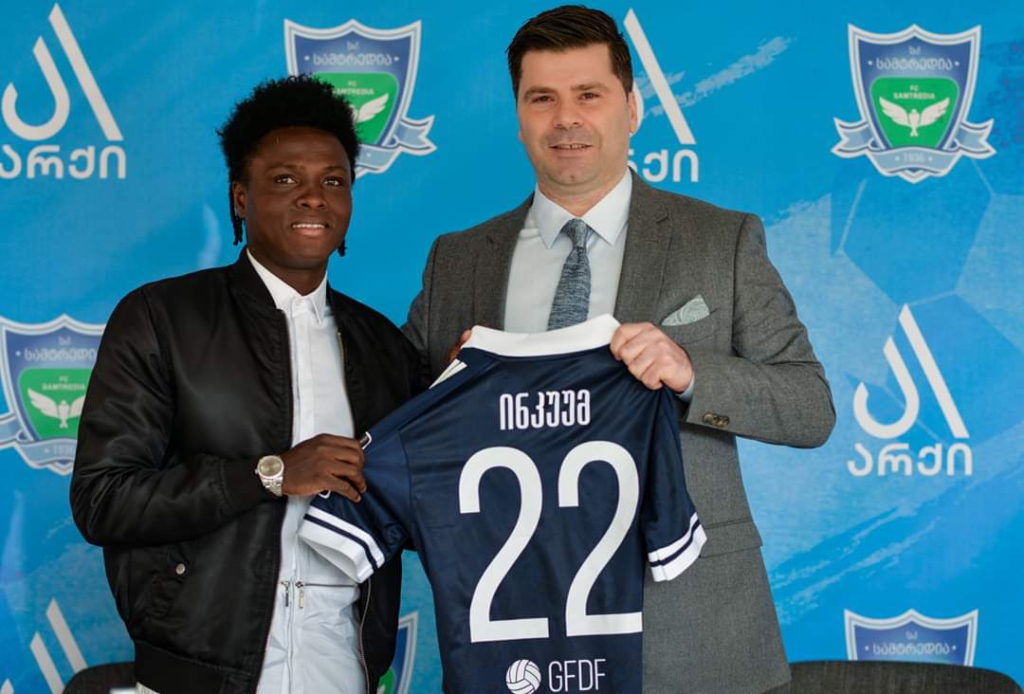 Due to COVID-19, the format of the Crystalbet Erovnuli Liga (Georgian top flight) has been changed from the usual four rounds (36 matches) to two rounds (18 matches) among the 10 teams in the competition.
In 2016, Samtredia won the championship title for the first time in the history of the club after winning the championship playoffs against Chikhura Sachkhere.
Inkoom's desire to win has never been in the dark throughout his career. He won the league with Kumasi Asante Kotoko in 2008, won the Swiss League and Cup in 2010, and also won the Africa Youth Championship and U20 World Cup with the Black Satellites in 2009.
Despite the restrictions on the Georgian league, Inkoom remains optimistic that his side can challenge for the title.
"I think the [adjustments] will make it hard but the league is going to be interesting. Everybody wants to be a champion and our goal is to become champion as well".
A transfer before the wilderness
Most people point to the move to Dnipro as the turning point of Inkoom's career especially because he was flourishing in Basel.
He made the right back spot his own playing 43 games for FC Basel and winning the league and cup in 2010.
The 31-year-old was admired by many and was at a point strongly linked to Liverpool. He enjoyed the thrill and pressure that came with playing under Champions League floodlights and even told me he ended up facing his toughest opponent in the competition.
He said: "Frank Ribery is the toughest winger I have ever faced. I played against him in the Champions League in Munich and it was very difficult."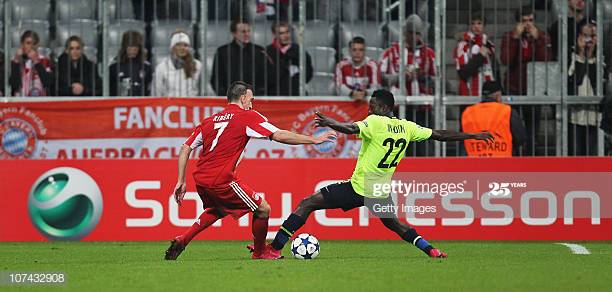 Difficult probably was an understatement as the French winger capped off a wonderful performance at the Allianz Arena scoring a brace.
Bayern Munich won 3-0 on the night, a night to forget for Inkoom.
However, one man who couldn't forget about Inkoom was Juande Ramos who was coach of Ukranian side FC Dnipro Dnipropetrovsk.
In 2011, Dnipro came knocking for the Ghanaian right back.
"I think going to Ukraine wasn't a bad move because when I was going there, everybody knows that Juande Ramos was the coach there. A coach with so much experience, he had coached one of the biggest teams in the world, Real Madrid. And when [Ramos] says that he wants you in your team, then you must know that he has seen something special in you," he said.
Various reports suggested that the transfer to the Ukrainian Premier League was a big-money move which would benefit Inkoom financially.
On that move, he denies claims that he went chasing after money. "Basel [wanted] the money because it was a huge money for a right back. I was having a new born baby as well. I will just say that in my opinion, I didn't want to go [to Dnipro]. The club spoke to me, we had a conference [between] me, the president of the team, the football director, the coach and I told them I wasn't ready to go because of my baby."
"At the end of the day, they loved the money and they wanted me to go to help the club as well. So I thought about it and decided that why not? If I can also bring something onto the table for the club to develop then why not? So I had to sacrifice," he added.
Sometimes, sacrificing for the greater good does not yield expected benefits and this was the case with Inkoom seeing limited game time playing just 27 games in three years with Dnipro.
During his spell with Dnipro, the former Basel player went on loan spells with Bastia and Platanias.
Meeting Eto'o – the saviour
A shot at a big team came once again for Inkoom, this time in the form of Turkish side Antalyaspor.
He will go on to make 15 appearances for them but his biggest highlight in Turkey was playing with Samuel Eto'o.
Inkoom recounts how crucial Eto'o was in getting him to Turkey, a move that came at a right time he had only played a combined 10 games for D.C United and Boavista respectively.
A few players get the opportunity to share a dressing room with a superstar such as Eto'o and Inkoom counts himself privileged to have played with an African great.
He said: "He's such an amazing guy. I was in Boavista, Portugal at that time and I received a call from [Eto'o] and he said 'hey listen, I want you in my team'. I said if you are there and Eto'o calls you that he needs you then you need to know that you have something that is amazing. He [Eto'o] spoke to the Antalyaspor and they talked about the personal terms, the transfer fee and everything. At the end of the day, it was a great feeling to play with him. He is a living legend and I was so happy to play with him."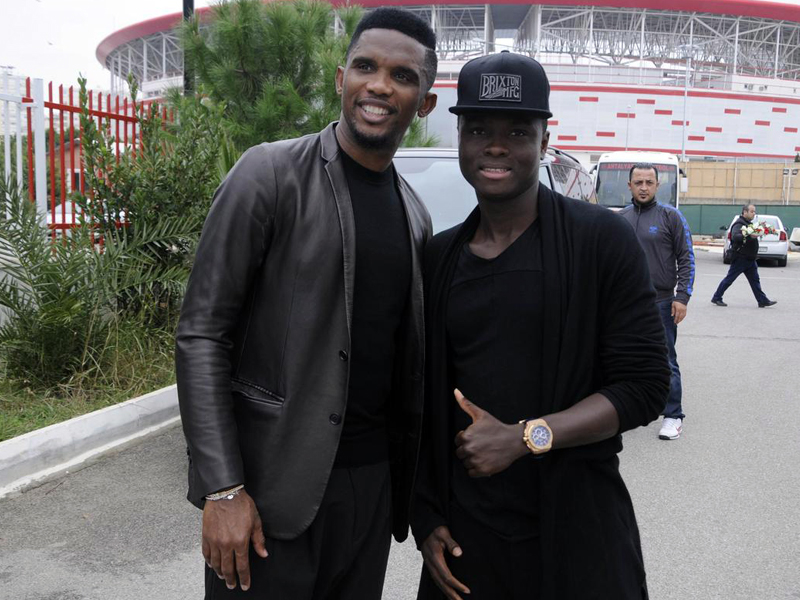 Calling Eto'o an African great seems to be an understatement according to the Ghana right back. Inkoom went on to shower praises on the Cameroon striker touting him as the greatest player African has ever seen.
"For me, he [Eto'o] is great. He put Africa on the map. George Weah is there as well. But I will go for Samuel Eto'o [as the greatest ever African player]. Eto'o was amazing."
A tool for survival
Most players would have given up if they were in the shoes of Inkoom considering the number of controversies he has encountered over his career.
A positive mindset is perhaps a tool that has proved to be very vital for the former U-20 World Cup winner.
"I'm a kind of guy that I always stay positive. I don't give up just like that. All my life I've been struggling. I don't wait for someone to tell me something will be good. I always say something good about myself."
Inkoom's positivity was even on display before our Zoom interview as he remained calm and hopeful despite a bit of technical issues.
On a larger scale, his positivity was manifested in the FIFA U20 World Cup final as Ghana faced Brazil.
Sammy Kuffuor spoke of how he never wore an armband yet he still led the team. Well, Inkoom probably did same as well.
Before the final against Brazil, he said to the players: "Whether you like it or not, we are going to bring this trophy no matter how."
Halfway into the penalty shootout and things were not going as planned for Ghana.
Bright Addae stepped up and had to score to keep Ghana in it. Unfortunately, he passed it into the Brazilian goalkeeper's arms.
Addae, as expected fell face flat, kneeling, knowing that he might have blown it.
From nowhere, comes a Samuel Inkoom who moves from the halfway line towards Addae and starts to shout at him.
We never really heard what he said, but Addae stood up and started walking to the halfway line in tears.
Brazil had one shot to win it. Souza blew it. The rest, history.
A heroic moment from Inkoom that many might have missed. Today, he tells me the exact words he shouted at Addae.
"Have you forgotten what I told you? No matter what we are going to be champions. Get up! Get up! Things will be fine."
A moment of positivity that contributed to Ghana writing its name in the history books.
Respect for CK Akonnor
In terms of players Inkoom admired growing up, CK Akonnor who is the coach of the Black Stars pops up.
"CK has played at the highest level in terms of football. He knows what is good for footballers. I knew him when I was young watching captain the Back Stars and also playing for Wolfsburg."
Akonnor is yet to make his debut as the senior coach of the Black Stars, but Inkoom believes the traits CK demonstrated during his playing days makes him the right candidate. As a result, he deserves the support of all Ghanaians in order to succeed.
"He has that kind of character to handle the Black Stars. Is not every player who has played football can manage a team. But I think he has the character to handle the national team. I believe he will do well with his assistant coach David Duncan. What's important is that we all support CK Akonnor."
At age 31, one may think the journey of Inkoom might be coming to an end but the player believes that he still has time to rise to the top again.
"Everything depends on me. How I think and I handle things. If I am taking good care of myself. If I am training hard. If I stay focused, I don't think I cannot get to the top again."
Certainly does not sound like 12 clubs might be enough. For now, he will be in Georgia trying to add to his trophy cabinet but the chapter of Inkoom might have a few more pages remaining.
DISCLAIMER: The Views, Comments, Opinions, Contributions and Statements made by Readers and Contributors on this platform do not necessarily represent the views or policy of Multimedia Group Limited.