Current and prospective customers of Toyota Ghana Company Ltd (TGCL) who wish to purchase used cars can finally smile with the introduction of Automark.
The creation of the new business unit is in direct response to having a secured platform which deals in such vehicles to support segment of the market with limited budget for new cars.
Vehicles under Automark are certified and covered by a year complimentary service.
Launching the company's new business unit in Tema, Managing Director of Toyota Ghana, Kohji Yanaka said the new unit will bring convenience.
"Automark is to ensure customers receive convenience and transparency when they buy or sell their used vehicles. The model operates in 11 African countries including South Africa, Mauritius, Kenya but just to name a few"
Explaining this, he indicated the pre-owned sales has two options.
"The first being the Buy Back option, where we give you cash for your used vehicle purchased from Toyota Ghana"
"The second option is the Trade-in offer where a customer returns his used old vehicle with a minimum top up after evaluation for a new one right from the showroom"
According to Kohji Yanaka, mileage and age limit of the vehicles do not affect one's chances in taking part in such deals.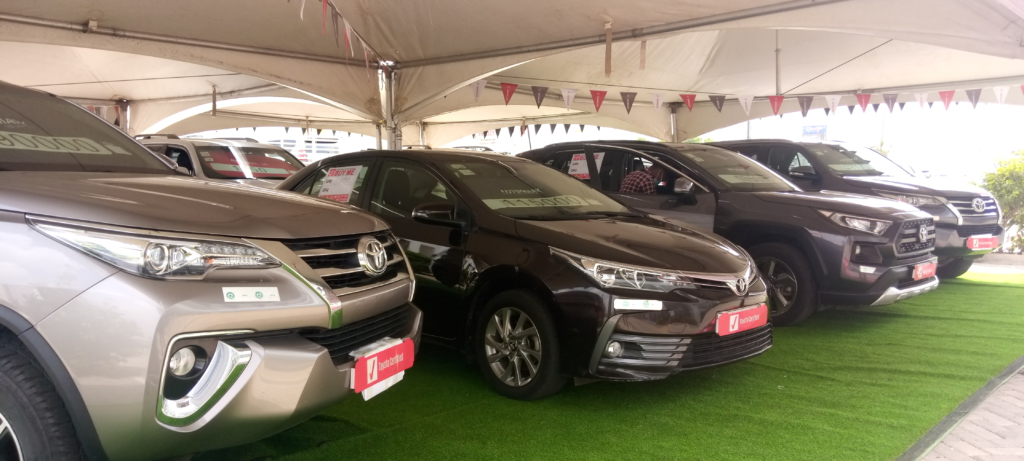 Under this new business model, the company's financial partners are expected to assist customers with auto loans.
He used the opportunity to drum home the importance of adhering strictly to Covid-19 protocols.
Head of Sales Operations, Andrew Lamptey said launching of Automark is timely as customers have been exposed to risk of doing business with non-certified dealers for years.
"This is a genuine platform to do these deals. There are times where people who buy from non-certified dealers tend to resort to state agencies like the police due to fraud associated with the deals"
The new platform aims to put vehicles which would have otherwise posed danger to human live in good shape.
The company will help in documentation when it comes to change of ownership.
He also added that individuals or companies are not limited in terms of number of cars they can trade in.
"For instance, if Multimedia Group or any other institution is phasing out its fleet of vehicles purchased from us, this will be a very good avenue to explore"
"Inspection and evaluation will be done, once we agree on the value, the person or institution has the choice to either top up to pick new models or make up for a new one. If you want a cashback, one equally has a choice"
Service Engineer at Toyota Ghana, Isaac Mensah indicated that TGCL is working with insurance companies to offer competitive premiums to customers.
Under Automark, vehicles purchased come with a year complimentary service where Toyota Ghana will offer free servicing.