A Chicago, Illinois District Court presided by United States District Judge Thomas M. Durkin has dismissed in its entirety a complaint filed against GN Bank, its Chairman Dr Papa Kwesi Nduom, GN Bank's outside directors and others.
The complaint was filed by Birim Group, LLC, a California Limited Liability Company whose sole member was the lawyer who filed the complaint and who had purchased $30,000 and $52,219 claims against companies in Ghana from two citizens of that country.
Although neither GN Bank, Dr Nduom, nor any of the GN Bank directors were alleged to have themselves taken any action against these Ghanaian citizens, the complaint named each of them as defendants based on vague allegations of a vast international conspiracy for which the Court found no supporting facts had been alleged.
Noting that "[t]he U.S. Defendants characterise the Plaintiff's complaint as a political smear devoid of actionable allegations," the Court in its dismissal decision stated that "[t]he complaint is adorned with extraneous information making the allegations difficult to parse into a coherent narrative."
The bulk of the complaint made civil allegations under the RICO statute, but the Court dismissed those claims "with prejudice."
This means the RICO claim cannot be brought again.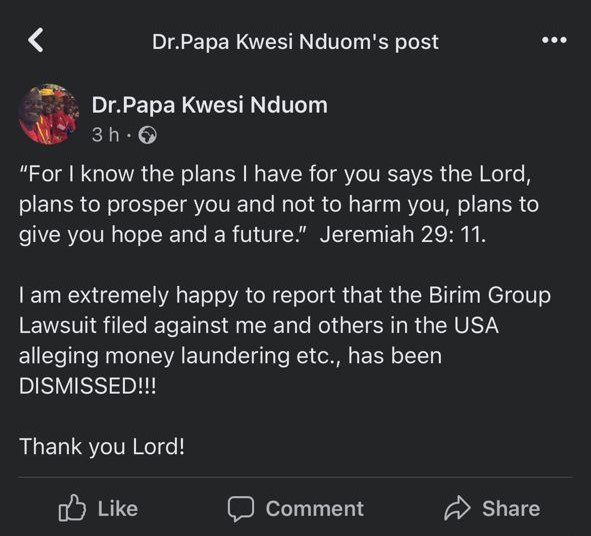 Referring to the Ghanaian citizens from whom the Plaintiff had purchased its claims, the Court also stated about the remainder of the complaint that "[m]ost of the allegations appear wholly unrelated to any losses suffered by Assignors."
According to the Court, those allegations were "pled in conclusory fashion and fail to allege any liability on the part of the U.S. Defendants for Plaintiff's common law claims."
The Court gave Plaintiff 21 days to explain how it could cure the deficiencies of the complaint or else the dismissal of the entire complaint would become permanent, just like the dismissal of the RICO claim.
GN Bank was confident that upon review, the Court would agree that this complaint was without merit and could not proceed as a matter of law.
"We are grateful for the care the Court exercised in reaching its decision today," said Dr Nduom.
"Unfortunately, even when allegations are entirely false and without merit, the fact that they have been made at all can be misused for financial or other reasons.
That is what happened here, but hopefully, the Court's clear and decisive decision will put an end to any further misuse of these unfounded allegations."
The case was pending in the United States District Court for the Northern District of Illinois and is captioned Birim Group LLC v. Nduom et al., 1:20-cv-07198.
Attorneys for GN Bank included the Chicago-based law firms of Meza Law and A&G Law, LLC.
DISCLAIMER: The Views, Comments, Opinions, Contributions and Statements made by Readers and Contributors on this platform do not necessarily represent the views or policy of Multimedia Group Limited.