Lesley Lokko has spent the last two years planning the world's biggest and most celebrated architecture festival - the Venice Biennale.
"This has been a whirlwind," says the Dundee-born architect, writer and academic who is the director of the event.
"The last six months have been particularly intense. I'm sure every curator says this but you lose perspective, not just what's happening in the world but how what you have done will interact with the world.
"You put out a statement but you have no idea how people are going to respond."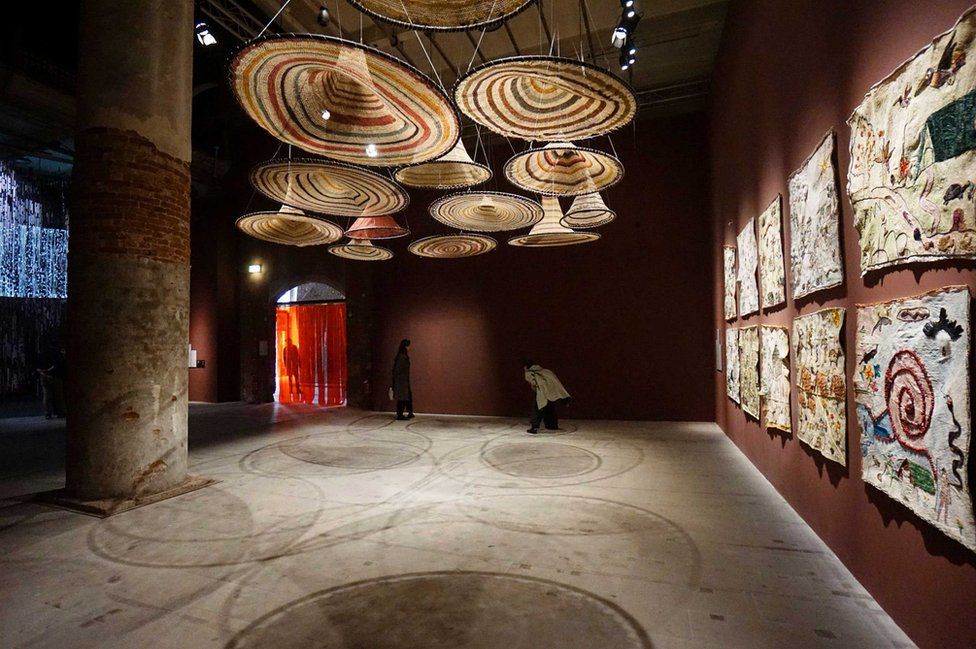 Lesley Lokko was born in Dundee in 1964. Her father was a surgeon from Ghana who studied medicine at St Andrews University, and her mother was from Newport-on-Tay.
She lived in Scotland as a child, but when her parents divorced she moved to Ghana with her father. That is where she spent her teenage years.
She studied Hebrew, Arabic and sociology before deciding on architecture at UCL in London.
But working as an architect, designing homes, turned out not to be for her. What she wanted was to teach and encourage new architects.
As well as teaching around the world, she set up the African Futures Institute, an Accra-based architecture school and events platform.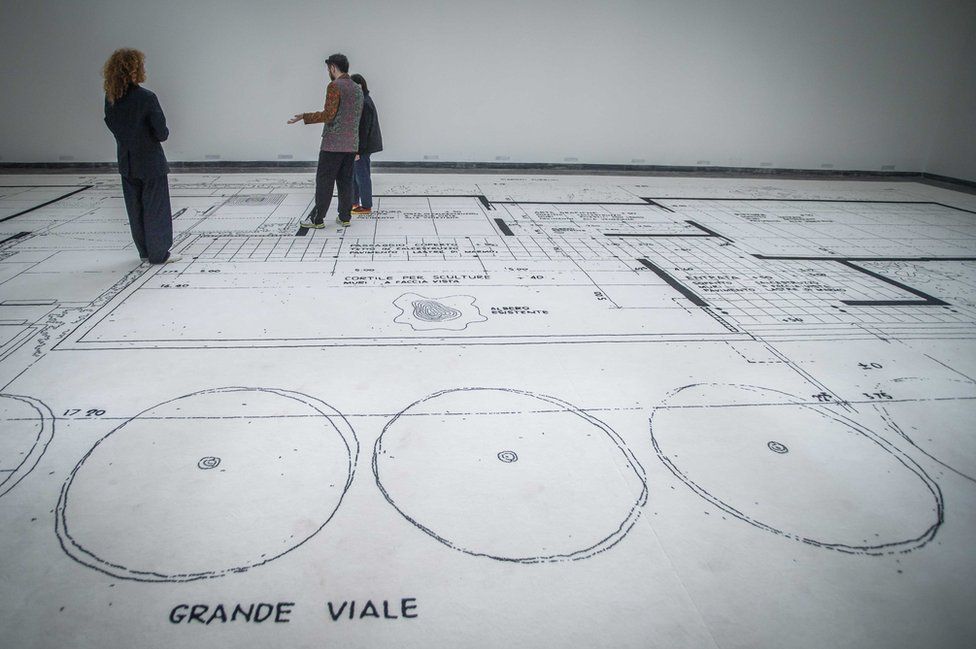 Africa is at the heart of her first biennale.
The event will showcase 64 nations in historic pavilions. A further 89 countries, including Scotland, feature in independent sites across the Italian city.
The art version of the festival has been staged here every two years since 1895. The architectural version has been held in intervening years since 1975.
More than half the exhibitors this year hail from the African continent or diaspora. There is also gender parity and an average age of 43, contrasting with an industry dominated by older, white, male voices.
Lesley says she wants not just to tell a different story, but to change who tells it.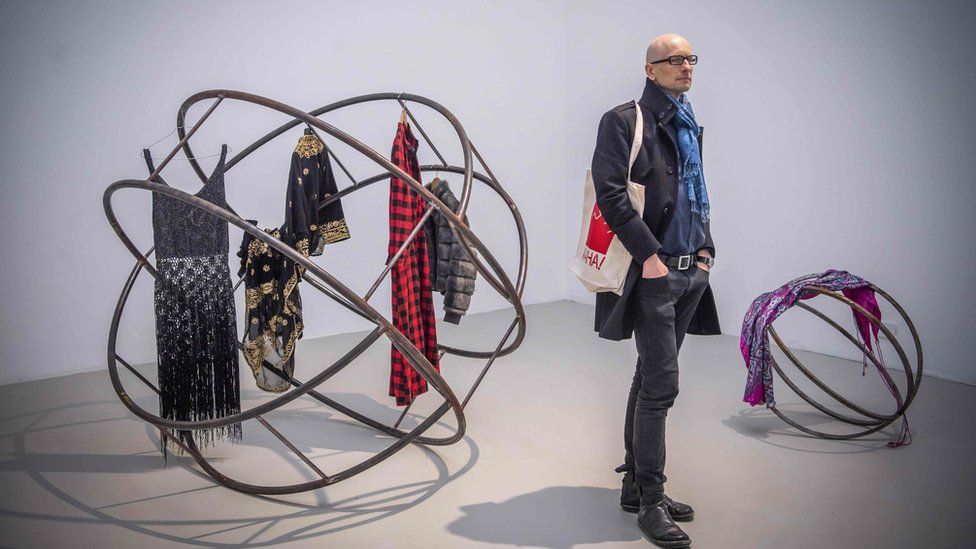 "I'm hoping that people come through and realise we have as much in common as divides us," she says.
"I think there are some people who will come to this exhibition who expect to see a completely other world. And of course the 54 countries of Africa are not 'another world' they are very much part of this world."
But Scotland remains an important part of her heritage, and she regularly returns.
"Scotland has always been quite emotional for me," she says.
"I remember one of my first book tours was in Edinburgh and as soon as I got out of the aeroplane I suddenly felt I knew the light.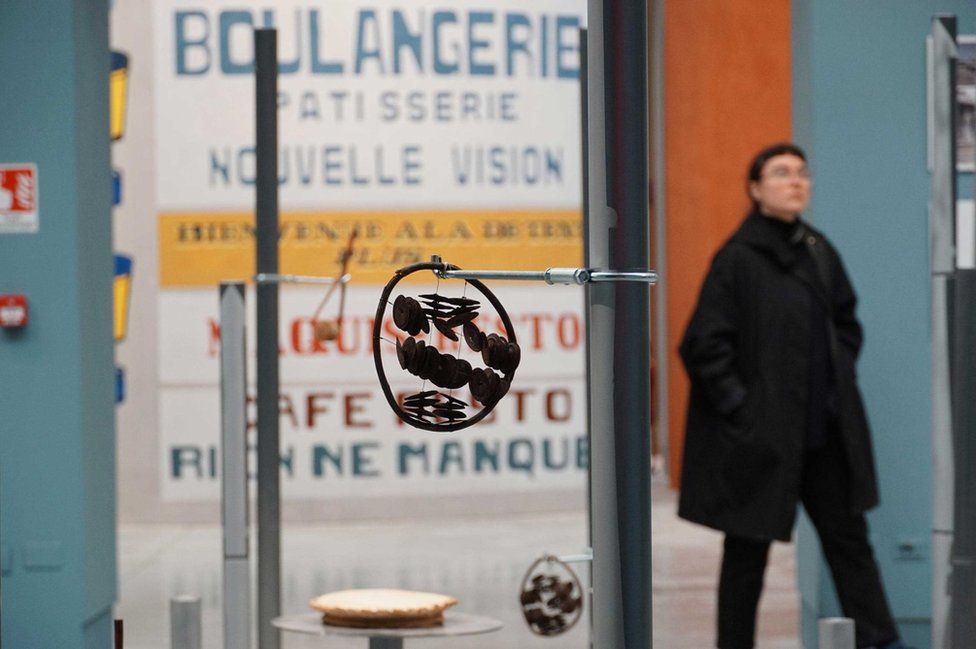 "It was the first understanding that I had that places remain in you. Not only through language but through temperature, light and sound.
"I felt incredibly at home there so I go back to Edinburgh regularly and it's where I go back to write."
Her first novel, Sundowners, was published in 2004 and became a best-seller.
She squeals with embarrassment - or delight? - when I describe it as Enid Blyton for grownups, featuring four girls at a posh English boarding school.
She has since published 11 more novels and is writing a 12th.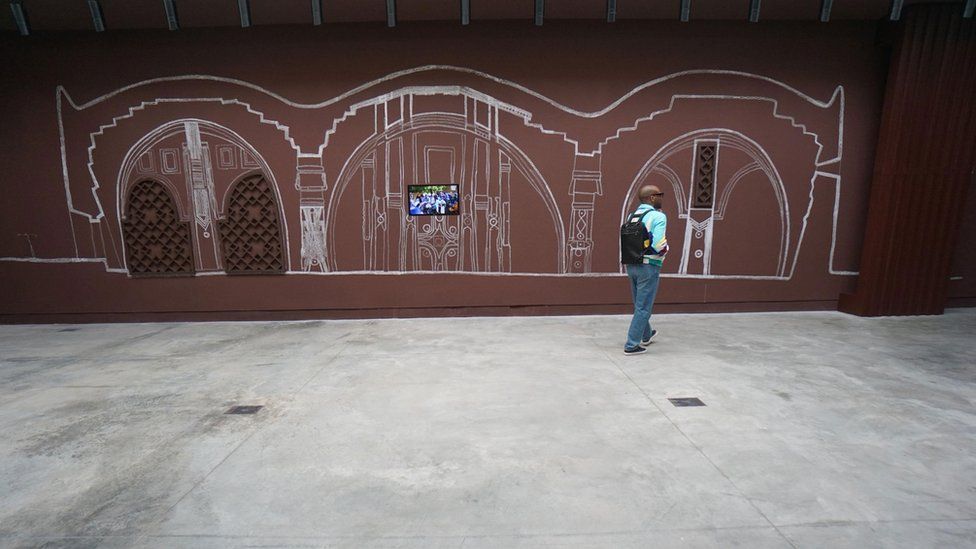 Lesley says writing is not so different from architecture, requiring imagination and the ability to see things in 3D.
And with the world descending on Venice, she says she finds inspiration all around.
"Writers are always at work and the novel I've planned after this will be set in an art biennale somewhere in the world.
"It probably won't be Venice, but the conversations I'm having are all food for the imagination. You never switch off."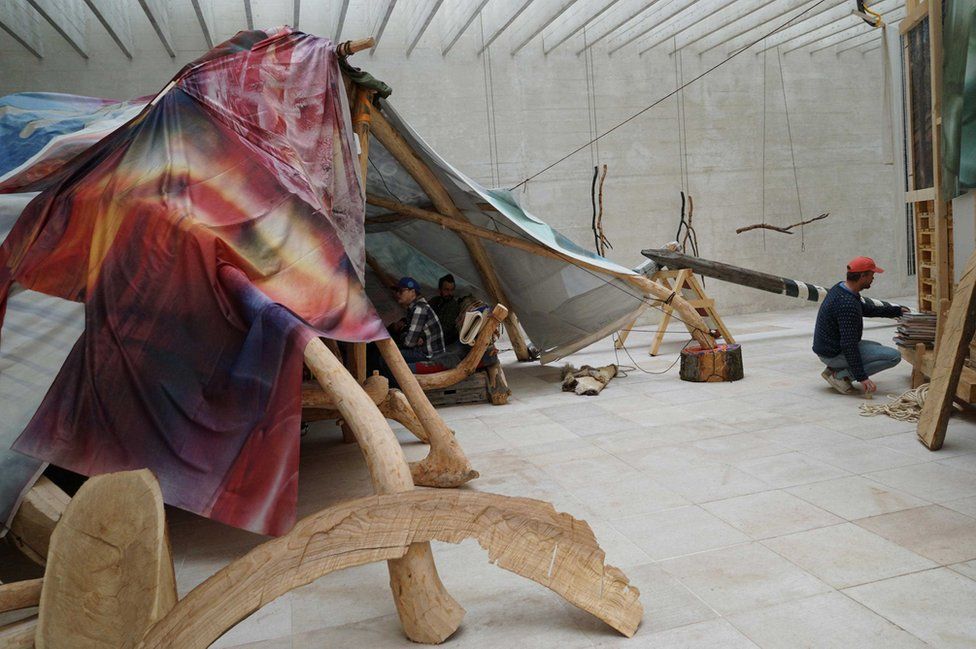 She's determined to make the biennale more accessible.
She refers to it as "the exhibition" rather than the biennale, and to "practitioners" rather than architects - and while there are plenty of African delegates around at the opening, visitors from Africa are unlikely to be here in great numbers.
Even bringing artists to Venice has been a challenge, with a number of her team denied visas in time for the opening.
"The world of arts and culture is often far ahead of the world of politics," she says.
"Unfortunately at a time like this, the two worlds collide."
She said it was upsetting that some of her team, including people who had contributed to the exhibition, were denied visas.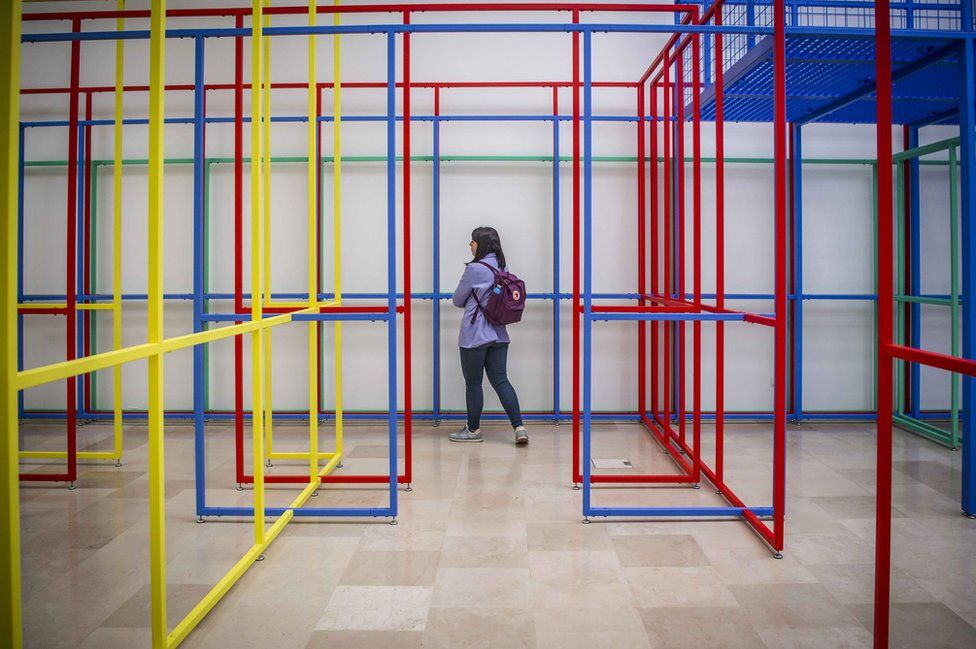 "But you also hope that these kind of exhibitions and these kinds of conversations are the beginning of change," she says.
"It takes a long time for policy to catch up.
"People have said the controversy soured the exhibition but that's not true. I think, for me, it sharpened it."
I tell her about the Ethiopian architect I met at the gate, who told me she had worked in Glasgow more than 30 years ago, and enjoyed travelling to Skye in her time off.
The fleeting connection makes Lesley Lokko smile. The island is where she first came across the Hebridean design practice Dualchas, and invited them to exhibit in Venice.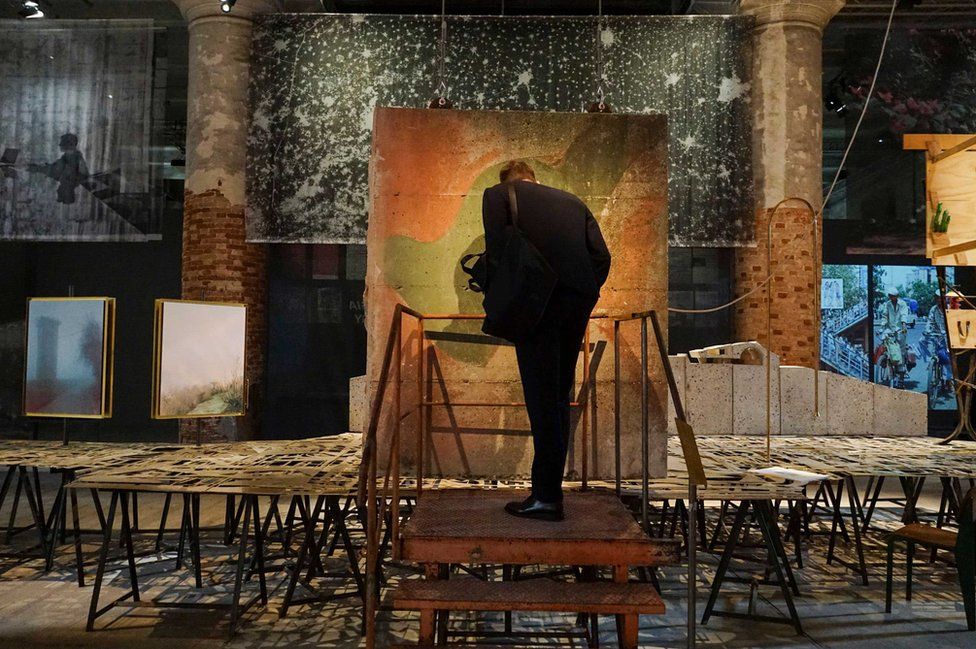 "The personal connections and histories and threads have been very important to me. I met Dualchas on Skye through a very close friend," she says.
"And their work around questions of identity and heritage and language absolutely resonate with the exhibition as a whole.
"So I'm very much hoping that people will make these connections across geography so that we understand the nation state is not the thing which defines us - there are things which are much deeper and older than your passport."
Their installation - also called Dualchas, which means cultural heritage - is a personal reflection on the roots of their practice and a celebration of the architecture of the Highlands and Islands.
Part of the remit was that their involvement should be as light as possible.
In the end, the group brought only a violin case containing a fiddle and a Gaelic bible, artefacts linking the families of directors Rory Flyn and Neil Stephen.
The installation of the four-piece film was done using local resources, and can be toured around Scotland afterwards.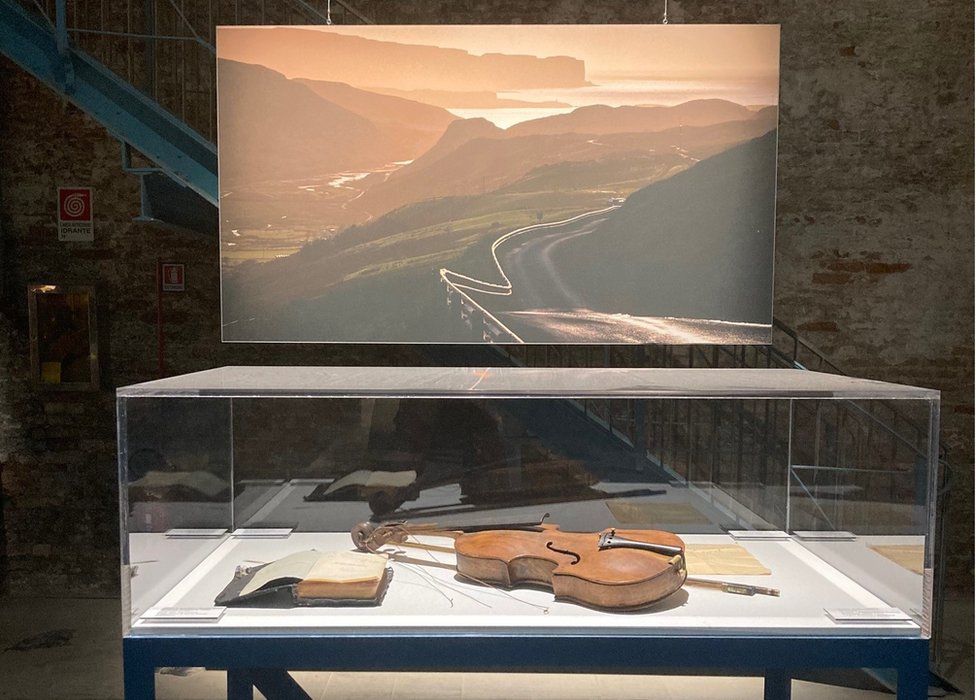 Scotland is represented on the fringe of the main festival with an exhibition exploring land issues around Loch Ness, Orkney and Ravenscraig.
Across the festival, the themes of climate change and sustainability are all around, apt for a city where mass tourism continues to cause huge damage.
The Scotland + Venice partnership announced earlier this year that it intended to pause involvement with the event and will hold a consultation to decide on future involvement.
Lesley Lokko recognises the challenges of staging any festival in such a fragile environment.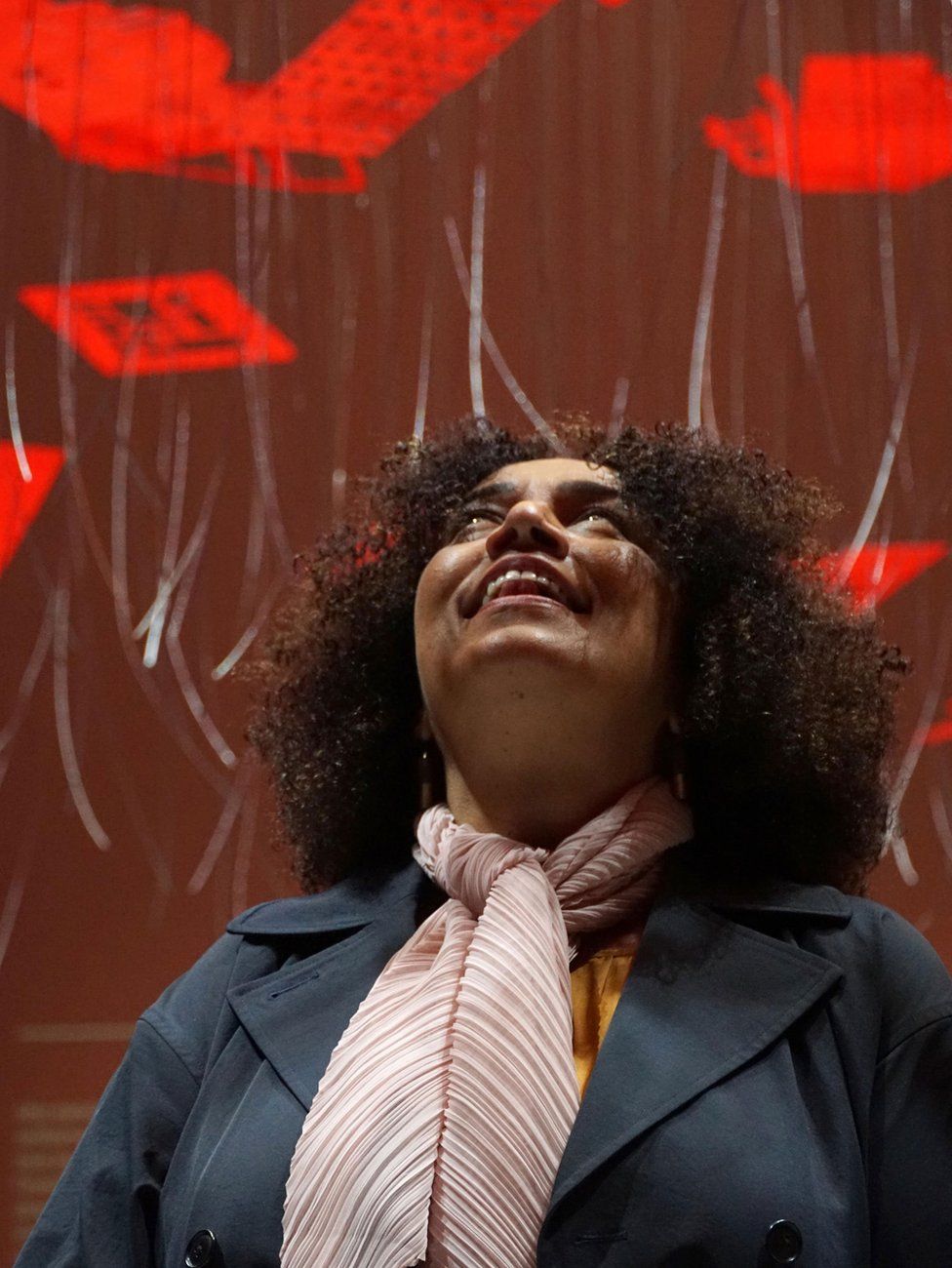 "The questions of resources, of carbon footprint, of flights bringing all these people here... I had to think carefully about the impact.
"For me, the impact outweighed the cost here because it's one of the few opportunities you get to dialogue with your colleagues in this way."
And she says the chance to showcase African architects and architecture was too important an opportunity to miss.
"Maybe it's the perfect moment for this kind of exhibition," she adds.
"I hope that the next time a gathering like this happens, it will not be under the rubric of Africa. It will not be 'other'.
"I happen to be in the right place at the right time to crack open the door but one wishes always that the door remains firmly open."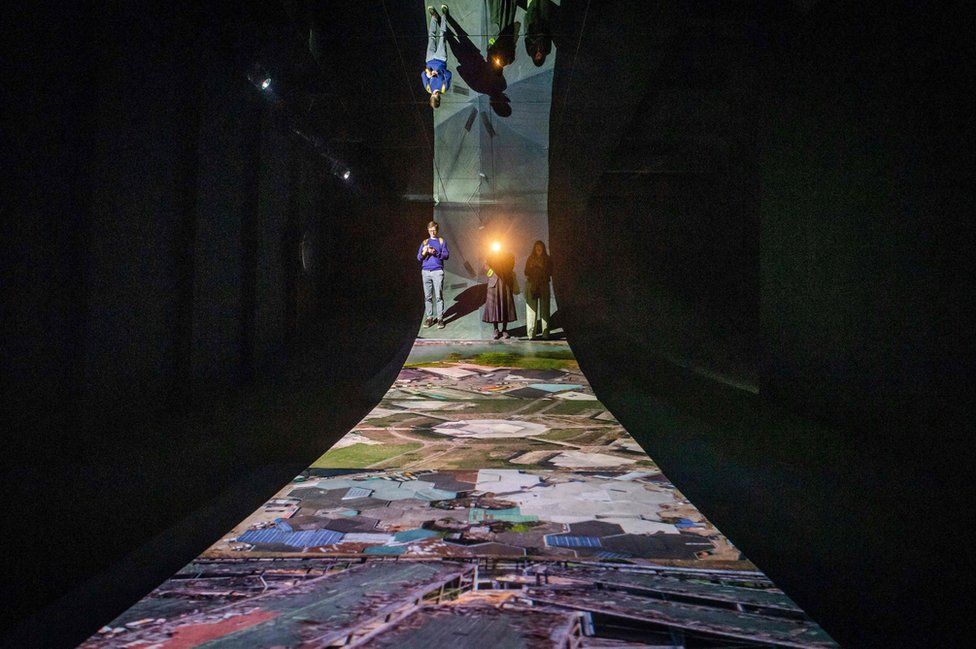 The Biennale Architettura 2023 runs until Sunday 26 November.
DISCLAIMER: The Views, Comments, Opinions, Contributions and Statements made by Readers and Contributors on this platform do not necessarily represent the views or policy of Multimedia Group Limited.