The outgone Director-General of the Ghana Education Service (GES) has broken his silence since he was removed from the post.
President Akufo-Addo terminated Prof Kwasi Opoku-Amankwah's secondment on Monday stating that the exigencies that required his service are now non-existent.
"The President thanks you for your service to the nation and wishes you the very best in your future endeavours", the letter signed by Secretary to the President, Nana Bediatuo Asante, said.
He was also directed to return to his previous role at the Kwame Nkrumah of Science and Technology (KNUST).
Three days on, Prof Opoku-Amankwah has expressed appreciation to persons who reached out to him after the communiqué.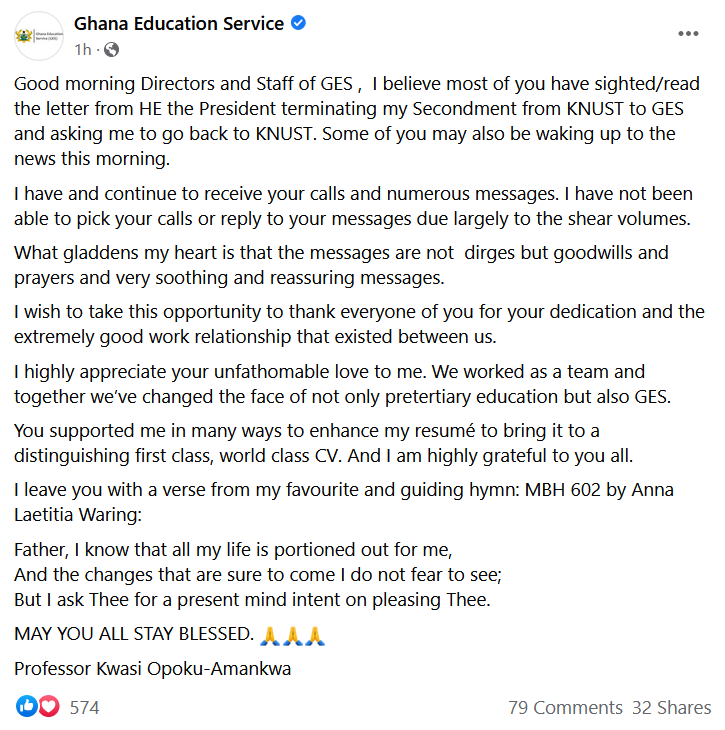 In a statement to the staff and directors of the GES, he took the "opportunity to thank every one of you for your dedication and the extremely good work relationship that existed between us."
He further touted the facelift his role in the Service brought to the education sector.
"I highly appreciate your unfathomable love to me. We worked as a team and together we've changed the face of not only pretertiary education but also GES," he said.
This was made public on the GES' Facebook page on Thursday, October 20, 2022.
Prof. Opoku-Amankwa was appointed in January 2021 on secondment from the Kwame Nkrumah University of Science and Technology.
His contract was extended again in June 2021.
However, according to his dismissal letter, the extension was in "contravention of the Human Resource Policy Framework and manual of the Public Services Commission as it purports to extend your secondment beyond the 3-year maximum limit."
Dr Eric Nkansah has been appointed to act as the new Director-General for the GES.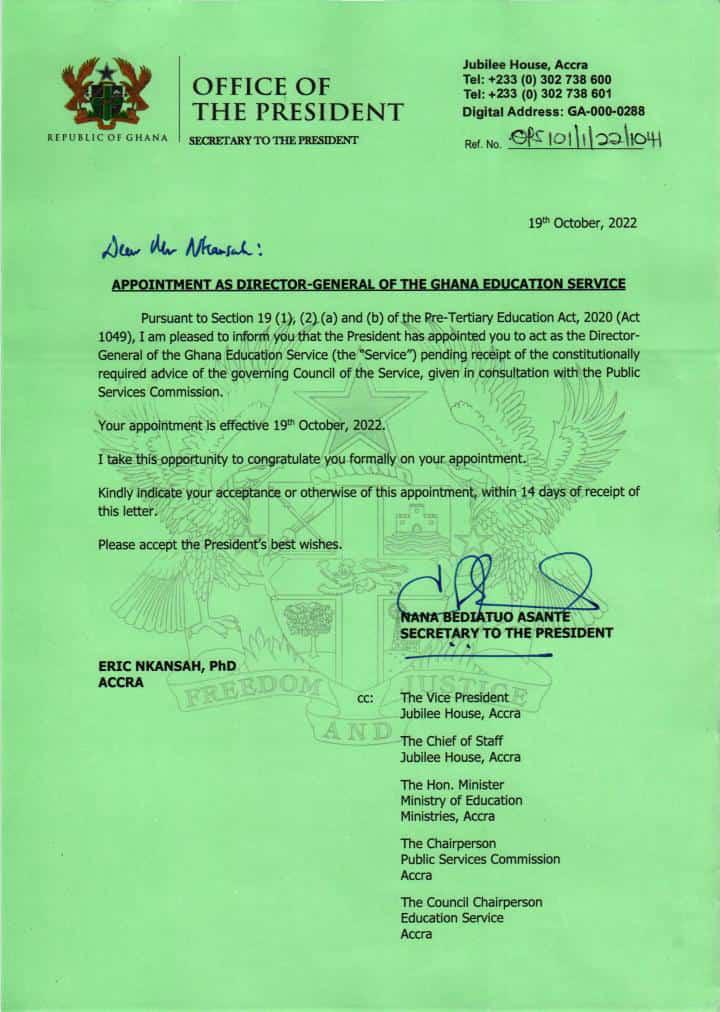 Dr Nkansah's appointment was contained in a letter issued on Wednesday, October 19 by the Presidency and signed by Nana Bediatuo Asante, Secretary to the President.
"I am pleased to inform you that the resident has appointed you to act as the Director-General of the Ghana Education Service (the Service) pending receipt of the constitutionally required advice of the Governing Council of the Service, given in consultation with the Public Service Commission," a portion of the letter read.
DISCLAIMER: The Views, Comments, Opinions, Contributions and Statements made by Readers and Contributors on this platform do not necessarily represent the views or policy of Multimedia Group Limited.