Chief Mourners
Nana Afua Nketiaa Obuo II- Okuapehemaa, Abusua Panyin Nana Asante Amire, Nana Aduna II Akyeamehene of Akuapim Nana Akwaboah Gyimah-Akwamuhene of Akoasi, Obaapanyin Mrs. Sofia Kumiwaa Angba, Opanyin Kwame Bekoe, Obaa Panyin Yaa Ayebea all of Nketiaa royal family, Akropong Akuapim, Obaapanyin Aso Newman, Abrewatia Mrs. Marian Bonsu all of Adwumako Agona family, Akropong Akuapim, Reverend Kofi Manukure Acheampong (Presbyterian Church of Ghana-Trinity Congregation, Kwashieman), Reverend Beatrice Ansah Kwakye (Presbyterian Church of Ghana-Trinity Congregation, Kwashieman).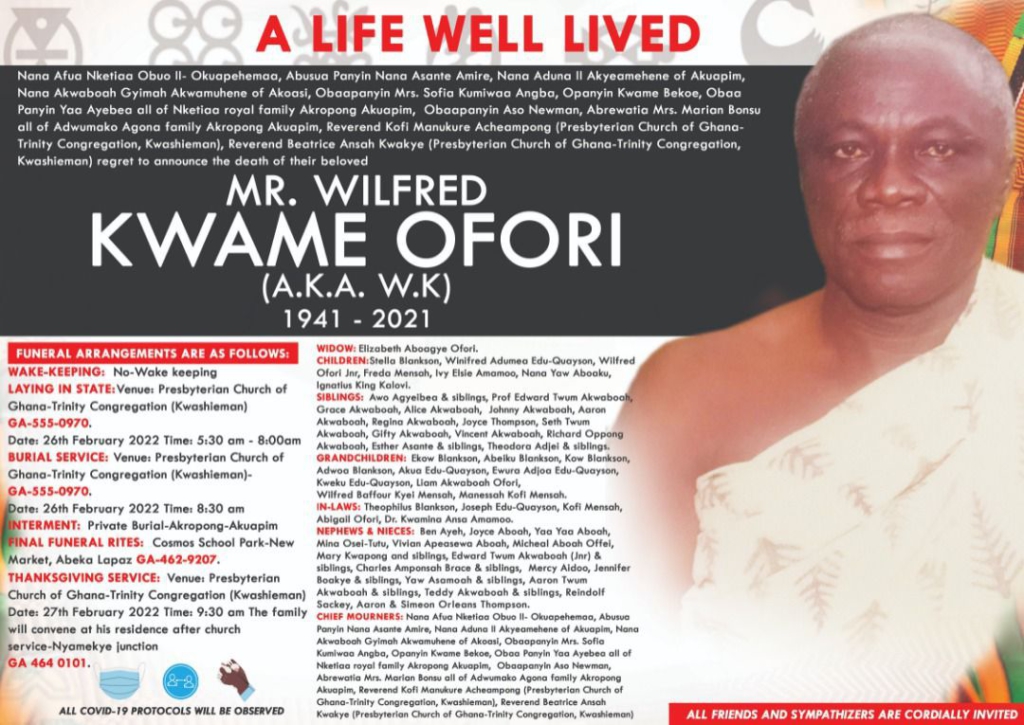 Widower
Elizabeth Aboagye Ofori
Children
Stella Blankson, Winifred Edu-Quayson, Wilfred Ofori, Freda Mensah, Ivy Elsie Amamoo, Nana Yaw Aboaku, Ignatius King Kalovi
Siblings
Awo Agyeibea & siblings, Prof Edward Twum Akwaboah, Grace Akwaboah, Alice Akwaboah, Johnny Akwaboah, Aaron Akwaboah, Regina Akwaboah, Joyce Thompson, Seth Twum Akwaboah, Gifty Akwaboah, Vincent Akwaboah, Esther Asante and siblings, Theodora Adjei & siblings, Richard Oppong Akwaboah.
Grand-children
Ekow Blankson, Abeiku Blankson, Kow Blankson, Adwoa Blankson, Akua Edu-Quayson, Ewura Adjoa Edu-Quayson, Kweku Edu-Quayson, Liam Akwaboah Ofori, Wilfred Baffour Kyei Mensah, Manessah Kofi Mensah.
In-laws
Theophilus Blankson, Joseph Edu-Quayson, Kofi Mensah, Abigail Ofori, Dr. Kwamina Ansa Amamoo.
Nephews and Nieces
Ben Ayeh, Joyce Aboah, Yaa Yaa Aboah, Mina Osei-Tutu, Vivian Apeasewa Aboah, Micheal Aboah Offei, Mary Kwapong and siblings, Edward Twum Akwaboah (Jnr) & siblings, Charles Amponsah Brace & siblings, Jennifer Boakye and siblings, Yaw Asamoah & siblings, Aaron Twum Akwaboah & siblings, Teddy Akwaboah & siblings, Reindolf Sackey, Aaron Orleans Thompson & sibling.
Funeral Arrangements:
No-Wake keeping.
Laying in state:
Venue: Presbyterian Church of Ghana-Trinity Congregation (Kwashieman)
Date: 26th February, 2022
Time: 5:30 am – 8:00am
Burial Service:
Venue: Presbyterian Church of Ghana-Trinity Congregation (Kwashieman)
Date: 26th February, 2022
Time: 8:30 am
Interment: Private Burial (Akropong-Akuapim)
Final Funeral Rites:
Venue: Cosmos School Park-New Market, Abeka Lapaz
Date: 26th February 2022
Time: 11:00 am
Thanksgiving Service:
Venue, Presbyterian Church of Ghana-Trinity Congregation (Kwashieman)
Date: 27th February 2022
Time: 9:30 am