Chief Mourners: Mrs Florence Mamphey (Afio), Air Commodore. Kwame Mamphey (Rtd) and siblings, Mrs Joyce Treadgold Ablavi Mamphey and children, Mrs Tina Mamphey and daughter and the entire Amoakade family of Pesse and Gyakiti announce with deep sorrow the sudden death of their beloved
Mr Eric Owusu Mamphey AKA Jomo  
AGE: 66  
Widow: Mrs Joyce Treadgold Ablavi Mamphey  
Children: Kweku Kwakye Mamphey and Ofosua Mamphey.
Grandchildren: Naa Shika Amarteley Amarteifio and Aizan Yaw Owusu Mamphey.
In-laws: Mr Jerry Amarteifio and Ms Doreen Ama Benewa Owusu-Ansah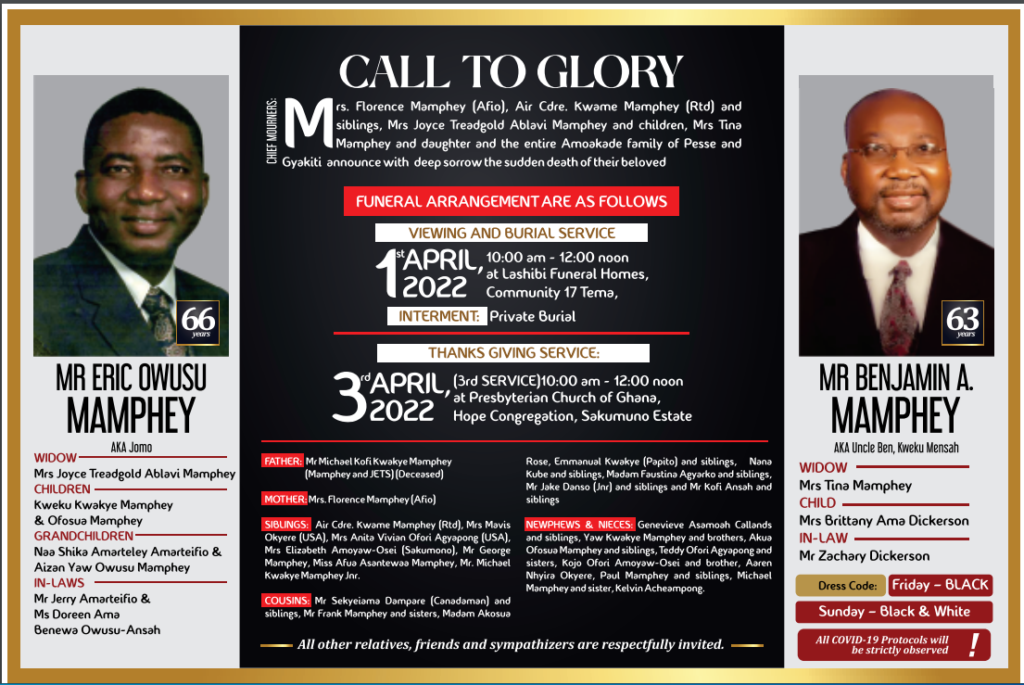 Mr Benjamin Antwi Mamphey aka Uncle Ben, Kweku Mensah  
AGE: 63  
Widow: Mrs Tina Mamphey
Child: Mrs Brittany Ama Dickerson.  
In-Law: Mr Zachary Dickerson
Father: Mr Michael Kofi Kwakye Mamphey (Mamphey and JETS) (Deceased)
Mother: Mrs Florence Mamphey (Afio)
Siblings: Air Cdre Kwame Mamphey (Rtd), Mrs Mavis Okyere (USA), Mrs Anita Vivian Ofori Agyapong (USA), Mrs Elizabeth Amoyaw-Osei (Sakumono), Mr George Mamphey, Miss Afua Asantewaa Mamphey, Mr. Michael Kwakye Mamphey Jnr.
Cousins: Mr Sekyeiama Dampare (Canada man) and siblings, Mr Frank Mamphey and sisters, Madam Akosua Rose, Emmanual Kwakye (Papito) and siblings, Nana Kube and siblings, Madam Faustina Agyarko and siblings, Mr Jake Danso (Jnr) and siblings and Mr Kofi Ansah and siblings
Nephews & Nieces: Genevieve Asamoah Callands and siblings, Yaw Kwakye Mamphey and brothers, Akua Ofosua Mamphey and siblings, Teddy Ofori Agyapong and sisters, Kojo Ofori Amoyaw-Osei and brother, Aaren Nhyira Okyere, Paul Mamphey and siblings, Michael Mamphey and sister, Kelvin Acheampong.
Funeral arrangements are as follows:
Viewing and burial service: Friday, April 1, 2022, at Lashibi Funeral Homes, Community 17 Tema, 10 am – 12 noon
Interment: Private Burial (Friday 1st April, 2022)
Thanksgiving service: Sunday, 3rd April, 2022 at Presbyterian Church of Ghana, Hope Congregation, Sakumono Estate.
(3rd Service: 10am – 12 noon)
Dress Code: Friday – Black | Sunday – Black and white
All other relatives, friends and sympathizers are respectfully invited.
All COVID-19 Protocols Will Be Strictly Observed