Families
The Padi Kumah Families (Both Home And Abroad), The Anane Families (Both Home And Abroad), The Adjado Families (Both Home And Abroad), The Kwashie And Azago Families (Both Home And Abroad), The Tamatey Okunka Families (Both Home And Abroad) (Both Home And Abroad), Dauty Kumah (Head Of Family), Maa Nana Korlekuor Adjado (Queenmother, Yilo Krobo Paramouncy, Yilo Traditional Area), Ebenezer Kumah- Klo Agogo, Robert T. Kwesi (Rtd Educationist), Joseph K. Lawer (Rtd Educationist), Agnes Dede Wisi (Rtd Educationist), Sammy- SSNIT- Sra, Mrs Comfort Korkor Kwashie (Sister), Mr & Mrs Charity Blankson, Nana Yaa Agyakuma-Dwermo (Holland)
Regret to announce the death of their beloved, Madame Theresa Teckie Anane.
Which sad event occurred at the Dijklander Ziekenhuis (Hospital), Holland on December 19, 2021, exactly a week after returning from Ghana.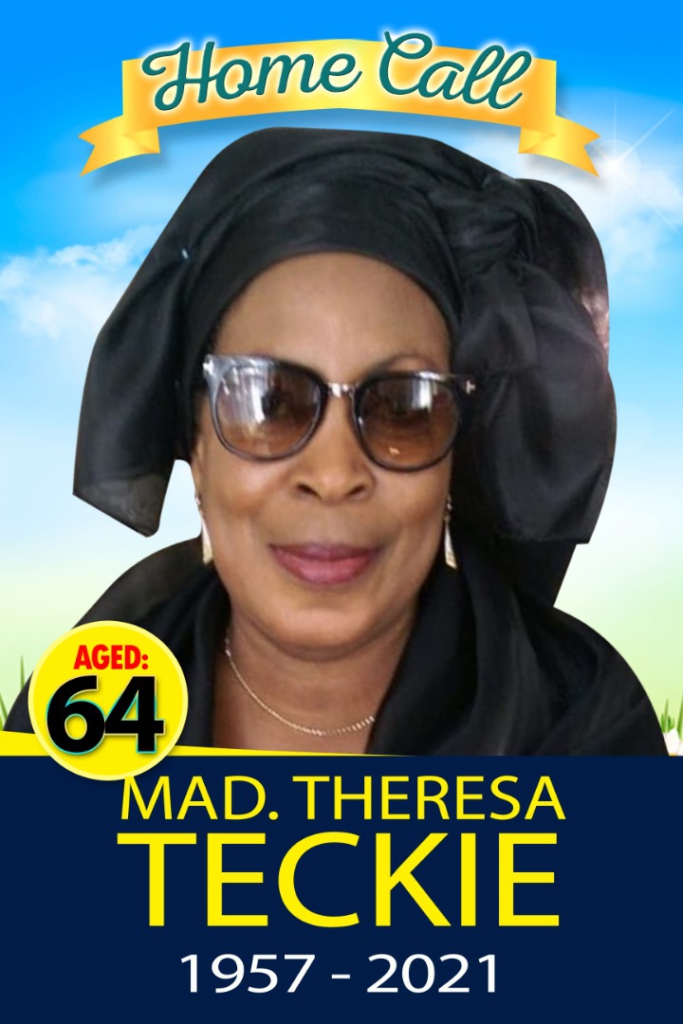 Chief Mourners
Dauty Kumah (Head of Family)
Maa Nana Korlekuor Adjado (Queenmother, Yilo Krobo Traditional Area)
Ebenezer Kumah- Klo Agogo
Robert T. Kwesi (Rtd. Educationist)
Joseph K. Lawer (Rtd. Educationist)
Agnes Dede Wisi (Rtd. Educationist)
Sammy- Ssnit- Sra
Mrs Comfort Kwashie (Sister)
Kwaku Baah Anane (Husband)
Mr & Mrs Charity Blankson
Kofi Berchie (Fiifi)
Nana Yaa Agyakuma-Dwermo (Holland)
Widower
Kwaku Baah Anane
Sibling
Mrs. Comfort Korkor Kwashie
Cousins
Richard Kumah- Accra
Gladys Amiyoe- Sra
Mary Yowayo Chere- Obawale
Gladys Ngmeyo- Wasa Akropong
Mary Awo Kuma- Obawale
Marku Kumah- Obawale
Serhenger Kumah- Accra
Keni Kumah- Kade
Ngmeyo Kumah- Sra
Beatrice Ngmeyo Kwao – Obawale
Rose Korkor Kwao (A.K.A. Awisi)- Obawale
Nuerki Tamatey- Nkurakan
Tetteh Tamatey- Driver Obawale
Teye Tamatey- Driver Obawale
Children:
Matey Checko
Tori Anane
Benard Anane
Grandchildren:
Sebastian Checko
Penelope Checko
Nephews/Nieces:
Djabatey Kwashie (Usa) , Djabanor Kwashie (Ghana Highways Authority), Sandy Kwashie (Accra), Dean Kwashie (Tesco Shipping Company- Tema)
In-law:
Dr. Emily Clark
Funeral Arrangements
Vigil: Friday, February 18, 2022 at the Family House Close to The Presbyterian School Park, Sra- Somanya
Laying in State: Family House Close To Sra Presbytarian School Park
Burial Service: Saturday, February 19, 2022 at 8:00am at Sra Presbyterian School Park, Somanya.
Committal: Saturday, February 19, 2022 at noon at Sra Presbyterian Church Cemetry, Somanya
Final Funeral Rites: Sra Presbytarian School Park
Thanksgiving Service: Sunday, February 20 at Somanya, Presbyterian Church Of Ghana, Kolle Congregation, Sra
DISCLAIMER: The Views, Comments, Opinions, Contributions and Statements made by Readers and Contributors on this platform do not necessarily represent the views or policy of Multimedia Group Limited.