Hardly do you see football supporters belonging to two rival clubs pursuing a common agenda in favor of one. It is even unimaginable when the two clubs are from the same city and play at the same stage.

That is the situation in Bono Regional capital of Sunyani, home to Brong Ahafo United (B.A United) and Bofoakwa Tano football clubs. They have been arch-rivals since their formation in the 1960s.

But they have put that rivalry on hold, working together for a common goal.

2020/21 Division One Zone One League has two matches to end the season after 28 matches. Bofoakwa Tano, competing with 15 other teams, including B. A United leads the table with 61 points, 5 points more than close contender Real Tamale United in 2nd place.

B.A United have so far amassed only 34 points and are 10th on the log. They have zero chance to qualify to the premier league, a stage that has eluded football fans in Sunyani for years.

But guess what? Their fans are determined to push their bitterest rivals, Bofoakwa Tano, the hunters, to bring the elite game to Sunyani.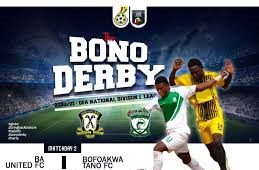 Fans, both home and abroad, have bought into the idea, relishing the many benefits Sunyani stand to derive should their rivals eventually qualify to the elite league.

A fan of B. A United fan, a native of Sunyani, and a businessman based in England, Prince Osei Kwadwo, aka One-In Town, even wants all division one clubs in the region, to rally behind Bofoakwa Tano in their quest to gain promotion to the elite division in a decade.

"The "pull him down" attitude by some of the clubs in the region must pave the way for a new dawn where teams with the brighter chance of promotion are given the needed push", he opined.

Osei Kwadwo has joined United fans, including Lawyer Williewise Kyeremeh, Henry Gyamfi, Grace Bennett, Lawyer Alfred Tuah-Yeboah, coach Kwasi Appiah, and a multitude of football fans in the region to donated various sums of money to the #Bofobeba campaign launched recently by the former CEO of B. A United and CEO of Suncity Radio in Sunyani, Mr. Ransford Antwi.

He averred that the economic benefits of Bofo's promotion into the elite division of football cannot be over-emphasized, especially when teams like Accra Hearts of Oak and Kumasi Asante Kotoko will visit Sunyani.

"Football has multiple benefits to everyone in a society. It unites and improves the publics' overall joy and boosts the local economy. It has its unique way of breaking barriers", he said.

He, therefore, called on other well-meaning sons and daughters of the region, both home and abroad, to join the campaign and donate for a worthy agenda.

Prince "One-In Town", also appealed to B. A United and all football-loving fans to troop to the Sunyani Coronation Park on Sunday to support Bofoakwa Tano to victory when they play their last home match as host to Wamanafo Mighty Royals, and then their last away match the following week against Berekum Arsenals to end the season.

Should Bofoakwa Tano qualify to the Ghana Premier League, the football region, Brong Ahafo, will have five teams in the 2021/22 league season.

They are; Aduana Stars in Dormaa, Berekum Chelsea in Berekum, Bechem United in Bechem, Eleven Wonders in Techiman, and the would-be addition, Bofoakwa Tano in Sunyani.