The Cenwest zone secured their first-ever Colleges of Education Sports Association (COESA) title, edging hosts Ashba to first place after a commanding performance at the Paa Joe stadium, Kumasi.
Cenwest, representing colleges in the Central and Western zone, claimed their best achievement at the festival with a total medal haul of 31, made up of 15 gold, 9 silver and 7 bronze, ahead of Ashba who came second with a total of 38 medals – 3 gold, 9 silver and 16 bronze.
The Cenwest zonal chair, Philip Ntaah could not hide his joy at his zones' success, adding that they deserved to win the festival.
"I'm very happy that Cenwest has made history for the first time at the COESA games, sweeping 7 good trophies. When we held our zonal festival at Enchi, it was keenly contested.
"We were poised to prepare adequately and come to the national games to demonstrate that if really we want to unearth talents in the midst of the pandemic, then it must be significant. By far, this was one of the most competitive COESA games ever held and that fact did not escape the notice of the President of the Conference of Principals of Colleges of Education (PRINCOF), Dr. Emmanuel Nyamekye who could not hide his joy at the turn of events.
"The difference in points gathered should tell you it was highly competitive. That is what we wanted to see and I am sure our sportsmen/women have displayed that they can do it when it matters."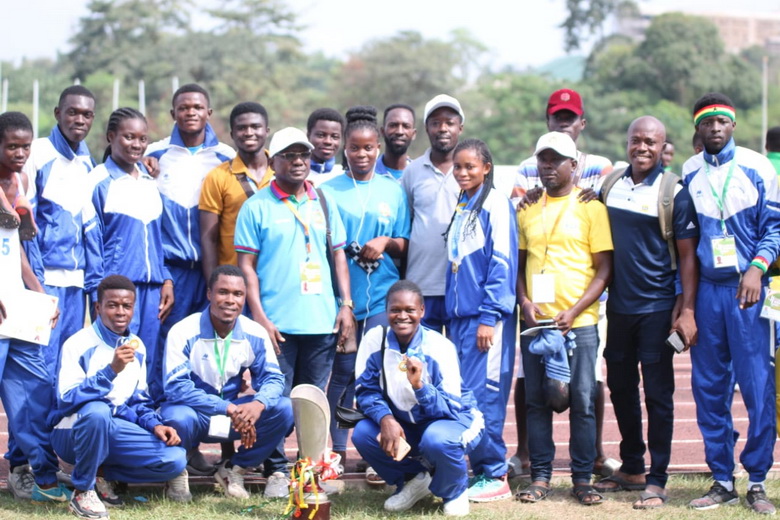 The Eastern-Greater Accra zone (EGA) produced a spirited performance to clinch the women's netball championship and a host of medals in athletics to place third overall with a total of 25 medals, made up of 11 gold, 10 silver and 4 bronze.
The Volta zone won outstanding men's football gold and handball gold to place 4th with 15 medals, bagging 3 gold, 2 silver and 10 bronze.
The Northern zone placed 5th overall with 4 silver medals and 2 bronze.
The final day of the festival on Saturday climaxed with the athletics championships which witnessed the breaking of four records during the 2-day event.
EGA's 400m specialist Deborah Agudey Doeyoe smashed the 6-year-old COESA record after she clocked 1:00. 21 to eclipse the old record of 1:01.43s set by Emmanuelle Appiah of Cenwest in 2016.
The women's 400m record, 4x100m relay record, the men's medley and women's medley records were also broken.
Cenwest won the women's athletics event with a total of 22 medals, made up of 11 gold, 7 silver and 4 bronze. EGA came second with 7 gold, 4 silver and 2 bronze while Ashba settled for third with 4 gold, 3 silver and 9 bronze.
Hosts Ashba produced a strong performance to win the men's athletics championships with 9 gold, 6 silver and 7 bronze followed by EGA with 4 gold, 6 silver and 2 bronze. Cenwest came third with 4 gold, 2 silver and 3 gold.
Technical Chair of COESA, Bismark Tsorhe said there are a lot of positives to take from the organisation of the festival.
"It has been quite tough especially when the ban was lifted on sports in Ghana. We took a bold decision to have the games, particularly for our level 400 students who would have not tasted this competition if we had not held this year's event.
"This year's competition has had a lot of publicity, particularly from the Ghanaian Times, GTV and other media. We had five people breaking records in athletics which is quite good. We hope some of the athletes would be seen at the upcoming African Games in 2023."
The 5 COESA zones made up of the Volta, North, Ashanti-Brong Ahafo, Central Western and Eastern-Greater Accra competed in volleyball, football, handball, netball, athletics, table tennis, and cross-country at the 6-day event.
DISCLAIMER: The Views, Comments, Opinions, Contributions and Statements made by Readers and Contributors on this platform do not necessarily represent the views or policy of Multimedia Group Limited.