Government has distanced itself from the attacks by members of Western Togoland secessionists engaged in a revolt on Friday in parts of the Volta Region.
The Information Minister said claims that the occurrence is part of a ploy by the Akufo-Addo-led administration to unnecessarily heighten security presence in the Region are figments of some people's imagination.
The members of the Homeland Study Group Foundation (HSGF) secessionists, who had earlier conducted a simultaneous attack on the Aveyime and Mepe Police Stations in the North Tongu District of the Volta Region, said they want the region to be an autonomous country known as Western Togoland.
In the wake of the attacks, a section of the public has floated some conspiracies that the situation may have been a tactic by the ruling government as a basis to deploy more security personal to intimidate the residents of the NDC's stronghold ahead of the general elections.
NDC's Communications Officer Sammy Gramfi also said on Newsfile that, "we are dealing with a situation which potentially has the involvement of state actors."
But Mr Oppong Nkrumah described these allegations as 'flat out untruths.'
"We don't want to believe that there are any political groups behind it. There are those who you have heard suggest that it appears there are some political groups behind what is going on. We don't even want to go that route," he said.
Speaking at a press briefing in Accra on Sunday, he clarified that government has not taken sides in the development and is handling the case in strict accordance with the law.
According to him, the fact that this is not the first time the group has embarked on such a venture gives credence to his stance that the government has no hand in the act.
Kojo Oppong Nkrumah was, however, quick to add that it is imperative to maintain security in the area for the time being to foil any possible reprisals in the interim.
"The necessary maintenance of security especially at these installations to ensure that the threat to the state is dealt, with will be maintained. That one you can be rest assured. But we will not cut our nose to spite our face," the Information Minister said.
Meanwhile, some key actors in Friday's revolt are been hunted by the country's security apparatus. The Information Minister said the names of these suspects will be published soon while encouraging the public to be forthcoming with intelligence that may lead to their arrest.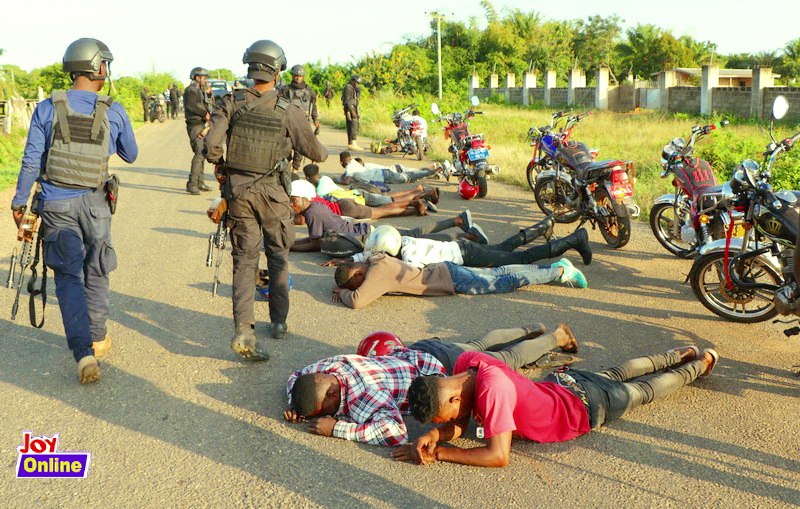 Currently, 31 people in the custody of the Bureau of National Investigations (BNI) office in Accra for questioning into happenings in the region.
So far, the National Peace Council, influential persons and some members of the public have condemned the Western Togoland Secessionist group.
Mr Oppong Nkrumah wants all Ghanaians to solidarise in calling out the perpetrators of the criminal act.