Individual Bondholders' Association of Ghana (IBAG) is not enthused about happenings amid the deliberations regarding government's Domestic Debt Exchange Programme (DDEP).
The Association has, on the back of this, recused itself from the Technical Committee superintending discussions over the debt restructuring.
He says the discussions so far appear not to be in the interest of its members adding that "the process is turning out to rather impose a further degree of pain and despair on the bondholders and also depart from promises made by government to them."
"The government cannot continue to be insensitive to the suffering of the individual bondholders by deliberately punishing those who did not sign up to the DDEP as it meticulously executes the various threats made to them for not signing up," IBAG said on April 22.
IBAG relayed these concerns in a statement signed by its lawyer, Martin Kpebu.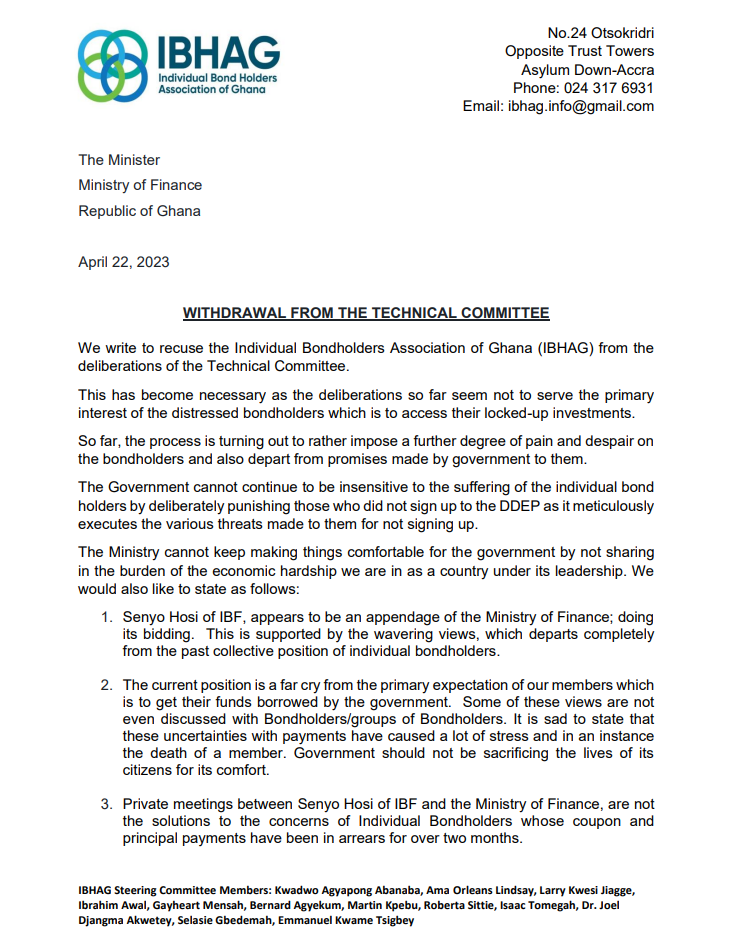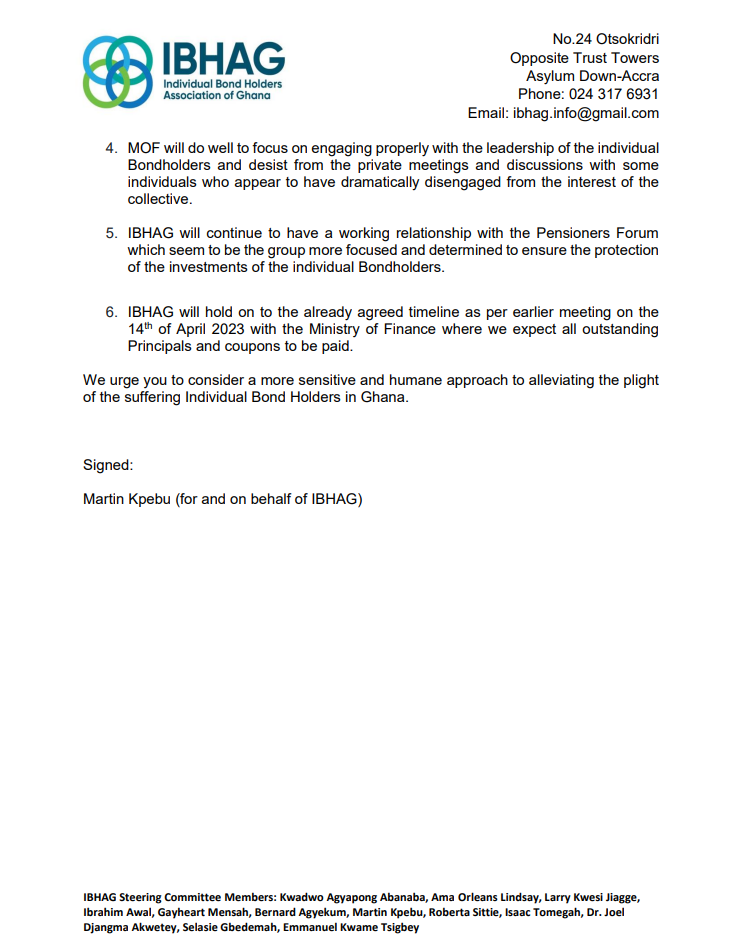 The group further accused the ministry of engaging the convenor of the Individual Bondholders Forum (IBF) Senyo Hosi as a seeming "appendage of the Ministry of Finance; doing its bidding."
"This is supported by the wavering views, which depart completely from the past collective position of individual bondholders.
According to the IBAG, this development is not what was agreed upon by its outfit further lamenting that the views were not even discussed with bondholders.
"It is sad to state that these uncertainties with payments have caused a lot of stress and in one instance the death of a member. Government should not be sacrificing the lives of its citizens for its comfort," the group added.
It further added that "Private meetings between Senyo Hosi of IBF and the Ministry of Finance, are not
the solutions to the concerns of Individual Bondholders whose coupon and principal payments have been in arrears for over two months."
It also urged the Finance Ministery to refrain from private meetings and discussions with some
individuals who "appear to have dramatically disengaged from the interest of the collective."
"IBHAG will continue to have a working relationship with the Pensioners Forum which seem to be the group more focused and determined to ensure the protection of the investments of the individual Bondholders."
In an April 14 press release, the Finance Ministry says it will settle outstanding debts on coupons by April 28, 2023.
According to the statement, this decision was reached after an engagement with the leadership of the Coalition of Individual Bondholders Groups on the timelines of payment of outstanding domestic debt obligations.
This comes after the Coalition of Individual Bondholders Groups on April 11, petitioned President Akufo-Addo on the non-payment of old bonds that were not part of the recent domestic debt exchange programme.