The news that President Nana Akufo-Addo is currently on a 14-day isolation reached Ghanaians on Saturday night.
The statement from the Information Ministry explained that the President was exercising caution since a member of his close circle had tested positive for Covid-19.
The use of the word 'self-isolation' quickly sparked opinions, as to whether 'quarantine' would have been better suited.
Dr. Zaher Al-Safadi, a doctor with the New Vision Clinic in Accra, explains the correct use of the two terms to Myjoyonline.
Isolation and quarantine help protect the public by preventing exposure to people who have or may have a contagious disease.
Isolation separates sick people with a contagious disease from people who are not sick.
Quarantine separates and restricts the movement of people who were exposed to a contagious disease to see if they become sick.
With COVID-19 ravaging the globe, the following will look to describe quarantine and isolation from a Covid-19 perspective.
Quarantine
Quarantine is used to keep someone who might have been exposed to COVID-19 away from others. Quarantine helps prevent spread of disease that can occur before a person knows they are sick or if they are infected with the virus without feeling symptoms.
People in quarantine should stay home, separate themselves from others, monitor their health, and follow directions from their state or local health department.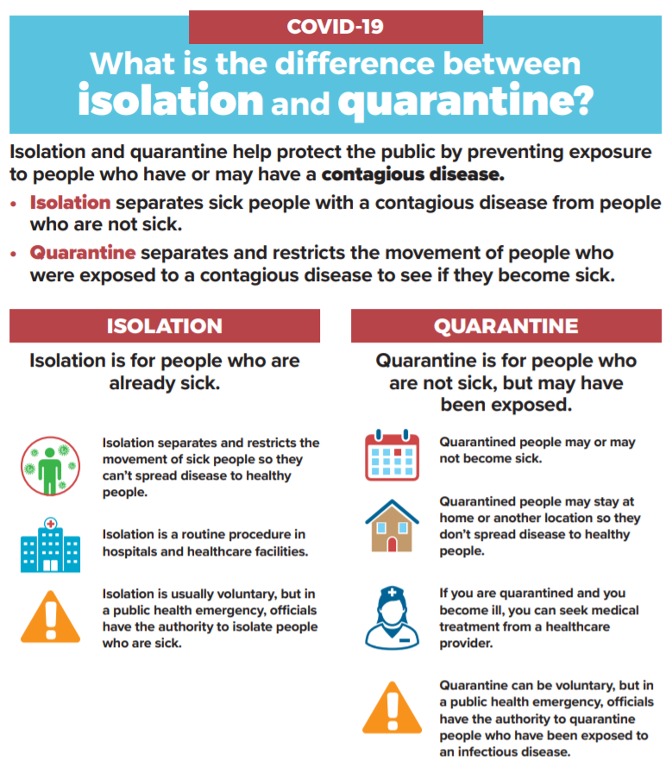 Who needs to quarantine?
Anyone who has been in close contact with someone who has COVID-19.
This includes people who previously had COVID-19 and people who have taken a serologic (antibody) test and have antibodies to the virus.
What counts as close contact?
You were within 2 meters of someone who has COVID-19 for at least 15 minutes.
You provided care at home to someone who is sick with COVID-19.
You had direct physical contact with the person (touched, hugged, or kissed them).
You shared eating or drinking utensils.
They sneezed, coughed, or somehow got respiratory droplets on you.
Steps to take
• Stay home and monitor your health.
• Stay home for 14 days after your last contact with a person who has COVID-19.
• Watch for fever (38+ C), cough, shortness of breath, or other symptoms of COVID-19.
If possible, stay away from others, especially people who are at higher risk of getting very sick from Covid-19.
Isolation
Isolation refers to separating sick people with a contagious disease from those who are not sick. Hospitals use isolation for patients who have a known infectious disease that can be spread easily to others.
A person, who finds themselves ill with COVID-19, need to isolate themselves in a specific room away from other household members.
Household members should use a separate bedroom and even a separate bathroom if possible. It is also recommended that the ill person should eat or be fed in their room away from other household members.
Household items such as dishes, drinking glasses, cups, eating utensils, towels, bedding, or other items should not be shared with the person infected with COVID-19. It is important to prohibit all visitors and non-essential people from being in the home.
According to the Central Shenandoah Health District, if a family member has COVID-19 symptoms and has been tested, but the results are pending, that family member should isolate as best as possible until the results are known. A separate bedroom and bathroom should be used by this person if possible, and definitely separate dishes, drinking glasses, eating utensils, towels and beddings.