The National Peace Council has entreated the two major political parties to take steps to ensure that the values that underpin the signing of the Presidential Peace Pact 2020 ahead of the general elections materialise.
The Council's Chairperson, Dr Ernest Adu-Gyamfi believes the agreements reached by the New Patriotic Party's (NPP) Presidential Candidate, Nana Akufo-Addo and the National Democratic Congress' (NDC) John Mahama will promote tranquility during and after the polls if it is factored into the party's modalities to implement same.
"Resorting to violence is ill-disposed and must be avoided. It is my hope that the signing of this pact will not just be another public show and that all the parties in this national accord will genuinely play their roles in ensuring peace during and after the 2020 general elections," he said.
He made these comments during The 3rd High Level Meeting on the Presidential Elections Peace Pact 2020 at the Mövenpick Ambassador Hotel on Friday.
Speaking ahead of the signing of the pact, Dr Adu-Gyamfi further urged the political parties to desist from encouraging platforms that have the propensity to promote violence.
The treaty which was signed in Accra on Friday will among other things, see both candidates agree to seek redress through the judicial process in the event of any electoral dispute.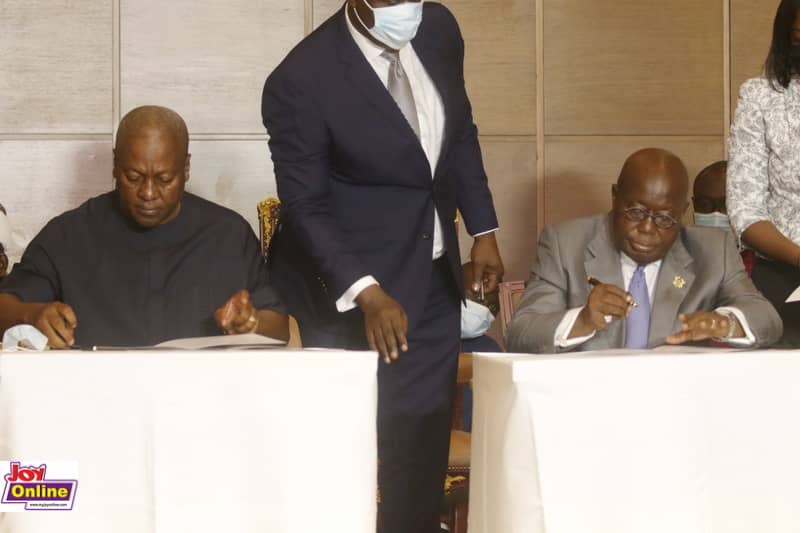 At the event, President Akufo-Addo and John Mahama were resolute in their affirmations to uphold the principle of fairness and orderliness on election day and beyond.
Mr Mahama said; "Now more than ever, we need the institutions of our democracy to work impartially to deliver an outcome that is fair, transparent and in the national interest."
Taking his turn, President Akufo-Addo revealed that it is outside his interest to superintend over any form of violence on December 7 while expressing his readiness to accept the outcome of the polls.