Andrews Asiamah, Fomena MP has written to the Speaker of Parliament to officially notify him of his decision to align with the New Patriotic Party (NPP) Caucus.
This settles the stalemate in Parliament as both the governing NPP and opposition National Democratic Congress (NDC) and draws the line as to who is Majority and Minority in Parliament.
Following his dismissal from the NPP and subsequent win of the Fomena seat as an independent candidate, Mr Asiamah has been in the spotlight in recent times.
At the inauguration of the 8th Parliament, Mr Asiamah was appointed 2nd Deputy Speak of Parliament.
Although he has already declared his intentions to sit with the NPP in Parliament, his official communiqué had not yet been submitted to the Office of Parliament.
In a letter addressed to the Speaker of Parliament, Alban Bagbin, Wednesday, Mr Asiamah stated:
"I Andrew Asiamah Amoako, an Independent Member of Parliament for Fomena Constituency, and now 2nd Deputy Speaker for same Parliament do hereby declare that I shall, for the purpose of transacting business in the house associate with the NPP Caucus in the Eighth Parliament.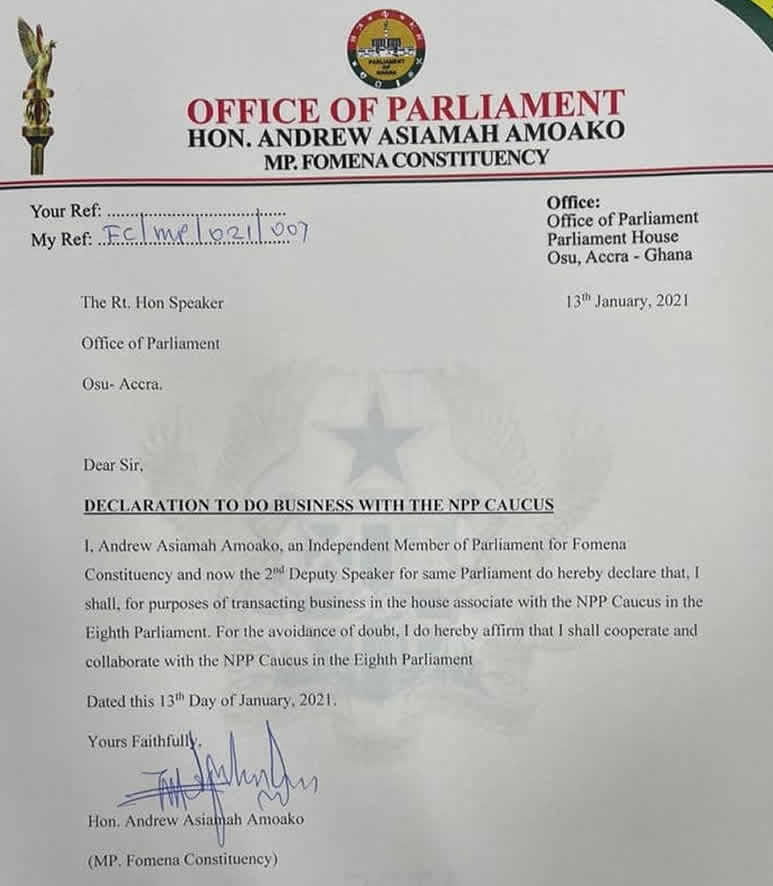 "For the avoidance of doubt, I do hereby affirm that I shall cooperate and collaborate with the NPP Caucus in the 8th Parliament," he concluded.
It is believed that this letter from Andrews Asiamah will help decide who sits where in Parliament.