Ghanaian fashion designers are making efforts to grow the fashion industry for job creation.
But their competitiveness is hindered by foreign influences on the fashion-conscious youth.
Clothing styles and mode of dressing in Ghana in the 1700s were devoid of western influences.
But the arrival of the Europeans gradually influenced clothing tastes and styles.
Dr. Cynthia Akua Chichi at the Department of Industrial Art, Fashion and Textile Section, KNUST, tells how European influence invaded every activity in Ghana.
"We call them African prints. But they did not originate from Africa. They were brought in by merchants. We fell in love with the colorful fabrics and accepted it as our own.
"The traders who were the mediators gave them names. These local names resonated with us. It made us buy those more," she explained.
The foreign influence may have robbed the nation of its unique qualities that define the identity as a people.
Post and pre-independence, the Ghanaian clothing style has become an adaptation of western fashion trends.
"Now, you will find people with bustiers. But our old folks used to wrap fabrics as bustiers around their bodies. We have always been fashionable people.
"It is just that we have been indoctrinated not to accept what we have. When it comes from the West, we think that is the best thing ever," she said.
In 2012, Ghana could not pride itself on a vibrant fashion industry.
This was due to poor finishing and non-conformity to standards and trends.
Fashion designers like Senanu Alomenu have had their share of challenges, but remained consistent to deliver designs seen on runways and fashion events.
"This time around, we have a lot of patronage, compared to previous years. This is because of the ideas we have come up with. A lot of people have interest in what we do now," he admitted.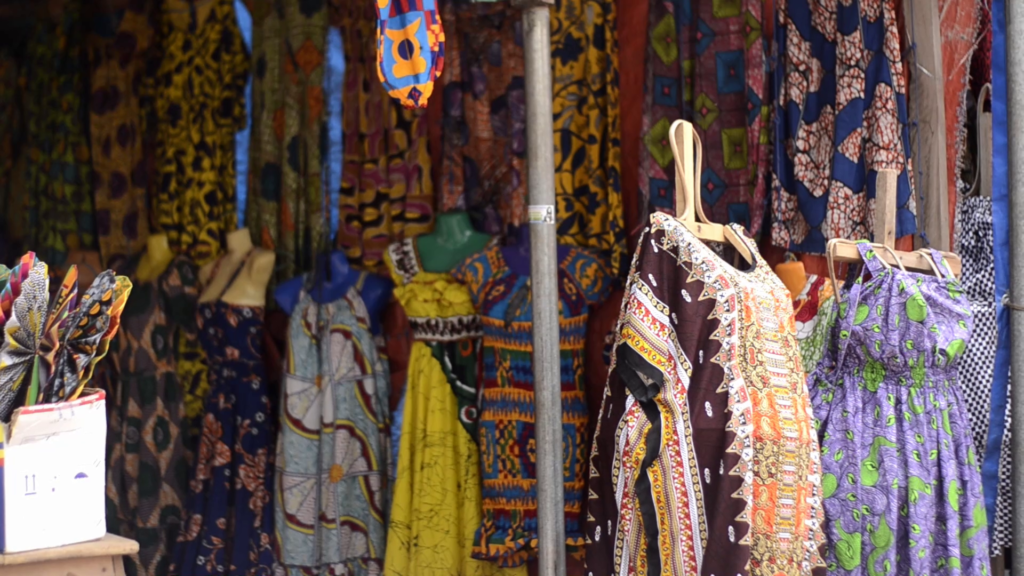 Local designers are steadily bringing a flare of varied designs to the fashion industry.
This is because African prints are being exposed around the world.
"Our styles have both foreign touch of fabrics and the locally made fabrics. We have styles we call denim-Afrique. It is a combination of foreign fabrics and local fabrics like GTP, ATL among others," she said.
While Ghana's fashion industry is gaining international recognition, there are more imports of clothing than what is exported.
Research by the International Journal of Research and Innovation shows about 60 percent of Ghanaians wear second-hand clothing imported from Europe and the United States.
Naana, a second-hand cloth seller at Ayigya, says her clothing business is lucrative as her target market has been swayed by foreign influences.
"To get a good seamstress you will not pay less than 100 cedis for the cost of sewing. You may buy your fabric at 80 cedis. The total is 180 cedis. But with 50 or 20 cedis, you can get a pair of jeans and a blouse. Which do you think people will prefer?" she quizzed.
Some respondents say they would prefer buying second-hand clothing to garments.
Kwaku Appiah says "Sewing an African print cost over 200 cedis. But in town, a pair of jeans is sold at 90 cedis. I can buy a shirt for 40 cedis. I could buy four pairs of that with 200 cedis".
Another adds: "I prefer second hand clothes. They come at a cheap cost".
To carve a Ghanaian look, fashion designers have been entreated to come up with creative designs to reflect the diverse cultures of the Ghanaian population.
"There are designers who are able to design clothes to suit your persona, what you represent or want to be known for," says Dr. Cynthia Akua Chichi.
Senanu Alomenu adds: "Fashion designers are coming up with more creative ideas. It is positive as lots of people are getting interested in what we do now".
DISCLAIMER: The Views, Comments, Opinions, Contributions and Statements made by Readers and Contributors on this platform do not necessarily represent the views or policy of Multimedia Group Limited.