Former columnist of Kotoko Express Newspaper, Kojo Addae-Mensah, is lamenting an alleged feud between the management of Kotoko and Head Coach, Dr Prosper Ogum Narteh, will erode the progress and successes of the football club.
The Ghana Premier League winning coach was reported to have resigned last week over a disagreement with the club's management.
But the Board of Directors, in a letter signed by lawyer Kwamina Mensah, dismissed the report of Ogum's resignation.
The Board scheduled a meeting with the coach together with the management team on Monday to resolve the issues.
But even before the crunch meeting took place, a member of the Board, Dr Kofi Amoa-Abban, took to Twitter on Sunday to call for the dismissal of coach Ogum, a development that reveals the cracks in the leadership of Asante Kotoko.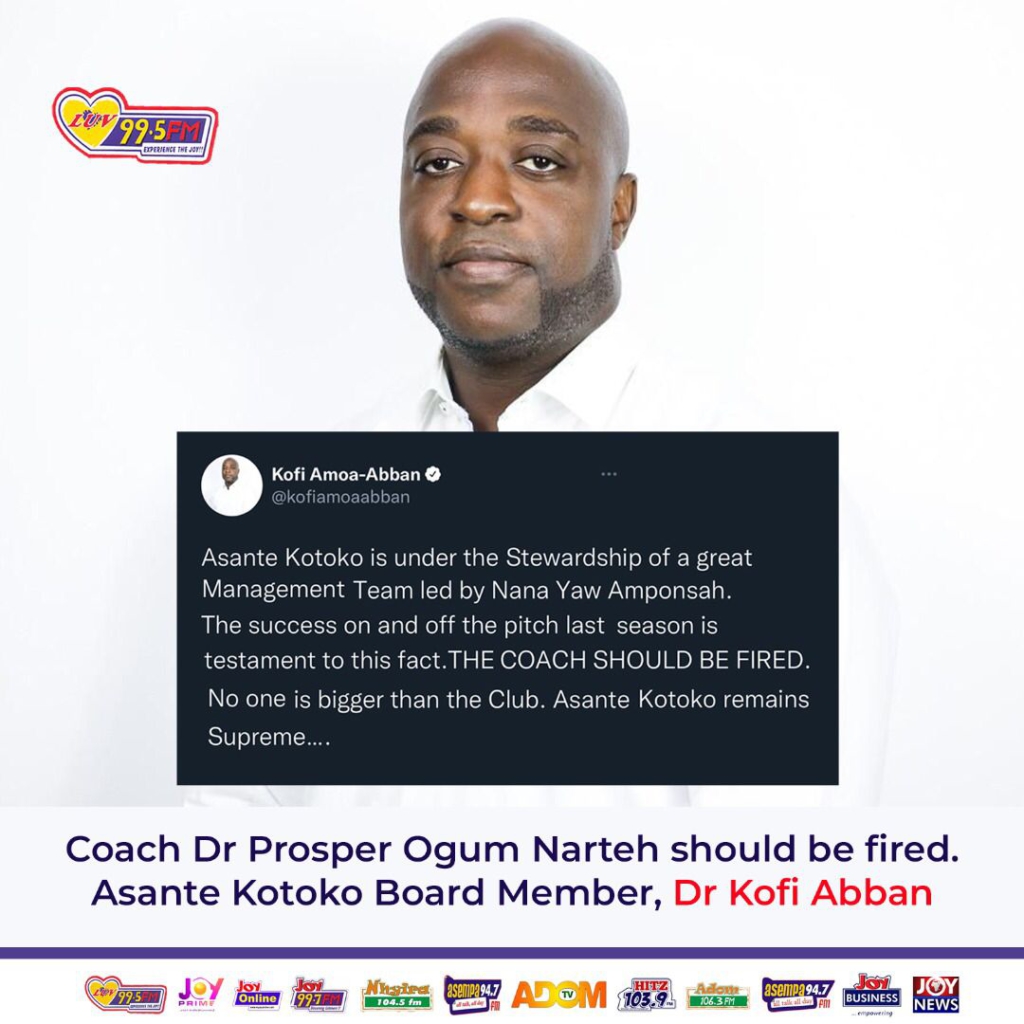 Speaking on LUV FM's Kick Off show on Saturday, the Databank CEO, Kojo Addae-Mensah, expressed his disappointment over the recent crisis at Kotoko.
He is worried this will derail the serene atmosphere surrounding the club after winning the 2021/22 Ghana Premier League.
"I was extremely disappointed because we haven't had with all due respect to all the coaches who have come through, we've struggled to have a decent coach for a while.
"Somebody who knows what he is about, I mean look at what he did with WAFA and he came, picks up and professionally handled us, we haven't had such a figure in a long time.
"To be very honest, we don't have that many options in Ghana, coaches with the right qualification, with the right attitude.
"You could tell when the team played, you could tell that this is a team that has been coached and so I was very happy that we have finally settled on a local who we can rely on and take us into Africa," said Mr. Addae-Mensah.
The staunch Kotoko supporter is worried the trend could take the club back to 'square one'.
"It came out of the blue, they were preparing to have a meeting with the board and discuss the plans for Africa, everything seems to be going on well then boom! and it wasn't even a letter he had written.
"I was so shocked and disappointed and we are back to square one.
"I keep on saying that, the structure of Kotoko sometimes, it has helped us but I think it is hurting us more than it is helping us, we will just be local champions for a long time and it's sad, I'm so sad about the turn of events," he added.