The 'bring back Lionel Messi' campaign by the media, fans and even the manager at Barcelona is growing by the day.
And while the heart tells everyone the homecoming of their greatest son is written in the stars, the head says there are many hurdles to overcome before it becomes reality.
No-one knows this better than the decision-makers at Barcelona - especially president Joan Laporta, who decided two seasons ago that Messi was unaffordable despite having assured him a deal was in place to keep him.
The 35-year-old Argentina forward, who is Barcelona's all-time top scorer with 672 goals in 778 games, still has a deal on the table at Paris St-Germain, but with doubts about their future plans hopes grow at the Nou Camp the return could be on.
Where are we at the moment?
Messi's commitment to PSG ends this summer, and with no movement on extending his stay in France, Barcelona want him back.
However, the dreams of just about everyone at the club crash head-on with the stark reality.
Barcelona have a wage bill of about 600m euros (£531m) which they need to reduce by 200m (£177m).
Before they can even make a formal offer to Messi this financial restructuring must happen, because if it does not - forget Messi for a moment - they will not even be able to register new contracts with the likes of Gavi, Araujo, Marcos Alonso and Sergi Roberto, nor finalise any renewals and sign reinforcements for next season.
The club will have to present a viability plan to La Liga, which will mean more wage cuts, players sold and others arriving on free transfers. There is even talk about terminating some players' contracts.
Only when all this is sorted out can they think about returning into the transfer market for new players, among them Messi.
Also the club's enforced move to the former Olympic Stadium at Montjuic until November 2024 at the earliest because of the renovation of the Nou Camp means they will lose about 55m euros (£49m) in ticket sales.
Barcelona have raised 1.4bn euros (£1.24bn) for the creation of the new stadium which is in addition to the 1.3bn (£1.15bn) they already owe.
Investment banking company Goldman Sachs now has a sizeable control of the club because it has covered a lot of that debt or has managed to get other investors on board and wants a bigger say in decisions. It, like the club, is interested in the return of Messi, which might help attract more investors and sponsors.
The hopes are that the arrival of Messi would lead to the more rapid payments of those debts, and the media is giving hope to the masses as they listen to the club telling them they will convince Messi to return.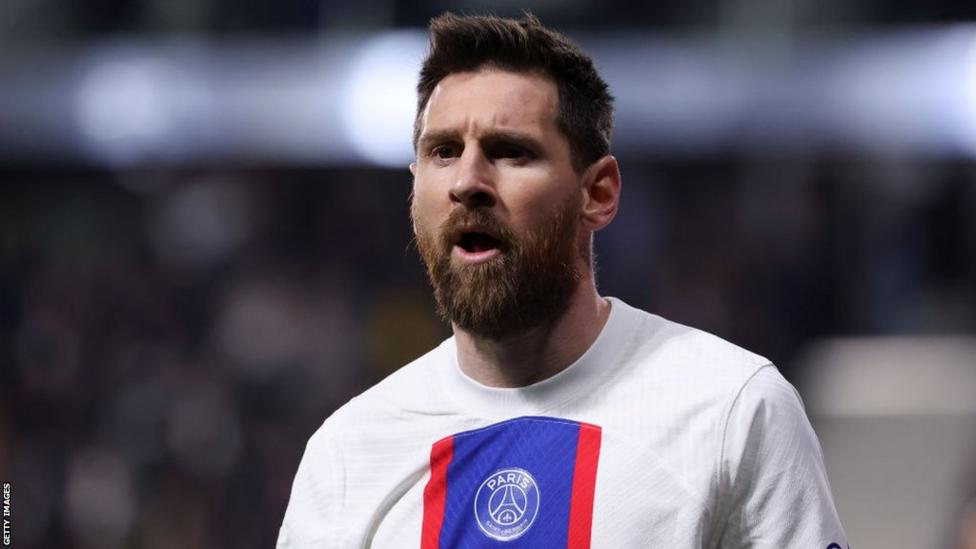 What do Barcelona have to do to bring Messi back?
There will need to be an apology from Laporta on behalf of himself and everyone at the club who orchestrated his departure.
That should be a formality for the pragmatic Laporta, although getting Messi to accept it and totally trust Barcelona's power-brokers again will be considerably more problematic.
When he left he did so after having been reassured that everything was in place to keep him at the club. He even broke off from his holiday to return to Barcelona and sign a new contract.
While everything is being done to build bridges - there has been a meeting between Laporta and the Argentine's father, Jorge - there has still been no contact between the club's president and Messi himself.
They will also need to negotiate the details of the contract, especially surrounding the long-term project in place at the club.
Barca want to offer him a two-year contract so he can be present at the team's return to the Nou Camp and participate in the club's 125th anniversary events.
The Spanish paper Sport has said the club will offer him 25m euros (£22.1m) gross a season, which is a quarter of what he earned at the end of his previous stay - and the club are confident this will be compatible with the stipulations made by La Liga.
There is even talk that the old building overlooked by the stadium which used to house the academy players residence, La Masia, could become a Messi museum with all proceeds going to finance his return. La Liga has told the club that they cannot activate any more financial levers, selling parts of the club to raise money.
Why are Barcelona so obsessed with Messi's return?
Some sections of the media have dared to suggest while everyone is obsessing about Messi's potential return to Barcelona, they are overlooking the ongoing Negreira scandal.
Barcelona face charges of corruption over payments the club made to Jose Maria Enriquez Negreira - a former vice-president of Spain's referees' committee.
His return would certainly bring back some of the prestige to the club many believe it has lost in recent times.
Meanwhile, La Liga President Javier Tebas finds himself between a rock and a hard place in how he handles the situation.
He knows every other club in Spain will be watching to make sure he and Barcelona follow the rules to the letter.
Tebas has been very open in his comments surrounding his possible return, saying: "I hope they can make the necessary moves to make space for Messi to come in, but of course we are not going to change any rules for Messi to sign. Barca can make moves; they sell players.
"That's what we hope happens because I am a fan of Messi and I would like Messi to play in our league. But we won't change any rules. It is complicated, but I think they have the capacity to do it."
The relationship between Barcelona and Tebas also continues to be tense, with Laporta favouring the birth of the European Super League, the antithesis of Tebas' vision for European football. There is not much scope for diplomacy on either side.
What does Messi think about a return?
He is keen on a return to what was his home for about 18 years and where he went from being a young, homesick boy to a mature husband, father and footballing legend.
It is clear he is regarded by Barcelona manager Xavi as an integral part of his future plans and that will be important to him, more important than any financial considerations.
His former team-mate thinks there is 90% chance Messi's return will happen, and has told him he would play either as an offensive midfielder in a 4-3-3 formation or at the top of the diamond in a 4-4-2.
An issue will be the handling of his departure from the club in 2021, and while Messi may find it in his heart to forgive, it is highly unlikely he will ever forget.
Mistrust towards some key directors at the club is still there as they were the ones who let him go two summers ago.
In addition to Barcelona there are many options on the table, not least an eyewatering offer of about 400m euros (£354m) from Saudi Arabia to play a year in the same league as Cristiano Ronaldo.
There are also less financially attractive options from Major League Soccer (MLS), and also a deal on the table from his current club, albeit one where there are doubts about the future sporting plans of PSG.
Will it happen?
If Barcelona have the final say then Messi will return to the club.
That is the idea they have sold to the media who are in turn selling it to the public non-stop.
Stories appear regularly about how his family have already sent back from France about 15 suitcases containing their possessions, or that his children have been registered in a Barcelona school.
He has been in Barcelona a couple of times in the past few months for dinners and social gatherings with Jordi Alba and Sergio Busquets and their wives. Why wouldn't he? They are old friends and go back a long way.
Barcelona continue to explore the possibility and, if in the end they can find a way, he will return.
But the reality is that while Barcelona say they really want to bring him back, while Xavi believes he will return, and while even Messi in a perfect world would like to return, when his people ask the club "what are you offering?" the answer at the moment is "nothing just yet".
DISCLAIMER: The Views, Comments, Opinions, Contributions and Statements made by Readers and Contributors on this platform do not necessarily represent the views or policy of Multimedia Group Limited.