Former President of the United States of America, Barack Obama has condemned the Russian invasion of Ukraine.
According to him, the brazen attack on Ukrainian people flies in the face of international law and basic principles of decency.
"Russia did so not because Ukraine posed a threat to Russia, but because the people of Ukraine chose a path of sovereignty, self-determination, and democracy.
"For exercising rights that should be available to all people and nations, Ukrainians now face a brutal onslaught that is killing innocents displacing untold numbers of men, women and children," he said in an official statement.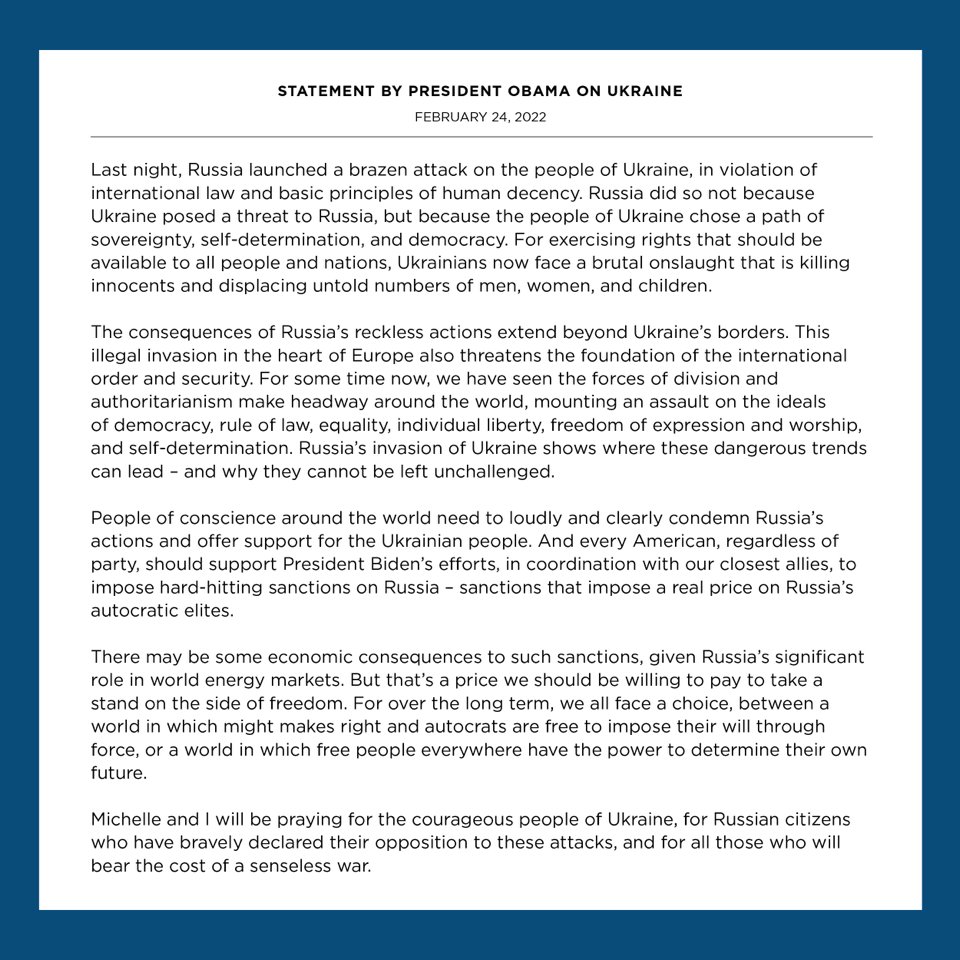 He stated that the actions of Russia do not only affect the Ukrainian people, but threatens the foundation of international order and security in the heart of Europe.
Obama added that Russia's invasion of Ukraine was also a manifestation of what could happen if the rise in authoritarianism across the globe was left unchecked and allowed to fester.
He, thus, called on "people with conscience around the world" to "loudly and clearly" Russia's actions and offer their support to the Ukrainian people.
He further called on Americans to support President Biden, in collaboration with the country's allies to place severe sanctions on Russia.
"Sanctions that impose a real price on Russia's autocratic elites," he said.
He noted that such sanctions may have hard-hitting consequences for America and her allies, taking into consideration the major role Russia plays in the international energy market.
"But that's a price we should be willing to pay to take a stand on the side of freedom," he said.
Meanwhile, Barack Obama says he and his wife, Michelle, will be praying for "the courageous people of Ukraine, for Russian citizens who have bravely declared their opposition to these attacks, and for all those who will bear the cost of a senseless war."
DISCLAIMER: The Views, Comments, Opinions, Contributions and Statements made by Readers and Contributors on this platform do not necessarily represent the views or policy of Multimedia Group Limited.