Hundreds of residents of Elubo in the Western Region, are protesting the continued closure of the border between Ghana and Cote d'Ivoire.
They are demanding its reopening to ensure that the livelihoods of the citizens in the town and its surrounding communities, are restored.
The aggrieved residents have thronged the principal streets in the Jomoro District to press home their demand.
Dubbed, 'Open Our Land Border Now' demonstration, members of the group, clad in red and black attire, were seen chanting war songs and hoisting placards, hoping that government heeds their call.
Some of the placards read, 'We can't pay school fees', 'Didn't Covid-19 enter Ghana though Kotoka' and 'Bring Back Our Businesses'.
President Akufo-Addo announced the closure of land borders back in March 2020, as part of measures to help curb the spread of the Covid-19 virus.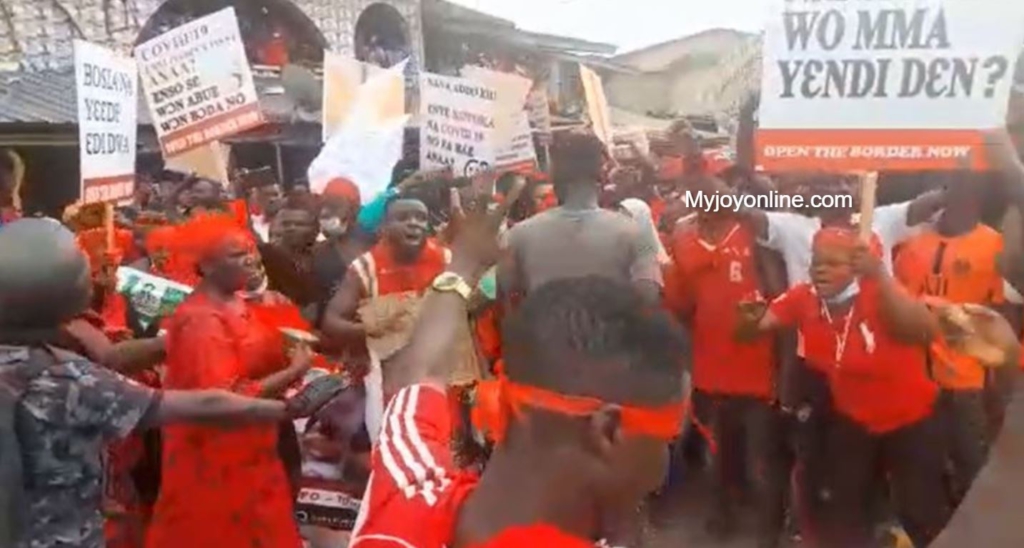 But over a year and a half after the closure, the people of Elubo say the move has outlived its purpose.
"Our goods are spoiling, and everything is falling apart. We have collected loans, and we are not able to pay," a trader, Veronica Asamoah, lamented.
Also among Thursday's protestors was the Jomoro MP, Dorcas Afo-Toffey, who re-echoed the concerns.
She told journalists that "our people at the borders are suffering," adding that all efforts on her part as a legislator have fallen on deaf ears.
Therefore, she hopes that "by doing this demonstration, the government will hear us and do something."
A petition was presented to the Chief Executive Officer of Jomoro Municipality, Ernest Kwofie, who promised to forward their concerns to the appropriate quarters.
The action comes barely a week after Ketu South residents embarked on a similar demonstration in the Volta Region to open the Aflao border.