Grace Fosu was about to give birth at a maternity ward in Ghana's capital Accra when she says she received a phone call from her employer, the Ghana National Fire Service (GNFS), telling her that she was being let go from her job.
"I am in labor and you are calling me to tell me this, do you want me to die?" Fosu, 33, recalled telling the metro fire officer.
After hanging up, Fosu delivered a healthy baby girl, Salamat. But instead of feeling joy, she was consumed with grief.
"For the dismissal, I went through hell … I was very, very sad because I wasn't expecting this," Fosu told CNN about the September 2014 phone call.
Fosu and her husband, Seidu Abubakari, had married the previous year, after meeting at an athletics tournament for Ghana's security officials; Fosu ran the sprints for the fire service and Abubakari was a long distance runner for Ghana's customs agency. Salamat was their first child, and they were looking forward to starting a family together.
Weeks after their daughter was born, the couple were summoned by the fire service and a formal dismissal letter, in which Fosu's pregnancy was described as an "offence," was handed to her husband.
"When I opened the letter, I was confused. Then my body started shaking so I tried to control myself and my wife too," Abubakari, 38, said, adding that fire service officials largely ignored Fosu's presence in the room.
Grace and her husband Seidu Abubakari in their uniforms.
The letter stated that Fosu was in violation of "Regulation 33 clause (6) of the Ghana National Fire Service Conditions of Service," which prohibited female firefighters from becoming pregnant in their first three years of employment.
Fosu had never before heard of the decades-old rule, which was established when the fire service was formed in 1963.
The spokesman for Ghana's National Fire Service, Ellis Okoe, told CNN that the regulation was created because "fire service work involves a lot of strenuous effort" and that "if you are pregnant it could cause a lot of problems."
It's unclear how many women have been affected by the regulation, but Fosu's experience suggests a selective enforcement of the rule. She says 11 other women in her class of firefighters were also pregnant within the same three-year period, but she was the only one to be kicked out of the service.
Okoe said that the fire service "doesn't have statistics" on all of those dismissed under the clause, and could not explain why Fosu's peers who became pregnant were allowed to continue working.
Fosu believes she was targeted over an incident in which she says she was sexually harassed by a senior male officer. She says the officer called her one evening demanding sex and gave her unsolicited advice on ways she could abort her baby. Abubakari, who witnessed the conversation, confronted the officer. But the couple never reported the incident.
Spokesman Okoe told CNN that the fire service has rules against sexual harassment and abuse, including an internal tribunal to investigate claims, which would have been utilized if Fosu had lodged a complaint.
Fosu says she never filed an official report against the officer — who is still in the service — because the harassment stopped after her husband confronted him.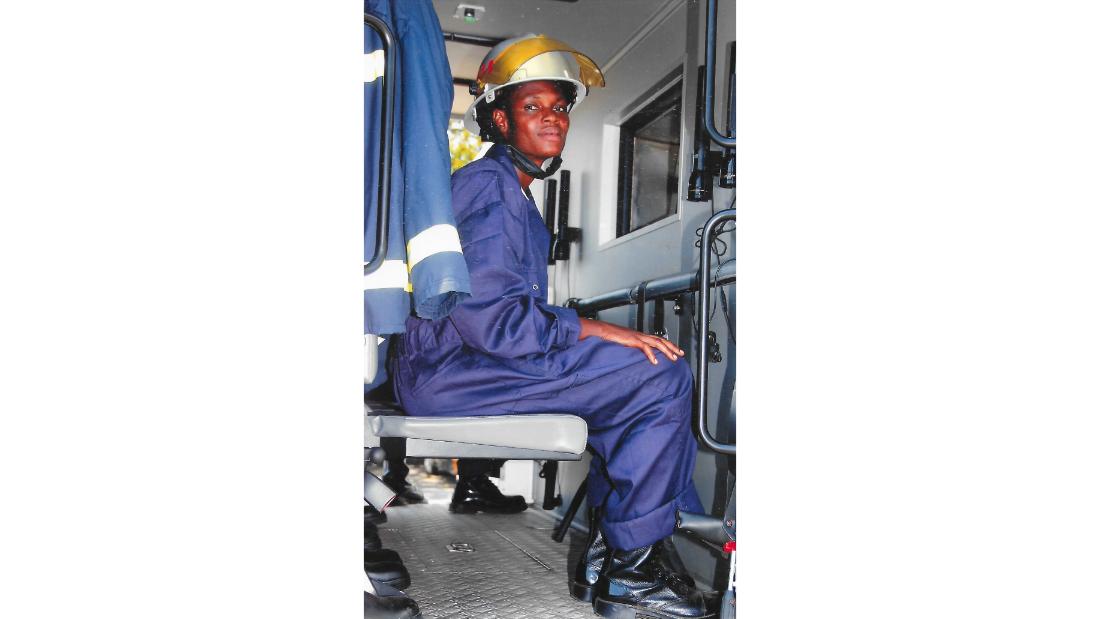 Grace dressed in her full fire service gear.
After being dismissed and with nothing left to lose, she says she decided to take action against the fire service.
She reported her dismissal to Ghana's Commission on Human Rights and Administrative Justice (CHRAJ), an independent constitutional body with powers to investigate human rights abuses in the country.
"Quite a number of similar cases had come from the uniformed services of Ghana," CHRAJ commissioner Joseph Whittal told CNN, explaining that similar rules about pregnancy exist in Ghana's armed forces, police and immigration service.
A Ghana Armed Forces spokesman told CNN that the military has a policy governing when women recruits get pregnant until six months past the end of the training period; it previously had a three-year ban like the fire service. A Ghana Police Service spokeswoman told CNN that women who got pregnant during their 18-month probation period were given maternity leave and allowed to return to work. CNN has reached out to the immigration service for comment on their policies.
"Because the grounds for dismissal was based on a regulation, the only option was to seek a declaration from the courts invalidating it," Whittal said.
For years, CHRAJ had been waiting for a complainant willing to take such a case to court. Women who had previously reported their dismissals on similar grounds to CHRAJ withdrew because they didn't want to go through the court process, which can often be cumbersome and drawn out. But Fosu says she was not deterred.
And as the lawyers at CHRAJ prepared to sue the fire service, another woman, Thelma Hammond, came forward with a similar story.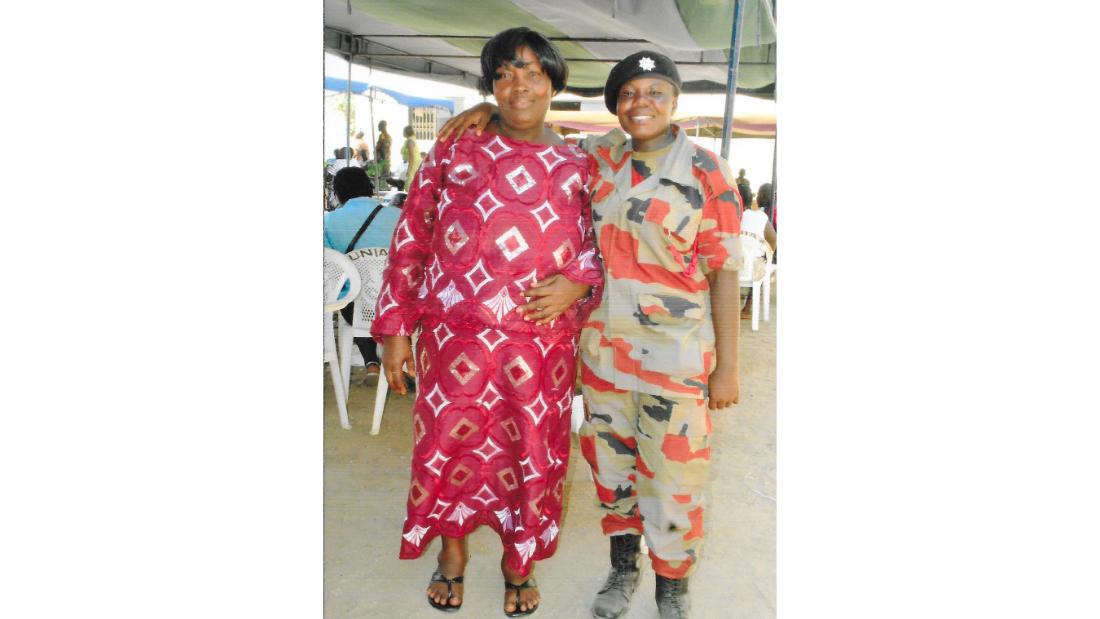 Thelma (right), with her mother, at her graduation from fire service training school.
Hammond, 36, was dismissed from the fire service in June 2013, more than a year before Fosu. She too had a baby before her first three years of service were up. Hammond told CNN that, after her dismissal, her colleagues asked if she had refused advances from senior officers.
Hammond said she hadn't experienced any sexual harassment at the fire service and was shocked to lose her job. She says her first reaction was: "How can I take care of my baby?"
In 2017, Fosu and Hammond filed a lawsuit against Ghana's Fire Service, triggering what would become the country's first successful gender discrimination case.
In the Human Rights Division of the Accra High Court, lawyers for the fire service argued that vigorous training during the first three years of employment may "adversely affect the foetus and the would be mothers." But their reasoning didn't stand up.
In April 2018, after less than a year of court proceedings, Justice Anthony Yeboah declared the regulation "discriminatory in effect, unjustifiable, illegitimate and illegal."
The judge held that by giving other women a reprieve, the fire service had demonstrated that the training could be deferred until after pregnancy and that women were "entitled to the right to choose when to become pregnant."
In his ruling, Yeboah said the dismissal of Fosu and Hammond was "[an] unwarranted, institutional onslaught on their fundamental human rights – right to work and freedom from discrimination."
He ordered their reinstatement as firefighters, the payment of all the salaries and bonuses lost due to their dismissals and compensation of 50,000 Ghanaian cedi, about $9,000 dollars, to each woman "for the trauma and inevitable inconvenience of the wrongful dismissal."
The victory was a big win not just for the women, or the lawyers working the case pro bono, but for gender equality in Ghana.
Thelma was fired after giving birth to her daughter, Martha Oppong-Sagoe.
Spokesman for the fire service Ellis Okoe told CNN that the service has since scrapped the policy "to reflect the changes of the time," reducing the prohibition period from three years to one — the first six months of training and six months probation.
But, nearly a year after the historic judgment, the fire service is still resisting the verdict. Despite losing an appeal in January, the GNFS has still not allowed Fosu and Hammond to return to work and is yet to compensate them. CHRAJ sent the service a letter demanding that they reinstate the women by February 28 or face contempt of court, but the date passed without any action.
In theory, Ghanaian women have the constitutional right to equality and freedom from discrimination, but the Fosu and Hammond's case exposed the reality that sexism is still rife, Sheila Minkah-Premo, a lawyer and women's rights advocate, says.
"[Ghana] has made some strides with regard to women's rights in some areas but has not done very well in other areas … women's role in public life is abysmal with attempts to get an affirmative action law in place not gone far," she said. Only 37 of the 275 members of parliament are women.
Still, the country does better than others in guaranteeing paid leave for mothers of infants. Ghanaian women are entitled to at least 12 weeks of paid maternity leave under the country's Labour Act — the US, by comparison, guarantees nothing. But, Minkah-Premo says, Ghanaian employers find ways around the rules.
"The challenge is with some discriminatory practices in some institutions when it comes to engaging women who are pregnant or who become pregnant within the probationary period or a defined period within employment … Some banks also have similar policies and these are discriminatory practices that must be stopped."
Hammond says that the sudden shift from a two-income household took a toll on her marriage, sparking frequent fights.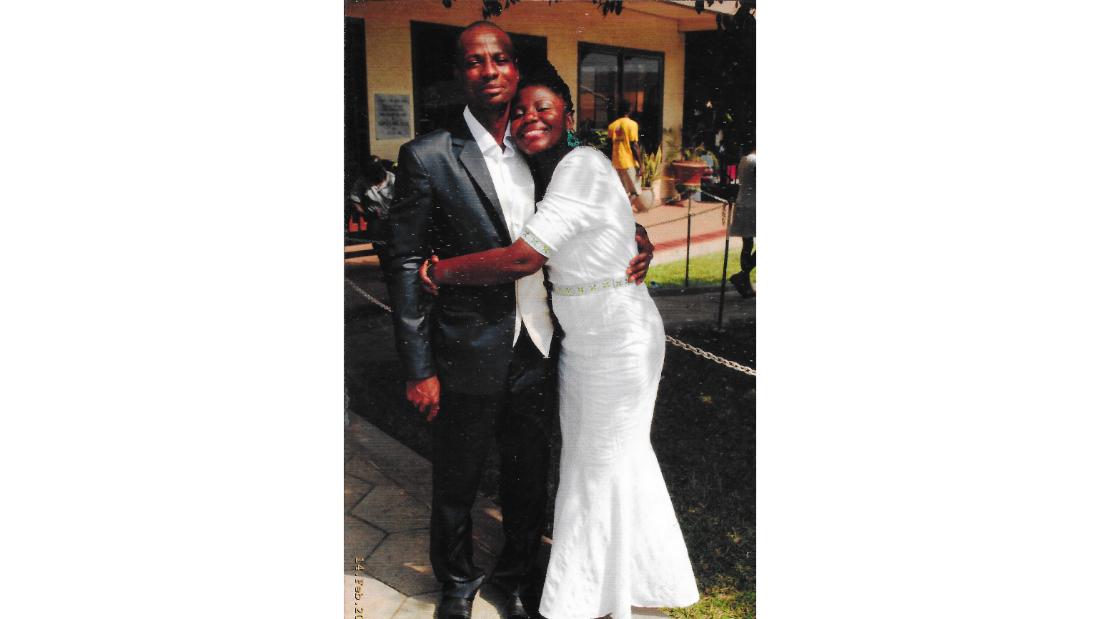 Thelma (right) with her husband Terrance Oppong-Sagoe.
"All the pressure was on my husband because the support I was giving him was no longer coming… [and] all the pressure of paying water bills, electricity bills, school fees, all [of these were] on him," Hammond told CNN.
Before she was let go, she had been saving to study human resources at university, but those dreams have been put on hold.
Fosu says that when she lost her job she felt she lost her identity as a strong, independent, working woman and she contemplated suicide.
The internal struggle and financial strain that accompanied her dismissal has had knock-on effects on Fosu's family too.
In a desperate moment, she sold her wedding ring for a sixth of its value to buy food. The decision started a huge fight with her husband, who says he hopes to replace it when their finances are in better shape. In the meantime, the couple had to sell a plot of land where they planned to build a house. Today, they live in a small one bedroom home in a slum west of Accra.
Still, the couple has hope. Abubakari says he wants to study law one day so he can help other women, who went through what his wife has.
But for now, all they can do is wait.
"I'm praying that this job comes back to my hands. I have a lot to give in my future," Fosu said.