Member of Parliament (MP) for Sunyani East, Kwasi Ameyaw-Cheremeh has cut sod for the commencement of two classroom blocks for two schools in the Sunyani Municipality.
The beneficiary schools are Police School, Sunyani, and Abesim SDA School.
The construction will see a 2-unit kindergarten block with a 4-seater water closet, a shower, an office, a store, and a water reservoir at Police School in Sunyani, and the construction of a 3-unit classroom block at Abesim SDA.
At separate ceremonies, former presiding member for the Sunyani Municipal Assembly, Ansu Kumi on behalf of the MP, said, education is a priority and the New Patriotic Party (NPP) which, he says, explains the continuous investment in educational infrastructure within the Sunyani municipality.
"Infrastructure should not be a hindrance to every child of school-going age, and that is why we are working hard to have a school environment with the appropriate infrastructure for all children," he said.
Access to education, he said, is linked to the infrastructure in schools, and that explains why school enrollment increases with increased infrastructure.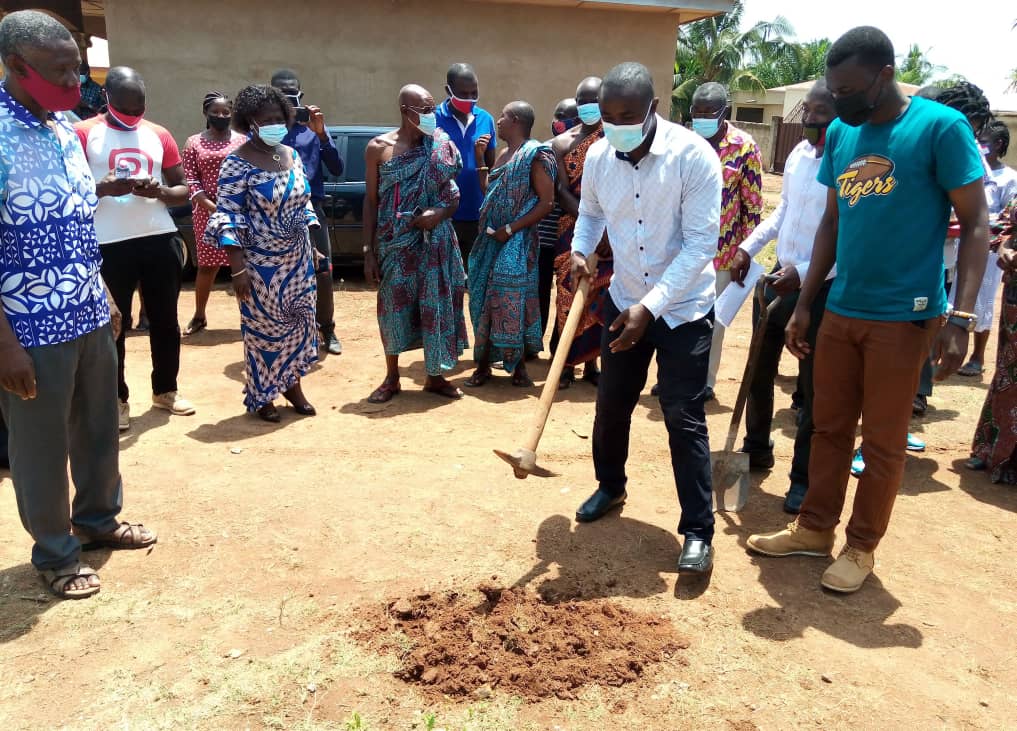 "Nkrankrom school recently witnessed 100 pupils enrolled after the MP inaugurated a classroom block there," Kumi revealed.
He, however, said quality education will not be compromised as enrollment figures increase.
Ansu Kumi, who is also Sunyani East constituency secretary of the NPP said, the MP appreciates the enormous benefit of an educated community which will translate into improved sanitation, reduction in crime rate, and less unemployment, among other improvements in every facet of our lives.
Because of that, Kumi said the MP is focused and encouraged to assist in the provision of more infrastructure for schools in the municipality.
He implored all stakeholders to offer all necessary support to ensure the contractor, Gybeet Compay Limited, completes the two projects within the agreed 6months, as funds for the project are readily available.
The Sunyani Municipal Education Director, Theresa Kyere Boakye expressed her outfits appreciation to the MP for his continuous vision of expanding the infrastructure base of many schools in the municipality.
She said the situation has greatly helped in the enforcement of the covid-19 safety measures in the schools.
The headmistress of the Police School, Sunyani, Selina Boateng, also thanked the MP for the projects but appealed for further support to complete a 2-store building, started by the school's Parent-Teacher Association, which when completed, could accommodate close to a thousand students.
The Headmistress of Abesim SDA school, Hannah Agyei, also appealed for toilet facilities for both students and teachers, with a call on the community to halt the use of the school's land as a refuse dump.
DSP Sulley Haruna Salifu, Bono Regional Operations Commander, assured the MP, Kwasi Ameyaw-Cheremeh, of proper maintenance to ensure maximum benefit is derived from the projects.
The MP a month ago inaugurated three different classroom blocks with ancillary facilities at Adidaase, Atuahenekrom, and Abesim, all in the Sunyani East Municipality.