Turkey and Russia have agreed what they called a "historic" deal aimed at keeping Kurdish forces away from Syria's border with Turkey.
Turkey this month launched an offensive to drive out the Kurdish forces from their southern frontier and create a buffer zone.
Russia is an ally of Syria's Bashar al-Assad and has raised concern about foreign interference in Syria.
Turkey and Russia will now conduct joint patrols on the border.
The deal comes after the US announced a sudden and unexpected withdrawal and analysts see it as cementing Turkish and Russian influence in the region.
For Turkey it means retaining control over areas gained at the expense of the Kurds while for Russia its forces alongside Syria's will oversee the rest.
Hours after the deal was announced Turkey said there was no need to re-launch its offensive, which was on hold due to a ceasefire, as Kurdish fighters had withdrawn from the Turkish "safe zone".
What was agreed?
Turkey has seized a 120km-long strip of land between the towns of Ras al-Ain to Tal Abyad to create a "safe zone" to resettle up to two million refugees currently in Turkey.
Russia has agreed to allow Turkey's operation, removing the risk of conflict between the two sides.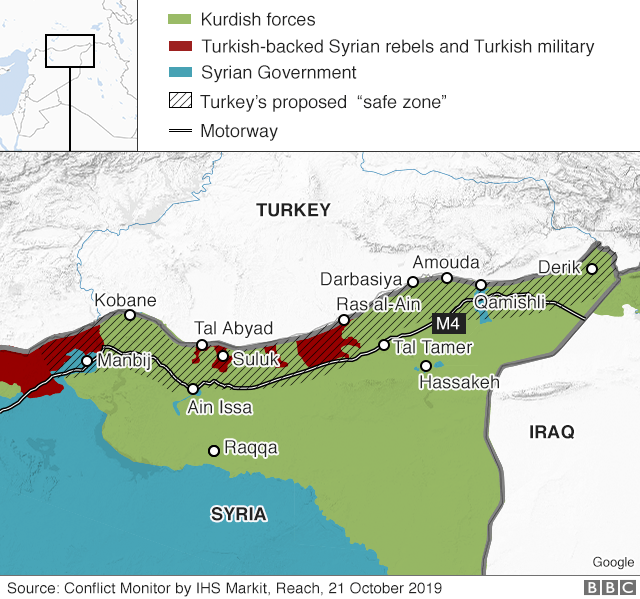 The statement from Russia and Turkey says that Kurdish forces "will be removed" from the towns of Manbij and Tal Rifat – both of which lie outside the operation area.
Kurdish militias have yet to indicate whether they will agree to those demands.
Under the plan, Russia will conduct joint patrols with Turkey in parts of northern Syria to ensure that Kurdish forces do not return to areas close to Syria's border with Turkey. They will begin on Wednesday.
Joint Russian and Syrian patrols in areas where Turkish forces do not operate will also begin on Wednesday.
The announcement came after talks between Russian President Vladimir Putin and Turkish President Tayyip Erdogan
Mr Assad thanked President Putin and "expressed his full support for the results of the work as well as the readiness of the Syrian border guards, together with the Russian military police, to reach the Syrian-Turkish border," the Kremlin said.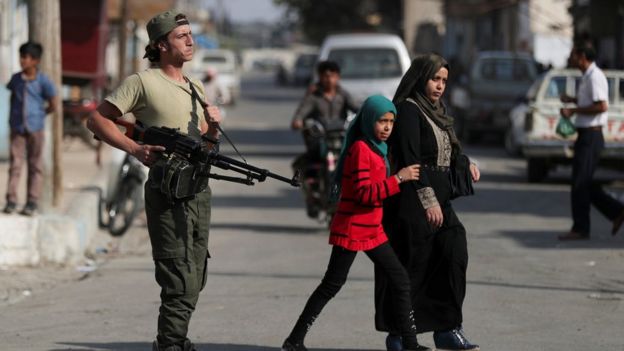 Turkish-backed Syrian rebels have captured the border town of Tal Abyad
How did we get here?
A US-led coalition relied on Kurdish led forces to battle Islamic State (IS) militants in northern Syria over the past four years, but they are dominated by the Kurdish People's Protection Units (YPG) militia which Turkey sees as a terrorist organisation.
Just over two weeks ago President Donald Trump announced that he would be withdrawing US troops from Syria. Soon after, Turkey launched an offensive on the Kurds.
Russia stationed troops near the border over concerns that Syria's territory was being encroached upon by a foreign power.
Turkey agreed to pause the assault last week at the request of the US to "facilitate the withdrawal of YPG forces from the Turkish-controlled safe zone".

Civilians pelt US vehicles with potatoes
Since then the ceasefire has largely held, despite what US officials have described as "some minor skirmishes".
The Kurds have been given another 150 hours to withdraw to a depth of 32km (20 miles) from the border.
What has the cost been?
The UN says more than 176,000 people, including almost 80,000 children, have been displaced in the past two weeks in north-east Syria, which is home to some three million people.
Some 120 civilians have been killed in the battle, along with 259 Kurdish fighters, 196 Turkish-backed Syrian rebels and seven Turkish soldiers, according to the Syrian Observatory for Human Rights (SOHR), a UK-based monitoring group.
Twenty civilians have also been killed in attacks by the YPG on Turkish territory, Turkish officials say.