A pressure group, Arise Ghana has criticised the Ghana Police Service for its recent public education on modalities for holding special events including demonstrations.
According to the Group, using their protest as basis for public education on holding demonstrations is disingenuous.
They contended that that public education embarked on by the Police was premised on their two-day protest which turned chaotic on the first day.
The Ghana Police Service on Wednesday provided public education on the holding of special events including demonstrations a week after the protest by Arise Ghana.
A document sighted by myjoyonline.com noted, "Following the violence that characterised the Arise Ghana Demonstration in Accra on Tuesday, 28th June, 2022, the Police wish to take the opportunity to educate the general public on the law that guides the holding of special events including demonstrations."
But Arise Ghana described the action of the Police as "disingenuous and a deliberate attempt to smear the image" of the pressure group.
The group believes the action of the Police is to "court public disaffection for Arise Ghana".
Contrary to a Police report that the Group breached the Public Order Act during the demonstration, Arise Ghana said, in a statement signed by Rex Omar, that it "strictly adhered to all the relevant provisions of the Public Order Act in the organization of our historic two-day demonstration held on 28th and 29th June, 2022."
"Neither the demonstrators nor the leadership of Arise Ghana are culpable of any breach of the Public Order Act," the statement by Arise Ghana on July 7 noted.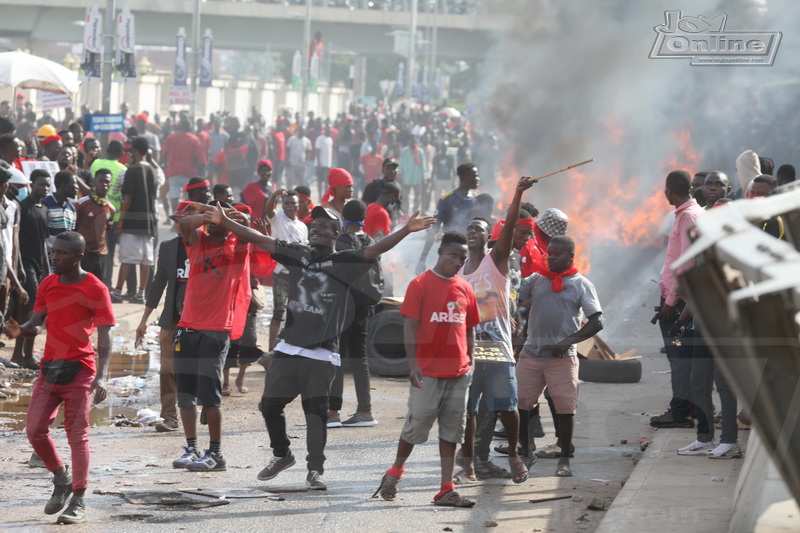 The Police in its earlier statement after the protest said it will ensure justice is served on the protestors and organisers of the protest for breaching the law.
However, Arise Ghana noted that it finds the threat of arrest by the Police 'appalling'.
"We are appalled by persistent threats of the Ghana Police Service to arrest the leaders of Arise Ghana when it is the Dampare-led Ghana Police Service that should face the law for abandoning their professional ethics in favour of their masked paymasters," the statement added.