General Secretary-elect of the University Teachers Association of Ghana (UTAG)-UG Chapter has sounded caution amid ongoing negotiations following the suspension of their industrial action.
Prof Ransford Gyampo, in an opinion piece on Thursday, said the suspension of the strike action does not mean the lecturers will relent in their effort to secure better conditions of service.
UTAG members laid down their tools on August 2, 2021, a development that has taken a toll on university students across the country over the past two weeks.
All efforts by the National Labour Commission, Employment and Education ministries to get them back to the campuses proved futile.
After a short legal tussle, both parties agreed to a Memorandum of Understanding (MoU) on August 18, to negotiate the terms in a month, within which period UTAG has agreed to return to the classroom.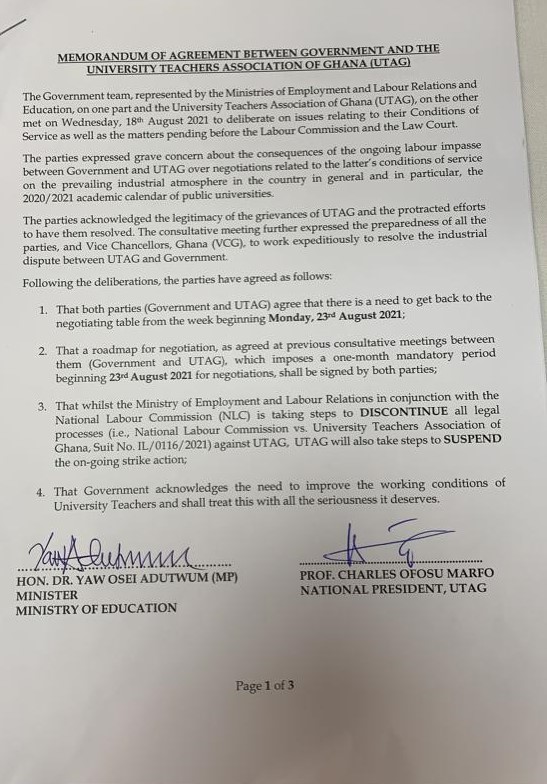 But Prof Gyampo reiterated that the latest move is just a suspension of their action and not an outright cancellation of the strike.
He says UTAG will not hesitate to undertake more biting action if they feel shortchanged in the ongoing deliberation with leadership.
"The line of demarcation between "a called off strike" and "a suspended strike" must be clearly articulated, and caution must be sounded that, a more deadly industrial action, that elicits massive support from all labour unions in Ghana and makes the country ungovernable, would be proposed, and organized to bring equity and social equilibrium, should University Teachers feel deceived, cheated or lied to, after the one month negotiation period."
As part of the roadmap, Wednesday's MoU also recommended that the Ministry of Employment and Labor Relations and NLC take steps to discontinue all legal processes against UTAG.
UTAG has been on strike demanding the implementation of a 2012 Single-Spine package which put entry-level lecturers on a salary of $2,084, among others.
DISCLAIMER: The Views, Comments, Opinions, Contributions and Statements made by Readers and Contributors on this platform do not necessarily represent the views or policy of Multimedia Group Limited.