As the luxury menswear industry gathers in Paris to pay homage to the late Virgil Abloh at his last show, speculation is building about how his legacy can be preserved.
The late Virgil Abloh brought a culturally broad aesthetic sensibility to Louis Vuitton menswear — could his successor also be a creative who reaches beyond the world of fashion?
That's the crux of the ongoing discussion in fashion circles on the eve of Abloh's last collection for Louis Vuitton, for Autumn/Winter 2022, to be presented posthumously on Thursday at the Paris menswear shows.
The fashion rumour mill has been in overdrive about Abloh's successor since the 41-year-old designer died of cancer on 28 November 2021. Fashion insiders, headhunters and people close to LVMH's thinking told Vogue Business among the possibilities are Jonathan Anderson who has revived LVMH-owned Loewe with plaudits for both mens and womenswear, as well as building his own London-based label JW Anderson.
Nigo is another possibility: a recent hire to Kenzo, he will show his first collection this week, though it may be too early for him. (Insiders noted John Galliano was moved quickly by LVMH from Givenchy to Dior in the nineties.) Ronnie Fieg, who founded Kith, and Sacai founder and creative director Chitose Abe, who have both built successful brands, were also mentioned. 
Emerging designers named include young British designer Grace Wales Bonner, Fear of God's Jerry Lorenzo and A-Cold-Wall's Samuel Ross, (both friends and collaborators of Abloh's), as well as Casablanca founder Charaf Tajer. Ib Kamara, the Sierra Leone-born stylist and editor in chief of Dazed, who is reported to have played a key role in this week's show, was also a possibility.
Louis Vuitton might also choose to have a creative arrangement akin to Moncler Genius and invite a designer for menswear each season, while keeping Staples Edition, the collection of essentials conceived by Abloh and designed by the studio. The designers and LVMH either declined to comment or could not be immediately reached.
The Louis Vuitton brand is at the heart of the LVMH empire, which means that Bernard Arnault, chairman and CEO, is likely to take an intense personal interest. Another question is the future of Off-White, the streetwear label that Abloh founded in 2013 with the New Guards Group, in which LVMH took a 60 per cent stake.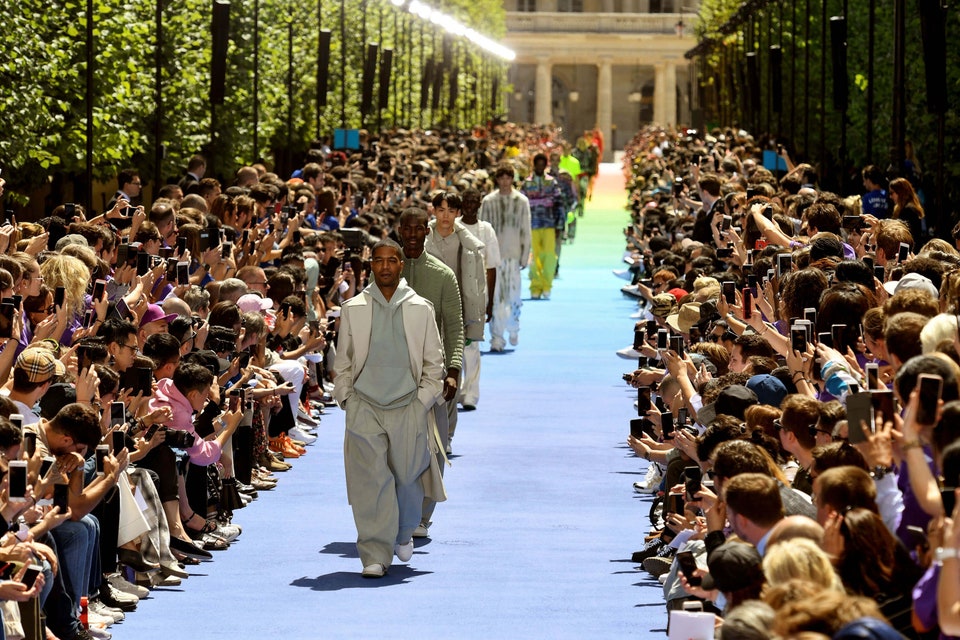 Floriane de Saint Pierre, founder of eponymous HR consulting firm, believes a creative from outside the world of fashion would be a clever choice. "I am not sure Virgil Abloh can have, or even should have, a successor coming from fashion," she says. "Virgil brought much more than design; he brought a cultural voice to everything he did. That's why his work resonated and continues to resonate so deeply. I think the only way is a brilliant cultural mind able to select and lead talents."
Her views are shared by Pierre Alexandre M'Pelé, aka Pam Boy on social media, head of editorial content at GQ France. "It would be most important not to break the artistic route traced by Virgil Abloh," he says. "The next Louis Vuitton men's lead should be someone with a strong and unique vision. Whether that person is a trained designer or not does not matter. If anything, Virgil's successes have proven to us that vision is what prevails in such a role. It needs to be someone young who will allow the spirit of Louis Vuitton to expand, creatively speaking."
The legacy of Virgil Abloh is front of mind. "People will look at the symbol behind the profile of the new hire," says Benjamin Simmenauer, professor at Institut Francais de la Mode. "Will they choose continuity or disruption?"
Also front of mind for LVMH is the experience required to oversee a megabrand. "If we take the hypothesis of the internal promotion, Jonathan Anderson is the most logical choice because of his talent, experience and because of the timing," says Jean Vigneron, associate partner at Paris recruitment firm Agent Secret. LVMH appointed Anderson as Loewe creative director in 2013.
Louis Vuitton men's: Stepped-up contribution
LVMH does not break down financial figures for individual brands. However, Louis Vuitton, the world's largest luxury house, is by far the biggest, generating revenue of €16.7 billion in 2021, according to HSBC analyst estimates. That's 27 per cent of total LVMH sales and 53 per cent of its EBIT, also according to HSBC analyst estimates. LVMH is to report its annual earnings on 27 January. Its fashion and leather goods division surged 57 per cent in the first nine months of 2021. Louis Vuitton represents around 58 per cent of the division's sales and 80 per cent of the profits.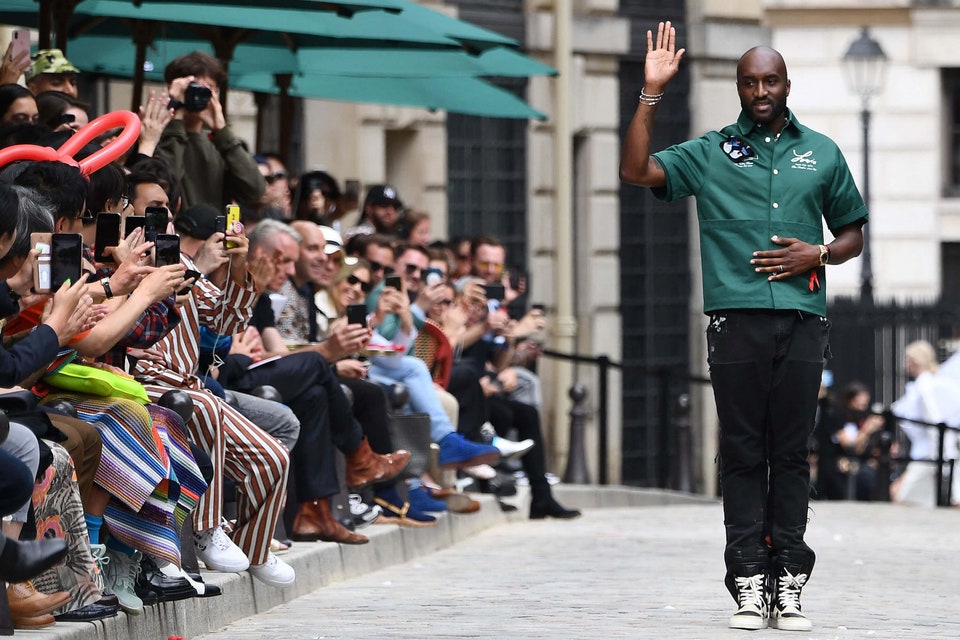 While men's ready-to-wear is a small part of Louis Vuitton's total revenue, Abloh stepped up the performance of the category and created a number of hits, including eyewear (such as his redesign of the Millionaires shades), bags (think the Keepall bag in iridescent hues and men's mini soft trunks), harnesses (sported by Timothée Chalamet on the red carpet) and varsity jackets, as well as delivered blockbuster shows with a halo effect on the house. His collaboration with Louis Vuitton and Nike on Air Force 1 sneakers is also on watch lists for when it drops sometime this year.
In LVMH's third quarter earnings statement last October, the group said Louis Vuitton is performing "remarkably well, driven by constant innovation and by the quality of its products". Nicolas Ghesquière has been Louis Vuitton's artistic director for womenswear since 2013 — his contract was renewed in 2018.
Abloh: More than fashion
In an interview published last November with Anja Aronowsky Cronberg for the 10th issue of academic fashion journal Vestoj, Abloh told the title's editor-in-chief: "When I first met you, when I was first becoming known in fashion, I didn't want to talk about it, you know that. I didn't want to deal with race. And now I think of it as the one legacy I want to leave as a Black designer."
His creative circle included many musicians, including Kanye West, who he called his "greatest mentor", Lauryn Hill, Drake and Tyler, the Creator, who all attended his funeral. His creative community also included stylist Ben Perreira, Vogue Australia fashion director and Wardrobe NYC founder Christine Centenera and Matthew Williams, the creative director of Givenchy who created the Been Trill collective with Abloh, Heron Preston, Justin Saunders and YWP.
"He used the Trojan horse metaphor, but he was not looking to burn the system. He was looking for alternatives, to allow other people in," adds Vestoj's Aronowsky Cronberg in an interview with Vogue Business, who was working on a book about Abloh at the time of his death. "He didn't see his role as reinventing a silhouette, but as changing the way people think about fashion. To me, he was a philosopher-in-practice."
On the subject of his successor, she says: "If we are going to speculate, I don't think it will be anyone from Virgil's world. He was unique — his curiosity, his openness, his way of challenging and unsettling hierarchy. That way of moving through the world isn't easy to replicate."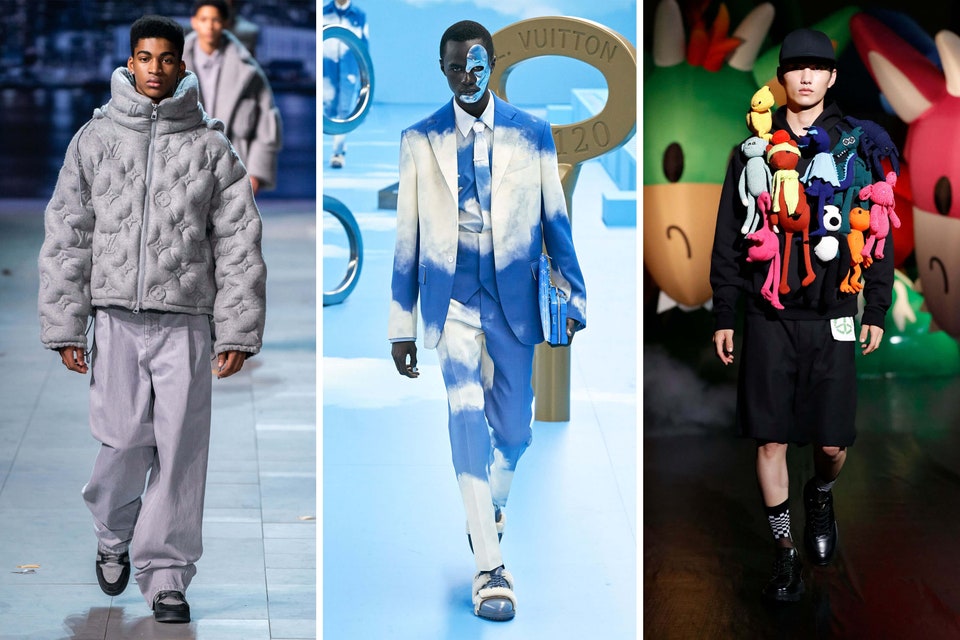 The timing of an announcement will be carefully considered, with many industry observers expecting an extended wait, as a mark of respect. Some argue they risk losing Abloh's momentum if it's too late; others say Louis Vuitton can afford to take its time and entrust the collection to the studio in the meantime. As Mario Ortelli, managing director of Ortelli & Co says: "Virgil Abloh's succession is not an easy decision in terms of timing, in terms of person. But, LVMH will clearly put all the care into taking the best decision for the long-term development of the brand and has no financial constraints to [force it to] hurry up."
Demand will be high. "I expect Louis Vuitton will be spoilt for choice: they have an outstanding viewpoint on all of the talent out there, given their yearly creative competition plus the talent they have in the group," says Bernstein analyst Luca Solca.
In accordance with the wishes of Shannon Abloh, Virgil's wife, Aronowsky Cronberg plans to go ahead with the book "so that his thinking is not reduced to soundbites and pull quotes". It's titled Work in Progress. "For Virgil, things were never set in stone: he saw contradictions and change as something natural and very human," Aronowsky Cronberg says. It includes chapters on appropriation, race politics, paradox, the role of artists, the idea of "good taste" and the segregation between insiders and outsiders. "He had his own plan and mission, and while he was there it overlapped with Louis Vuitton's. But, I don't think that the social and cultural agenda that drove Virgil is Louis Vuitton's highest priority. They'll do what's good for the company."
The dilemma with Louis Vuitton is to have someone who brings disruption but at the same time who has the necessary foundation to lead [menswear in] a house of this size and power," adds Vigneron.
DISCLAIMER: The Views, Comments, Opinions, Contributions and Statements made by Readers and Contributors on this platform do not necessarily represent the views or policy of Multimedia Group Limited.