The Ghana Audit Service has clarified that a letter circulating in the public domain revealing that ¢52.5 billion of tax revenue that has been diverted into unknown accounts is just a portion of the document in an ongoing audit exercise.
The clarification comes after a letter with the caption, 'Audit Service Reports of ¢52.5 billion transferred from GCB Bank to unknown sources.' started circulating on social media.
But the Deputy Auditor-General, George Swanzy Winful in a statement noted that the audit which has been requested by the Finance Minister, Ken Ofori-Atta is to confirm the transfer of receipts from various transit accounts mainted by commercial banks into the respective Bank of Ghana Hold Accounts from 2015 to date.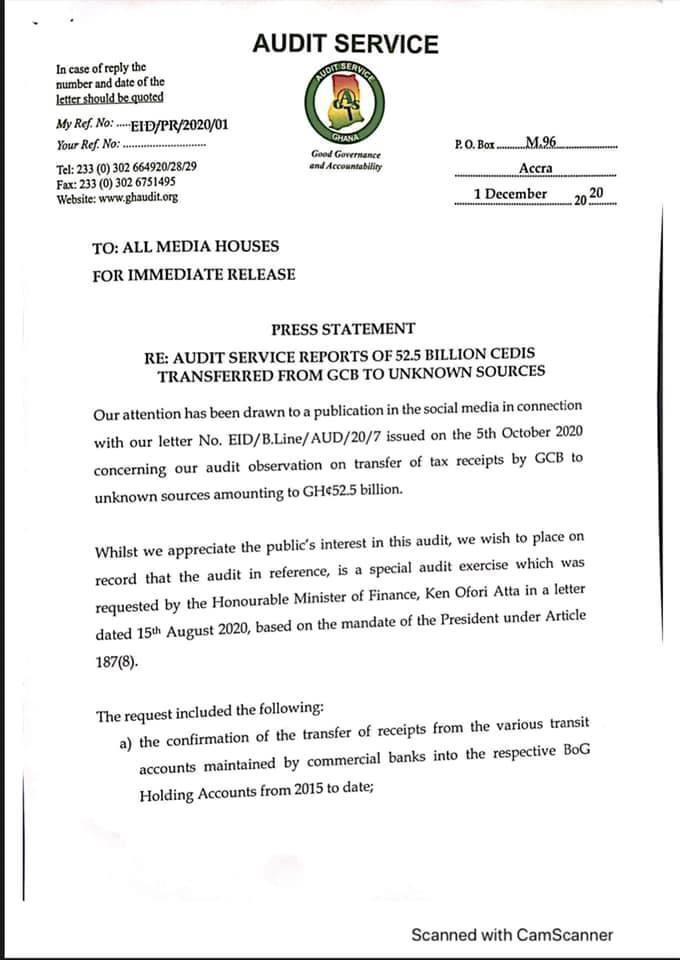 According to him, during the auditing exercise, it was discovered that some funds were missing.
He, however, noted that with the assistance of the participating commercial banks and central bank, some of the monies have been traced.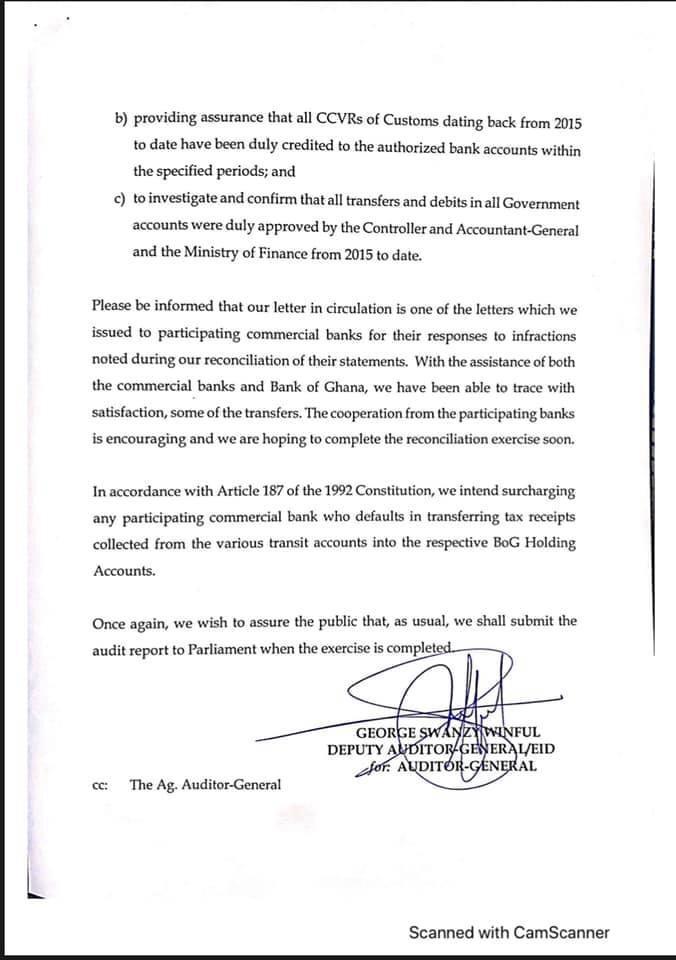 "Please be informed that our letter in circulation is one of the letters which we issued to participating commercial banks for their responses to infractions noted during our reconciliation of their statements. [And] with the assistance of both the commercial banks and Bank of Ghana, we have be. able to trace with satisfaction, some of the transfers.
"The cooperation from the participating banks is encouraging and we are hoping to complete the reconciliation exercise soon," he said.
Mr Winful then noted that the Service will not hesitate to surcharge any participating commercial bank who defaults in transferring tax receipts collected from the various transit accounts into the respective BoG Holding Accounts.
"Once again, we wish to assure the public that, as usual, we shall submit the audit report to Parliament when the exercise is completed."
Meanwhile, the bank at the centre of the issue, GCB Bank Limited has fought off claims suggesting that it transferred ¢52.5 billion of tax revenue to unknown accounts.
In a statement issued by the Bank, it said, "noted with grave concern a publication of a doctored letter dated October 5, 2020, purportedly emanating from the Ghana Audit Service(GAS) in respect of funds transferred.
The bank, therefore, asked the general public to disregard the publication as its content is false and mischievously designed to discredit the bank.
"GCB bank will not engage in any activity that will erode the trust and confidence the public has reposed in us over the years.
"We hereby deny the allegations that the GCB has effected unauthorised transfers. We have further assured all our stakeholders that GCB as a bank of international repute, conducts its activities in line with sound banking principles," the statement read.