The Acting Auditor General, Johnson Akuamoah Asiedu has cited some 20 districts in the Ahafo and Ashanti Regions with 123 projects which have either been abandoned or delayed.
According to the 2019 Audit-General report, the projects which are at various stages of completion have already utilised an amount to the tune of over ¢14.3 million.
For the Ahafo Region, the Acting Auditor-General indicated five assemblies expended a total amount of ¢3,439,812.50 on 44 projects which have now been abandoned and new projects awarded.
He further noted that Asunafo North, Asunafo South, Asutifi South, Tano North, Tano South assemblies were supposed to spend ¢9,296,718.73 but ¢3,439,812.50 has been invested to the stage of the various projects.

Mr Asiedu then cautioned that delay in executing the projects could lead to cost overruns to the detriment of other developmental projects adding that, "managements of the assemblies should ensure that priority is given to abandoned or delayed projects before new ones are awarded"
In the Ashanti Region, the Acting Auditor General noted that 12 assemblies expended GH¢7,576,221.40 on 51 projects which were at various stages of completion but were delayed for periods ranging between one and 108 months.
According to him, Afigya Kwabre South District, Ahafo Ano North Municipal, Atwima Nwabiagya Municipal, Atwima Nwabiagya North District, Atwima Kwanwoma District, Mampong Municipal, Kwabre East Municipal, Kwadaso Municipal, Kumasi Metropolitan, Offinso North District, Sekyere Afram Plains District, Sekyere Central District assemblies have at least one abandoned project.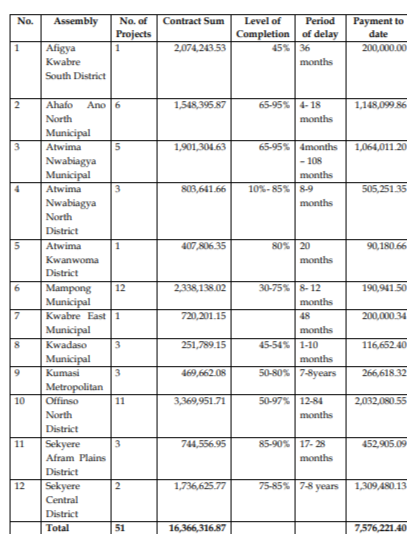 He also added that some six assemblies awarded 28 contracts amounting to GH¢7,606,876.87 and scheduled for completion between 2009 and 2019.
But the projects cited in Ahafo Ano North Municipal, Atwima Nwabiagya Municipal, Asante Akim South Municipal, Bekwai Municipal, Bosome Freho District, Mampong Municipal assemblies have been delayed.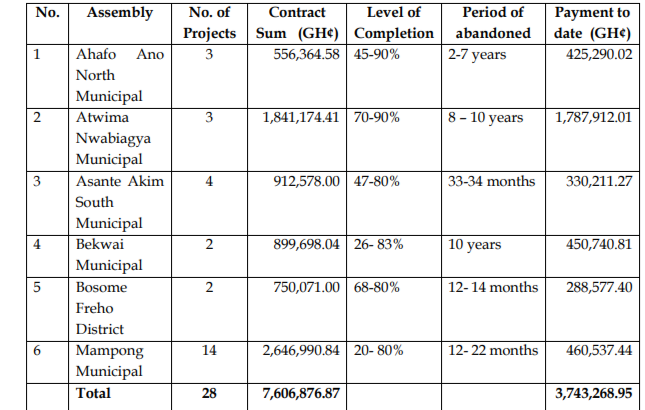 The Acting Auditor-General highlighted that delay in completion of the mentioned projects was due to nonpayment of contractors.
He then suggested that management of the said assemblies prioritise the completion of the projects by finding capital to see to it.