For almost a year, Beyoncé's fans have been starved of visuals for her seventh album, Renaissance.
It's an unusual move for a star whose visual aesthetic has always been intertwined with her music.
From the bubblegum-popping, star-making video for Crazy In Love, to the multi-layered exploration of infidelity and black femininity in the visual album, Lemonade, she has always used fashion and iconography to enhance her songs.
So all eyes are on her new world tour. How will she depict Renaissance's adventurous exploration of marginalised black and queer club music on the stage?
The stakes are as high as the anticipation. This is Beyoncé's first solo tour in seven years, and her first concerts since her historic, politically-charged headline set at the 2018 Coachella festival.
So as the lights dim and giant, stadium-width video screens are filled with sky-blue imagery, there's an equal sense of excitement and expectation from an audience that includes Dua Lipa, Frank Ocean, Kris Jenner and Beyoncé's husband, Jay-Z.
What she unveils is an intergalactic explosion of eye-melting opulence... a trip inside a disco ball that encompasses 34 songs, a flying horse, multiple dance showdowns and choreographed robots, all tethered to the pulsing heartbeat of Renaissance's club grooves.
But before all that, Beyoncé wrongfoots everyone.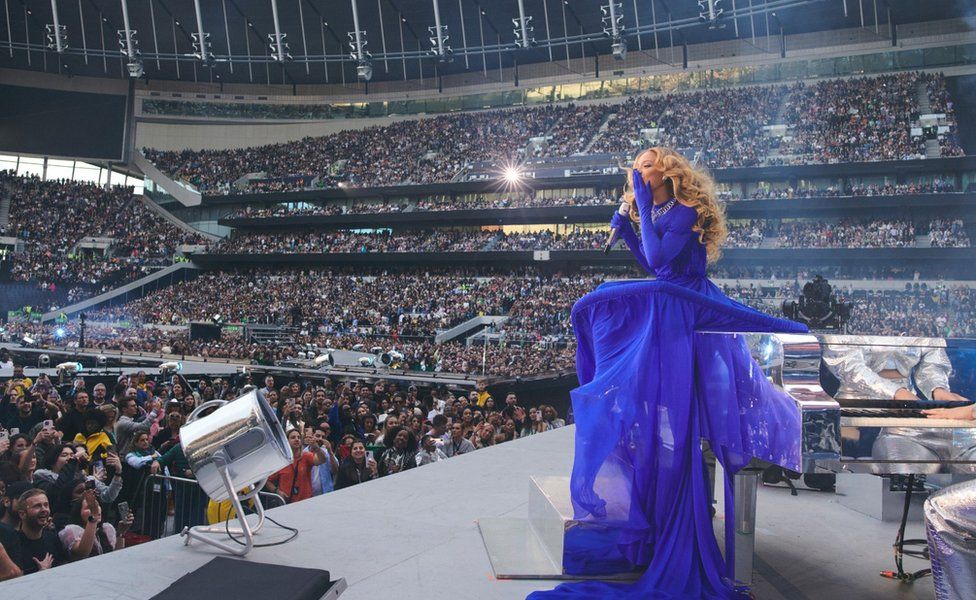 She opens the show with four piano ballads from the start of her career - and they're not even the big ones like Halo or Irreplaceable.
Instead, the set starts with Dangerously In Love, a Destiny's Child song that was reworked as the title track of her first solo album, and continues with deep cuts like 1+1 and Flaws And All.
Tina Turner tribute
It's a tease, for sure, but it also works as a Vegas-style overture. Before the more demanding, choreographed numbers that follow, Beyoncé is free to walk the stage, chatting to fans and reading their signs. "It's your birthday!" she declares. "I love you!"
She also pauses to pay tribute to Tina Turner, an artist she has repeatedly called her greatest influence, after the singer's death last week.
"I want you to allow me to sing one of my favourite songs," she says, introducing a slow, gospel version Turner's River Deep, Mountain High.
"We love you, Tina," she adds, casting her eyes towards the sky.
Before long, however, the introductions are over. The video screen shows a pair of orbiting suns and informs us that the Beyoncé we've just witnessed is no more. She's been reborn, rewired and transformed into a chrome-plated disco diva from another galaxy. An Alien Superstar.
She emerges encased in metal, and robotic arms slowly strip away her armour-plating as she performs Renaissance's declarative opener, I'm That Girl.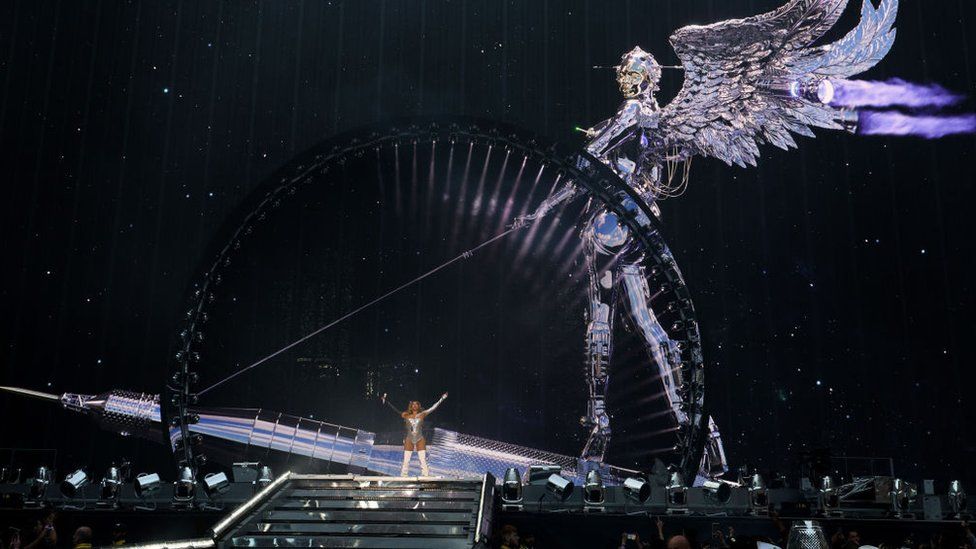 From here, we're plunged into pop spectacle, as the star careers through the album's 16-strong tracklist and remodels some of her classic hits in its image.
Renaissance's best three-song sequence (Cuff It, Energy and Break My Soul) arrives intact, turning the Tottenham Stadium into a massive nightclub.
Arms flail and drinks are spilled as Beyoncé and her dancers cavort across a circular catwalk to the middle of the audience, with the star dressed in an iridescent David Koma bodysuit, with matching knee-high boots.
Blue Ivy appearance
The atmosphere intensifies with a stretch of harder-edged hits, including Formation and Black Parade.
Here, Beyoncé performs atop a giant silver tank, while her 11-year-old daughter, Blue Ivy, leads the dance troupe to the front of the stage.
It's only her second-ever stage appearance but she's cool as a cucumber, marching in step with the professionals as 60,000 people look on.
When the crowd bursts into applause, Beyoncé acknowledges the response with a beaming, motherly smile - a rare glimpse behind her flawless perfectionism.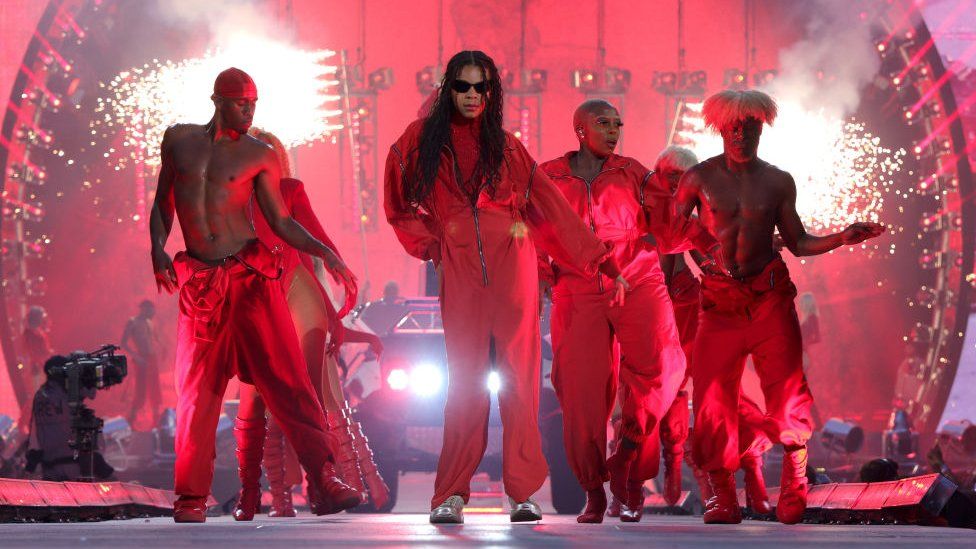 As the concert segues into soul and R&B, Beyoncé shows off some impressive, jazzy vocal runs during Plastic On The Sofa.
Then she lets the audience take the reins on an ebullient Love On Top - leading them in an a capella rendition of the last four choruses, key changes and all, before declaring: "I'll have to stop you there or you'd be going all night."
But the star claims her favourite song of the set is the sweaty, hedonistic club anthem Heated, which culminates in a frenetic rap directed at her detractors.
"Sometimes I mess up the words, so y'all got to help me," she tells us, apparently unaware that everyone can see the autocue that's been feeding her the lyrics throughout the show.
That's not a criticism, though. There's a lot to remember in this jaw-dropping show, where almost every song quotes another element of Beyoncé's catalogue. The irresistible electro-funk of Virgo's Groove, for example, incorporates elements of seven other songs - including Naughty Girl and the Destiny's Child classic Say My Name.
Elsewhere, Beyoncé tips her hat to Madonna's Vogue, Kendrick Lamar's Alright, and the Jacksons' Shake Your Body (Down To The Ground).
It's a maximalist love letter to dance music that never feels forced or unwieldy.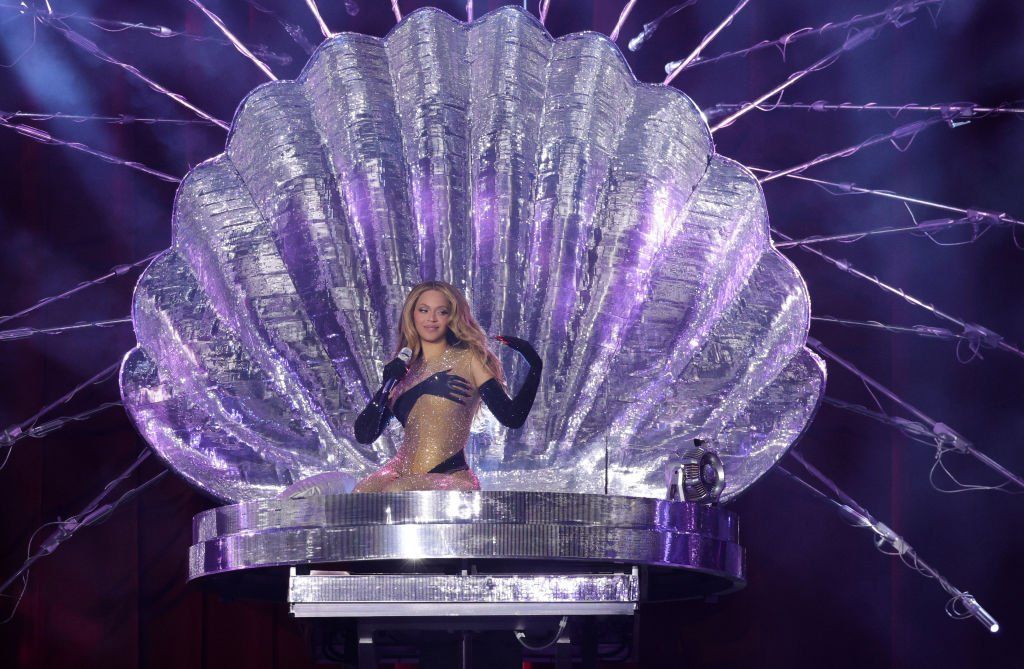 The staging, too, takes the sort of more-is-more approach that's become necessary for a stadium concert.
At various points, Beyoncé appears as Botticelli's Venus in a clamshell, as an Athena riding rockets through space, as a human embodiment of a stained glass window, and as a giant bee (a nod to her nickname, Queen Bey).
There are also dancers popping out of the stage like jack-in-the-boxes, a glitter ball the size of a small caravan, a phenomenal amount of glitter, and - for the finale - Beyoncé soaring around the stadium astride a giant silver horse, in a nod to Bianca Jagger at Studio 54.
It's fantastic and stupid and gleefully self-indulgent, which may disappoint people who came looking for the sort of socio-political commentary that Beyoncé delivered on her album Lemonade and the subsequent Coachella performance (Lemonade's songs are conspicuously absent from this setlist).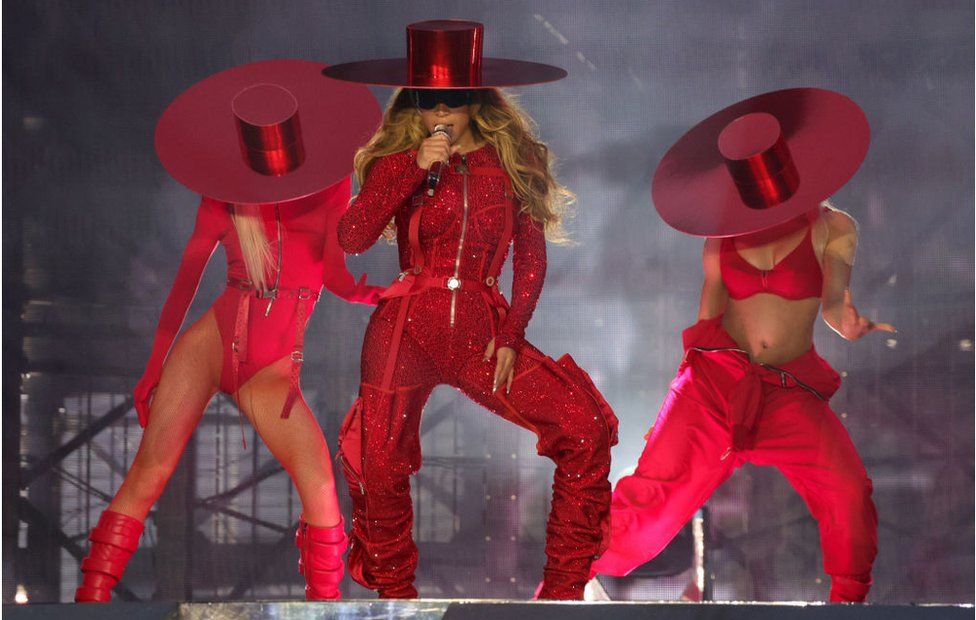 But there is a deeper message under the surface - one of self-acceptance, tolerance and freedom from expectations.
As the audience arrives, the video screens display what looks like a TV test signal, but is in fact the colours of the Progress Pride flag.
At the end of the show, the same screens light up with a photo of Beyoncé's mother, Tina, and her "godmother" - her late uncle Jonny, a gay man who was HIV positive and introduced Beyoncé to much of the music that features on Renaissance (as well as designing some of her early stage costumes).
In between, the show is narrated by legendary commentator Kevin JZ Prodigy, in an homage to the Ballroom subculture that originated amongst the black and Latino LGBTQ communities in New York; while Beyoncé sings about quitting your job and throwing yourself headfirst into a a life of hedonistic pleasure (something she presumably allows herself to imagine once a day, just after breakfast, before snapping into a perfectly-timed dance break).
It all adds up to a message of acceptance and joy. Joy in being yourself, joy in dancing, joy in letting go, joy in being together.
Perhaps that's why she saved the visuals for the tour: This is a record that needs to be experienced in real life, with other people.
And Beyoncé. On a spangled horse.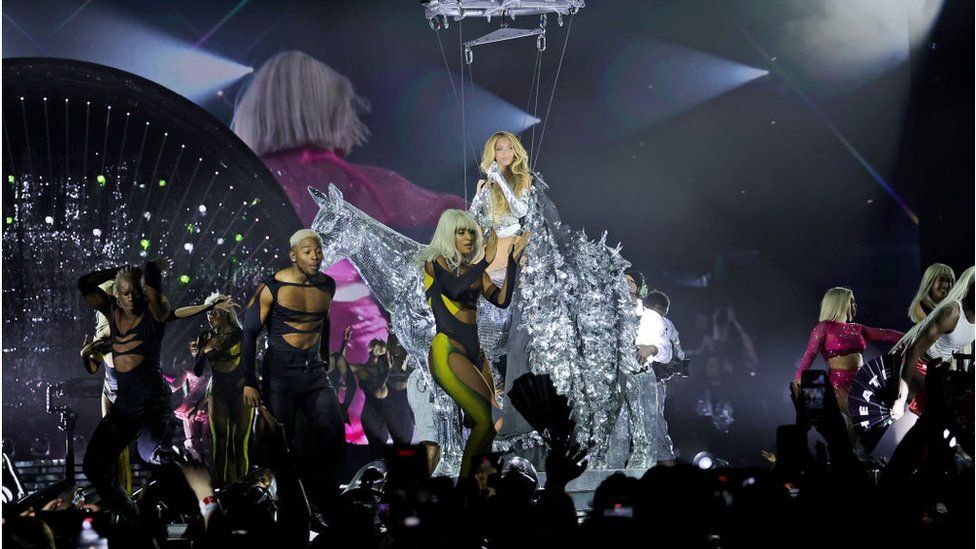 Setlist
Dangerously in Love
Flaws and All
1+1 / I'm Goin Down (Mary J. Blige cover)
I Care
River Deep, Mountain High (Tina Turner cover)
I'm That Girl
Cozy
Alien Superstar
Cuff It
Energy
Break My Soul / Break My Soul (Queens Mix)
Formation
Diva
Run the World (Girls)
My Power
Black Parade
Partition
Savage (Remix)
Church Girl
Get Me Bodied
Before I Let Go
Rather Die Young
Love on Top
Crazy in Love
Green Light
Love Hangover (Diana Ross cover by house band)
Plastic Off The Sofa
Virgo's Groove / Naughty Girl
Move
Heated
Already
America Has A Problem
Pure / Honey
Summer Renaissance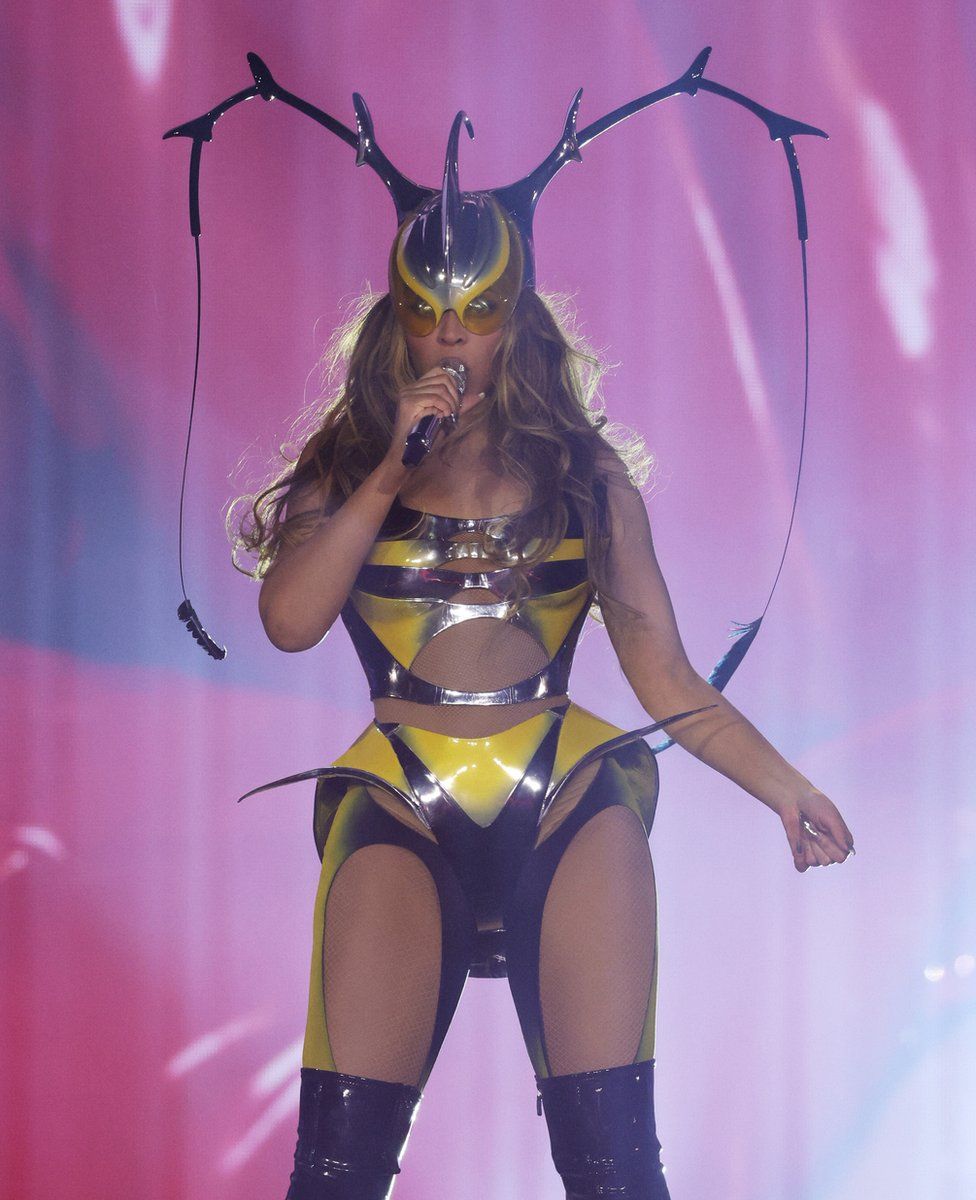 DISCLAIMER: The Views, Comments, Opinions, Contributions and Statements made by Readers and Contributors on this platform do not necessarily represent the views or policy of Multimedia Group Limited.