The German government says it is willing to assist Ghana push through its proposal with its external creditors, especially China, but first, some conditions must be met.
The reaction follows President Akufo-Addo's call on German Finance Minister, Christian Lindner, to "encourage" China to accept Ghana's proposal for debt relief with its largest external creditor, China.
The Asian country claims about $1.7 billion of the entire external debt portfolio of $5.7 billion which Ghana is seeking to restructure.
German Ambassador to Ghana, Daniel Krull in a yet-to-be-aired interview on Foreign Affairs on the Joy News Channel told host, Blessed Sogah, that his country is willing to help only if certain conditions are met.
"First of all, we insist that those measures that can be taken here in this country have to be taken. The second condition is that, yes, we are willing to take our share of responsibility as one of the major bilateral donors to Ghana.
"But only if all the others also join in this effort. And there is a multilateral framework that was set up exactly for these kinds of crises and we urge and try to convince all stakeholders in this process to stick to this agreed framework. It's the G 20 framework," he said.
When asked to lay out the terms of the domestic conditions to be met by Ghana, Daniel Krull indicated that "Let me point to three elements. The biggest loss maker in Ghana is the energy sector.
In this sector alone, each year, $1.5 billion in new debt is piled up. So if that is not solved and you can ask the IMF for $10 Billion, you still will not solve the problem in the medium term.
"So there has to be an answer in Ghana to the 50% technical and non-technical losses in the energy sector. If that is not resolved, I don't see how we can make finding a sustainable solution for the financial problems of the country".
He added "the second part is on the other side of the budget and that is the revenues. Ghana has the lowest, one of the lowest tax to GDP ratios, not even 13%. So we have been cooperating with the local authorities and setting up a very smart system of property tax collection.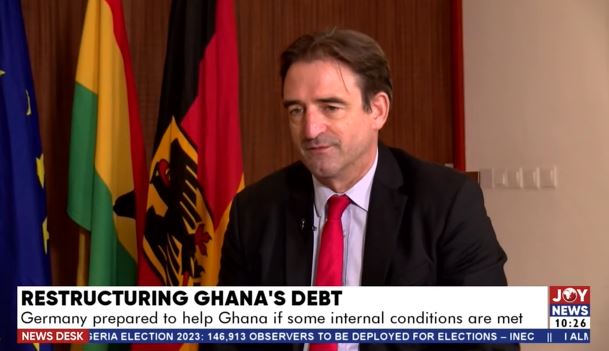 "So I think that is an important way forward and this has to be done and processes and decision making has to be faster to meet the goals, to be able to meet the targets that have been agreed with the IMF".
The Ambassador also noted that he's "still amazed on the procedures for how the budget is set up and how difficult it is to get an understanding of how this all works.
"And I think that is something that has to be Improved. He is however confident that with the necessary political will, new opportunities will be created to enhance economic growth."
DISCLAIMER: The Views, Comments, Opinions, Contributions and Statements made by Readers and Contributors on this platform do not necessarily represent the views or policy of Multimedia Group Limited.