Former Chief Justice Sophia Akuffo says the President's cousin, Gabby Asare Otchere Darko, can call her paranoid regarding the Domestic Debt Exchange Programme (DDEP) but she cares less.
She does not appear satisfied with the justifications given by the Finance Ministry for the inclusion of pensioners in the debt exchange programme.
Madam Akuffo is back at the premises of the Ministry after triggering an uproar when she showed up to join her peers last Friday, February 10, 2023.
The Danquah Institute founder, Mr Otchere-Darko was one of the key individuals who criticised her move as misplaced."For a former CJ to take up a noble cause such as she did but at such late hour when all was done and for all that publicity, she owed it to herself and her social standing to have understood the issues far better than what she exhibited last Friday. She is bigger than that," Mr Otchere-Darko tweeted.
In a rebuttal, Sophia Akuffo retorted that "Gabby Otchere-Darko can call me paranoid, but I don't care."
"We are talking about people, we are talking about human beings, we are talking about people who have served this country and have served well and hard. Not easy service, when you're not a member of government and you're calling yourself a member of government," she told JoyNews.
The stateswoman has already described the Domestic Debt Exchange as wicked, unlawful and disrespectful.
During the Friday protest, the agitated pensioners were invited into the ministry to discuss the way forward.
However, the meeting did not yield fruition as the protestors were not convinced by Ken Ofori-Atta's justification.
Today, dozens of them have returned with their placards to reiterate their position.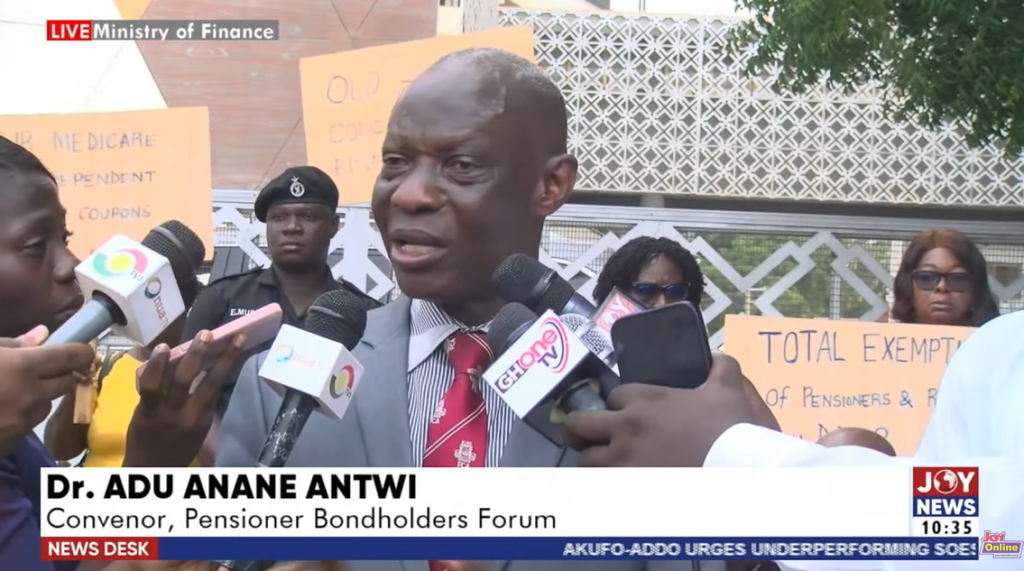 The deadline for the DDEP has elapsed with the Ministry confirming about 80% participation.
But a convenor of the Pension Bondholders Forum, Dr Adu Anane Antwi, says though the Minister has allowed the pensioners a self-exempt option, it is not enough.
He wants the Ministry to come clear on its stance on issuer exemptions.
"We want to be exempted, just as pension funds didn't want to be part of self-exempt. The medical association didn't want to be part of self-exempt. They stood their ground and said they exempt us and the government didn't tell them to opt-out," he said.
Sophia Akuffo backs this assertion and is looking forward to a communique from the Minister to this effect.
DISCLAIMER: The Views, Comments, Opinions, Contributions and Statements made by Readers and Contributors on this platform do not necessarily represent the views or policy of Multimedia Group Limited.