A pharmacist has said a tally plot cannot be used to predict a country's pandemic peak even as the Ghana Health Service is saying the country has reached its summit of Covid-19 infections.
Dr Kwame Sarpong Asiedu's disclosure comes as the Ghana Health Service released a graph illustrating a peak describing it as Ghana's peak at a press briefing on Thursday.
Dr Patrick Aboagye, the Director-General of the Service told the press the country peaked around April 25.
"Since then the numbers have continued to come down until May 6," he said emphatically.
However, Dr Sarpong, who is also a Research Fellow at the Centre for Democratic Development (CDD) Ghana, disputes this claim.
"What they've shown is a tally plot. A tally plot is the case count on a daily basis," he shared on Joy FM's Super Morning Show, Friday.
He explained that countries use instead their R0 to predict the behaviour of a pandemic in their respective jurisdictions.
"I am yet to see a country predict the peak of its pandemic using tally plots. Everyone predicts it using their R0. I'm still waiting for someone to tell me what Ghana's R0 is and how its tracking to tell me what Ghana's doubling rate is tracking."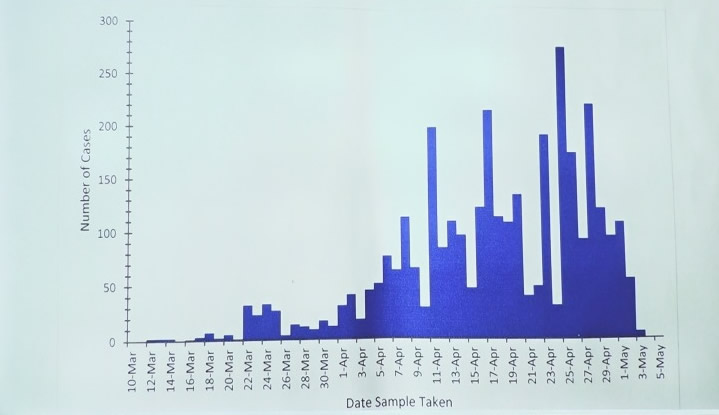 "These parameters that are used to predict epidemiological curve behaviour are not seen. They are parameters used worldwide.
"They were used in the era of Smallpox, they were used in Ebola, they were used in SARS and they were used in MERS. Nobody has ever done these things with tally plots and the data is available," he added.
The pharmacist also stated that there could be a possibility that the Ghana Health Service would record another peak in their tally which could be higher than what was recorded in April.
"One of the parameters for predicting the behaviour of the pandemic, is the availability of the population to be infected. That is; the probable population climax," he said.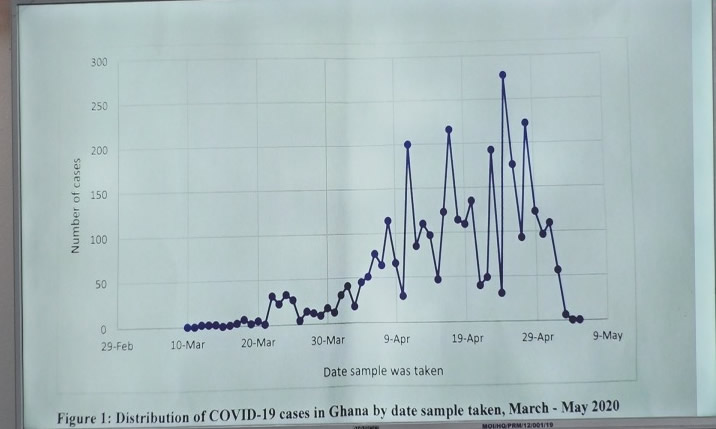 "As it stands Ghana's is close to 30 million because our case count is just around 3,000 even though we are all aware that some might have been added because that information is for May 4. We are today on the 8th of May, so that info will change.
"But it wouldn't change the point where the proportion of our population that is liable to be infected. Which then means, that if we don't decrease the component of our human behaviour and our interactions, which then factors into the susceptibility to be infected," there is a likelihood that more people would be infected.
He further explained that a large number of the population hasn't been infected and with people ignoring preventive measures and protocols, such as social distancing, the regular washing of hands and staying home, there is room for more infections to be recorded.
"I dare to say we probably might have another day moving forward depending on how this plays out; where the tally might be higher than what happened in April," he said.
DISCLAIMER: The Views, Comments, Opinions, Contributions and Statements made by Readers and Contributors on this platform do not necessarily represent the views or policy of Multimedia Group Limited.