The war drums of Ghanaian traders have fallen silent, after government averted a shutdown of an estimated 30,000 shops over a new port policy to check revenue leakages.
The strike by the Ghana Union of Traders Association (GUTA) was averted less than 24 hours to August 30 signal to close shops from Monday to Wednesday, because they felt their concerns over the new CTN policy had fallen on deaf ears.
Already, GUTA is unhappy with Deputy Trade and Industry Minister, Carlos Ahenkorah. But in President Nana Akufo-Addo, they found a higher ear.
It was after the president had given them his ears in a six-hour meeting on Wednesday that an accumulating anger against the government was diffused.
"Fortunately, good sense prevailed yesterday," GUTA President, Dr. Joseph Obeng credited another President, Nana Akufo-Addo for hearing them.
The GUTA bone of contention
The whole idea of CTN is an attempt by government to independently verify the value of the goods to be imported into the country. They no longer want to rely on documents of freight forwarders
But GUTA believes this can be problematic because the documents freight forwarders use are not always primary or source documents.
If the documents are not primary or source, the CTN is no better than the existing system of benchmark valuation. In benchmark valuation, government pegs the minimum value of goods imported and declares taxes to be paid.
Valuation is not an exact science and so some form of discretion is allowed which creates potential friction between clearing agents, freight forwarders and the Ghana Revenue Authority.
"Discretion is the bane of corruption", GUTA President pointed out. The confusion around CTN, will compound the current confusion around Benchmark Valuation, GUTA says.
GUTA members who import goods are already weary of paying 19 different taxes and levies to clear them. Their president said they are not ready to countenance any new system that hints of an addition of a "single layer of taxes".
Dr. Joseph Obeng said in their deliberations with the President, Nana Akufo-Addo came to understand that "what we are saying makes a lot of sense".
But the President also draws the line that government would not compromise on any measures that allow government to improve revenue collection to meet his big-budget political promises.
The two sides clinched a presidential understanding with the president even tossing in a promise to reduce duty rates, he said.
GUTA President walked out of the long meeting ready to call off an intended business shutdown.
Businesses under GUTA include Abossey Okai spare parts dealers, mobile phone dealers, Okaishie shop owners, Kantamanto traders, used cloths dealers, electrical dealers, confectionary sellers, tyre dealers, shoe sellers, wholesale importers and shop owners association.
When they are united, they are not a force to be easily dispensed by government.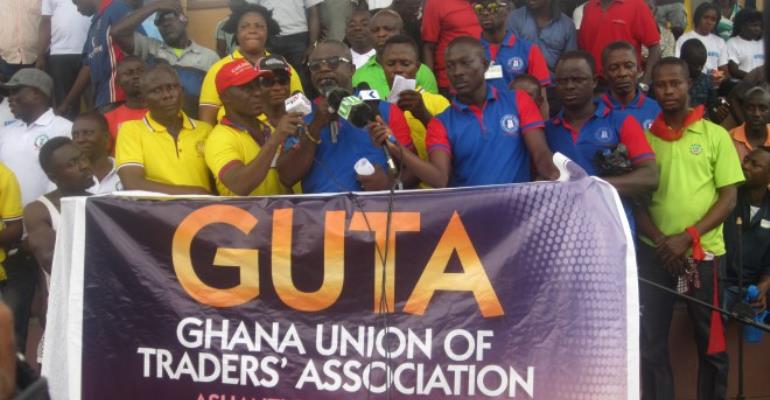 Fragile ceasefire?
Calling off the strike, GUTA president was happy that government had called off CTN implementation until further consultations with the Ministry of Finance and the Ghana Revenue Authority.
Dr. Joseph Obeng expressed disappointment that things had to get to the point where GUTA would be compelled to issue threats of strikes and beating war drums,
It is primitive style of governance if the government must also be threatened with strike before it acts, the GUTA president punched.
The war drums are silent for now.