The Executive Director of the National Cathedral project has apologised for saying the state facilitated the construction of the National Mosque.
Dr. Paul Opoku-Mensah said he regrets the pain his comments might have caused the Muslim community.
"I retract and apologise for the use of 'state facilitation' in my reponse and deeply regret the pain it might have caused the COMOG and the Muslim Umma in Ghana," he said in a press release issued under his signature on Monday, June 13.
Meanwhile, he has asked the public not to compare the two projects.
According to him, the National Cathedral and the National Mosque are two distinct projects.
"We should not equalise the discussion on the National Cathedral and the National Mosque, as they are separate projects."
Dr. Opoku-Mensah's retraction follows the demand from the Coalition of Muslim Organisations, Ghana (COMOG).
The Coalition had strongly refuted claims suggesting that the Government of Ghana spent state resources during the construction of the National Mosque at Kanda.
In a statement on Monday, June 13, the Coalition categorically denied the claims by Dr. Paul Opoku-Mensah.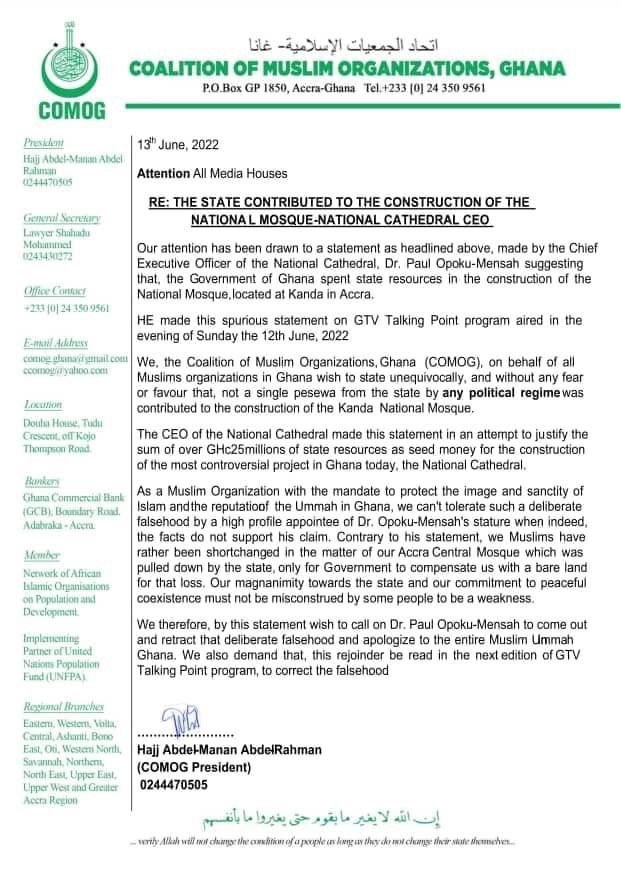 "We, the Coalition of Muslim Organisations, Ghana (COMOG), on behalf of all Muslims organisations in Ghana wish to state unequivocally, and without any fear or favour that, not a single pesewa from the state by any political regime was contributed to the construction of the Kanda National Mosque.'
"The CEO of the National Cathedral made this statement in an attempt to justify the sum of over GHC25million of state resources as seed money for the construction of the most controversial project in Ghana today, the National Cathedral.
"As a Muslim Organization with the mandate to protect the image and sanctity of Islam and the reputation of the Ummah in Ghana, we can't tolerate such a deliberate falsehood by a high profile appointee of Dr. Opoku-Mensah's stature when indeed, the facts do not support his claim", portions of the statement read.
Recent issues surrounding the National Cathedral
The National Cathedral has been in the news for negative reasons.
This follows the constant attack on the project by the Member of Parliament for North Tongu.
For the past one week, Samuel Okudzeto Ablakwa has accused the government of siphoning public funds to facilitate a project it propagated as a personal and private pledge.
So far, the North Tongu legislator has put out documents showing that an amount to the tune of GHS 200 million has been dished out for the construction of the project.
These monies, he said, were dished out without recourse to parliamentary processes or strict public procurement practices.
Mr. Ablakwa, has also claimed that the founder of the International Central Gospel Church (ICGC), Dr Mensa Otabil, has stopped attending meetings of the National Cathedral Board of Trustees.
DISCLAIMER: The Views, Comments, Opinions, Contributions and Statements made by Readers and Contributors on this platform do not necessarily represent the views or policy of Multimedia Group Limited.