US Vice President Kamala Harris completes the first leg of her African tour in Ghana on March 29.
The Veep arrived in Ghana on Sunday, March 26. She was received by Ghana's Vice President, Dr Bawumia, other state officials and excited Ghanaians.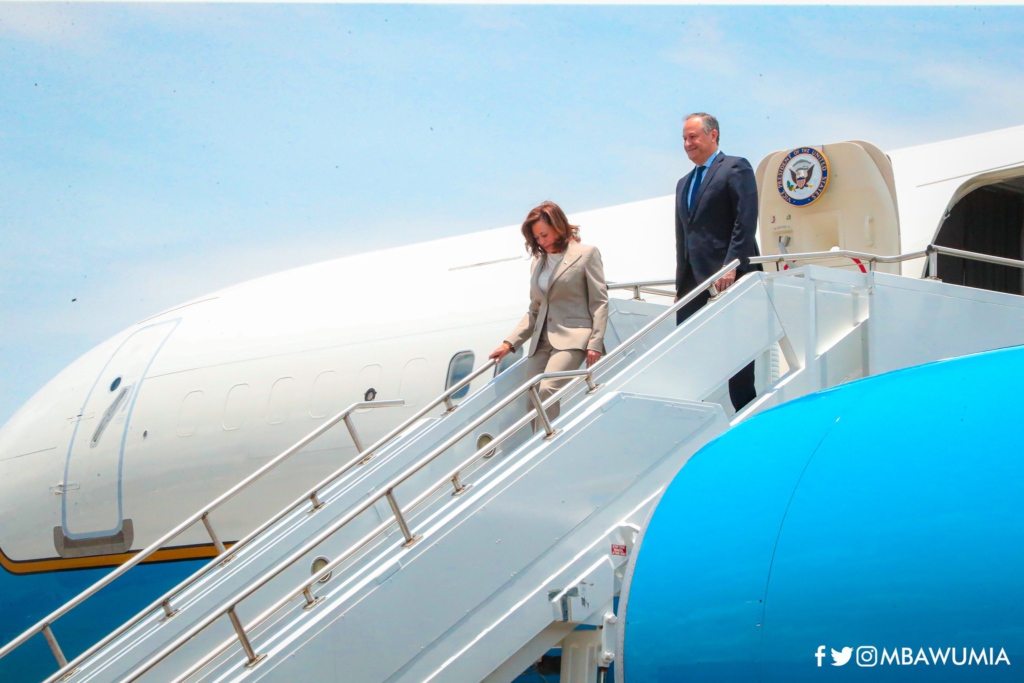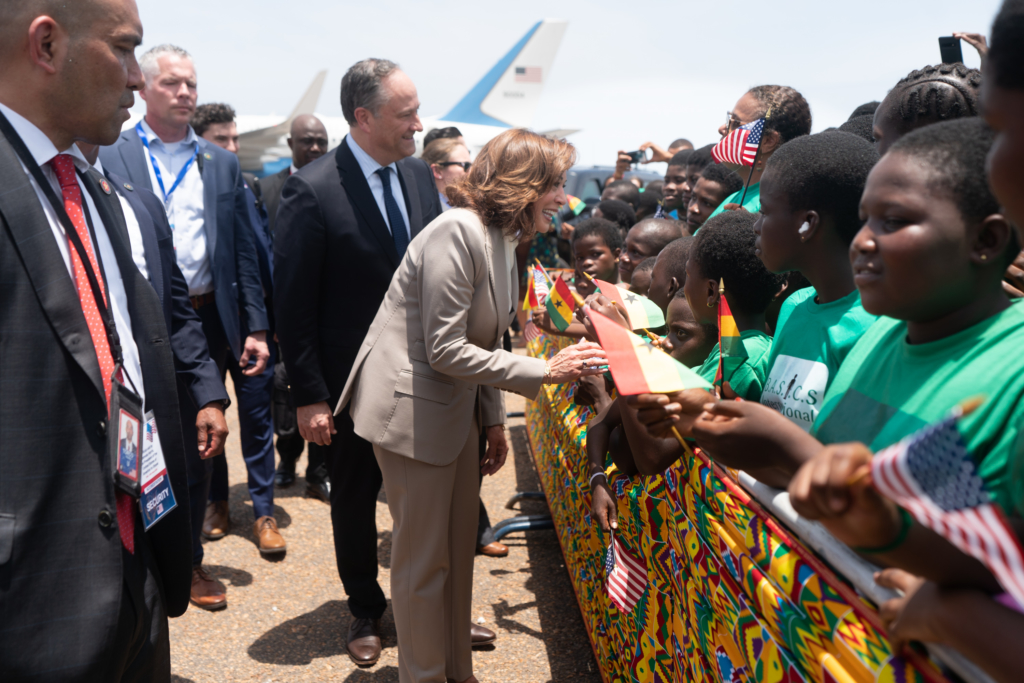 On Monday she visited President Akufo-Addo in the Jubilee House – the seat of the president.
A tremendous welcome from the people of Ghana. pic.twitter.com/KJaXtMnfET

— Vice President Kamala Harris (@VP) March 26, 2023
In the morning the two heads of state held a press conference where Kamala Harris opened up on the future envisioned for the US and African states. She also revealed that, among other things, the US government is supporting a number of African countries with $100 million to combat terrorism.
I met with President Nana Akufo-Addo of Ghana to discuss wide-ranging topics, including our shared commitment to democracy, global security, and long-term economic growth.@POTUS and I are grateful to have a strong partner in Ghana. pic.twitter.com/dnhKjFEXmd

— Vice President Kamala Harris (@VP) March 27, 2023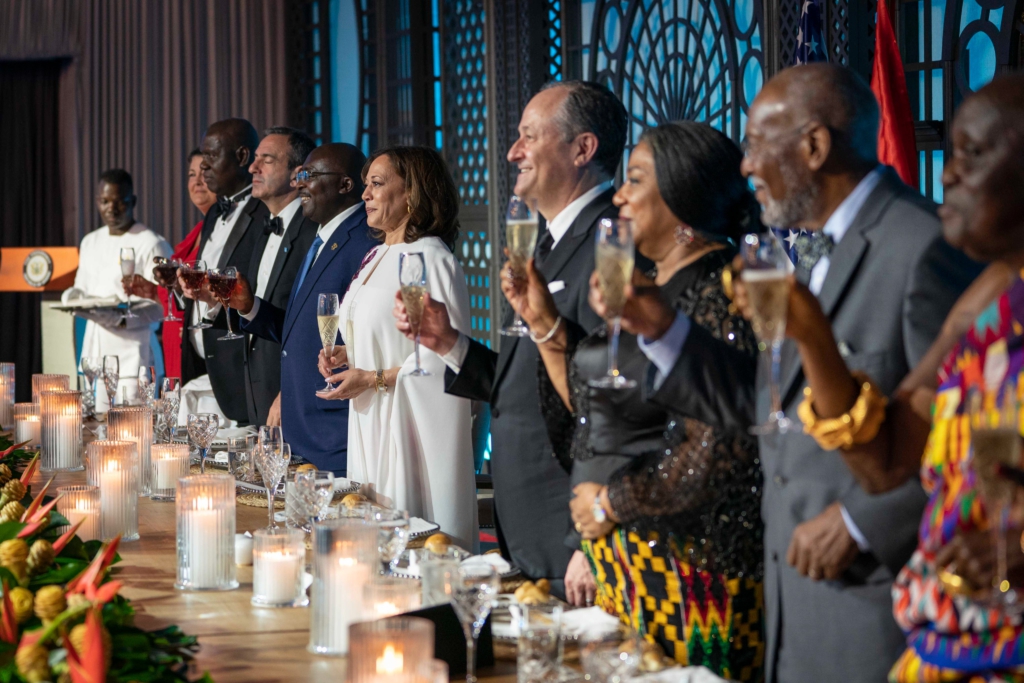 But during her tour, the US Vice President also showed her interest in the arts and tourism sectors in Ghana.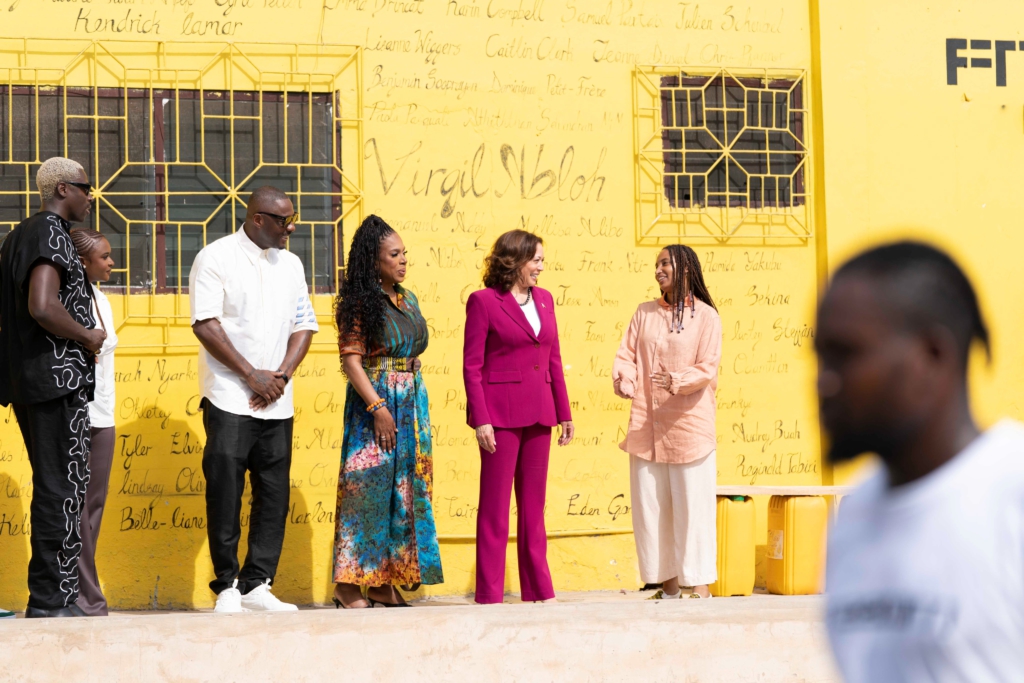 Kamala Harris reportedly travelled with a number of seasoned people involved in the arts sector in the US.
They include renowned producer and filmmaker Spike Lee, BET President Scott Mills, NAACP President Derrick Johnson, Howard President Wayne Frederick and actress and producer Rosario Dawson.
Rosario Dawson, Spike Lee, VP Kamala Harris, and Second Gentleman Douglas Emhoff at tonight's banquet dinner in Ghana. The US delegation is strong! 💪🏾 pic.twitter.com/RG69ke2GKX

— Madam Vice President Harris is THEE GOAT! (@flywithkamala) March 28, 2023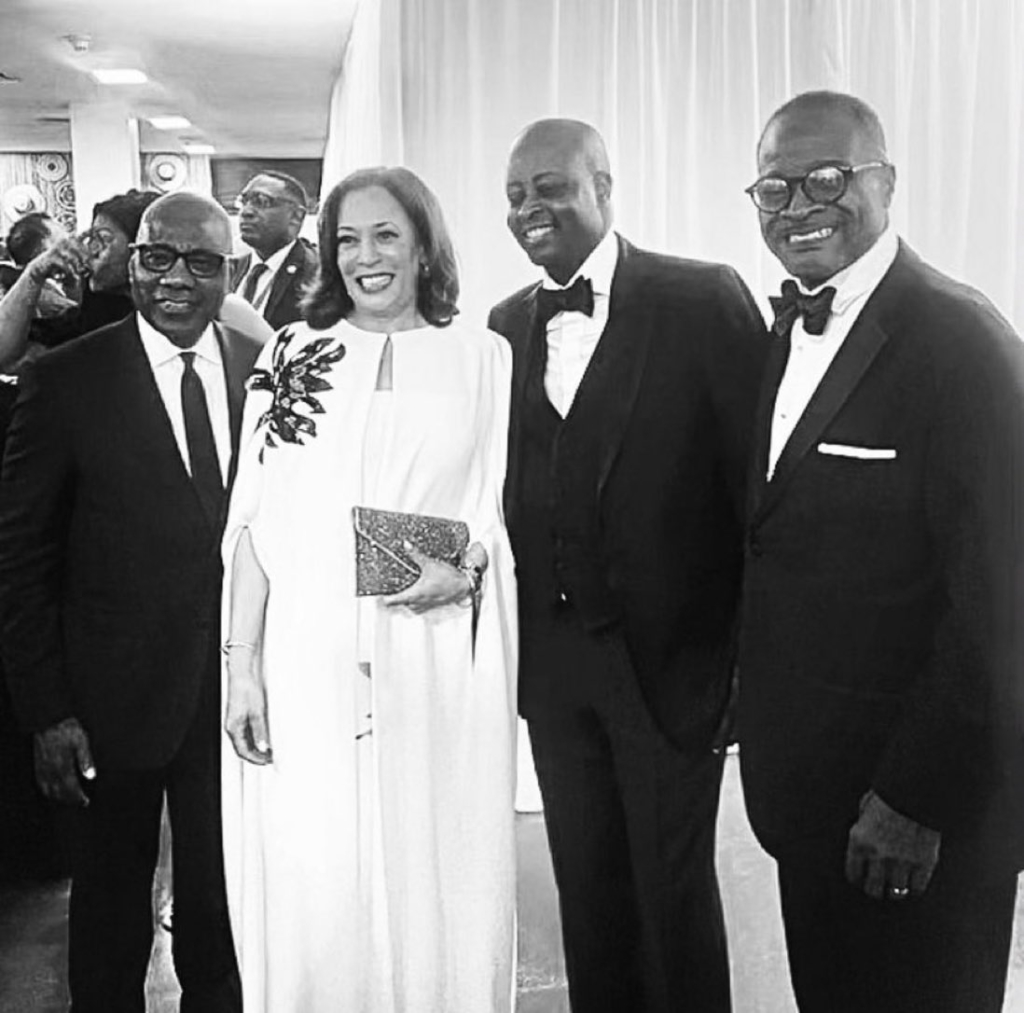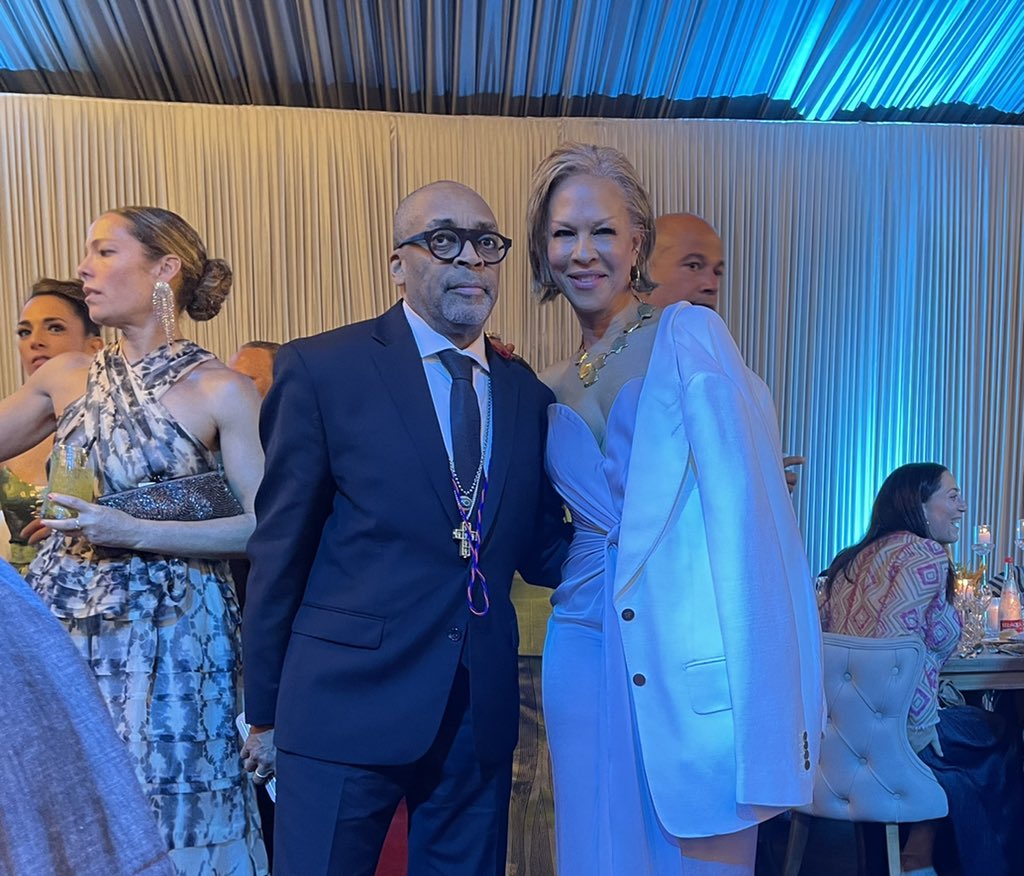 She was also spotted with Abbott Elementary star Sherly Lee Ralph, who travelled into the country days earlier, and British actor Idris Elba.
Surprise! @VP visits a local recording studio with Idris Elba and Sheryl Lee Ralph pic.twitter.com/uwOBs4DoH0

— Akayla Gardner (@gardnerakayla) March 27, 2023
Together they met some Ghanaian acts at a local recording studio Vibrate Space at East Legon and later the Freedom Skate Park.
As part of her visit to Ghana, the Vice President of the United States of America, @KamalaHarris met some selected people from the creative industry in Ghana, earlier today at the Vibrate Studio in Accra. #JoyEntertainment pic.twitter.com/dBfAnX0Ik9

— Kwame Dadzie (@Kwamedadziegh) March 27, 2023
Not Kamala Harris telling my sister @tmskd "i have read about you" 😭😭❤️❤️❤️ pic.twitter.com/d6nMnWUJ5C

— nesta (@NXSTR) March 27, 2023
There Kamala Harris talked about the importance of music as a universal language in an ever-evolving world.
📸ICYMI🇬🇭🇺🇸: @VP Kamala Harris visited the Vibrate Space— a community recoding studio at the Freedom Skate Park in Accra and met with Ghanaian creatives such as @blacksherif_, @amaarae, @theriaboss etc.

She was joined by @idriselba & @thesherylralph.

🦅🇬🇭 pic.twitter.com/Ndy1kxpnYG

— 3Music TV (@3musicnetworks) March 27, 2023
Amaarae, Black Sherif, Ria Boss, Baaba J, Mensah and Joey B were some of the artistes that were seen in the company of Kamala Harris.
Sheryl Lee Ralph also sang Diane Reeves' classic Endangered Species and advised artiste to push on and invest in their craft.
Vice President Kamala Harris at an artist's collective in Ghana. She brought @thesherylralph and @idriselba along with her.

During remarks, she talked about the importance of music as "universal language." pic.twitter.com/1LSuKNMo5C

— Eugene Daniels (@EugeneDaniels2) March 27, 2023
A few words (and a song) to creatives from @thesherylralph pic.twitter.com/nqdiKABYSu

— Akayla Gardner (@gardnerakayla) March 27, 2023
Following her visit she curated a playlist on Spotify made up of songs solely made by African artistes.
I am releasing a playlist featuring the artists from my travels across Ghana, Tanzania, and Zambia, including many of the Ghanaian and Ghanaian-American artists I met today like @blacksherif_ and @amaarae.https://t.co/B057ZDcpv8

— Vice President Kamala Harris (@VP) March 27, 2023
It sported a number of Ghanaian acts who were thankful to be recognised by the US Vice President.
honored to be one of the artists on this playlist. was great meeting you today with the @spotify x @Vibratespace team. some really impactful conversations were had around streaming and how we can best support one another. future is bright. https://t.co/c4QaiqYSi2

— Cat Mama (@theriaboss) March 27, 2023
So blessed to have been featured on Vice President Kamala Harris' Travel to Ghana playlist. KUMBAYA to the world 🌍 🇬🇭 🇺🇸🥺❤️

•https://t.co/wZKFm08mRt pic.twitter.com/RmYfGWLxFd

— Herman Suede (@hermansuede) March 27, 2023
Amazing times!
What a joy to meet you @VP ❤️ https://t.co/oiJWBmTnVY

— Fountain Baby (@amaarae) March 27, 2023
Thank you @VP for including Ghana Bop 🇬🇭💗 : My Travels: Ghana, Tanzania, & Zambia https://t.co/PmTCP1xfmZ

— 🦋 Billboard Moliy (@moliymusic) March 27, 2023
On Tuesday, Kamala Harris delivered an address at the Black Star Square, a monument commissioned by late Dr Kwame Nkrumah to celebrate the nation's independence.
The square a great monument has been home to independence celebrations, civic parades and concerts like Global Citizen Festival and the Black Star Line Festival.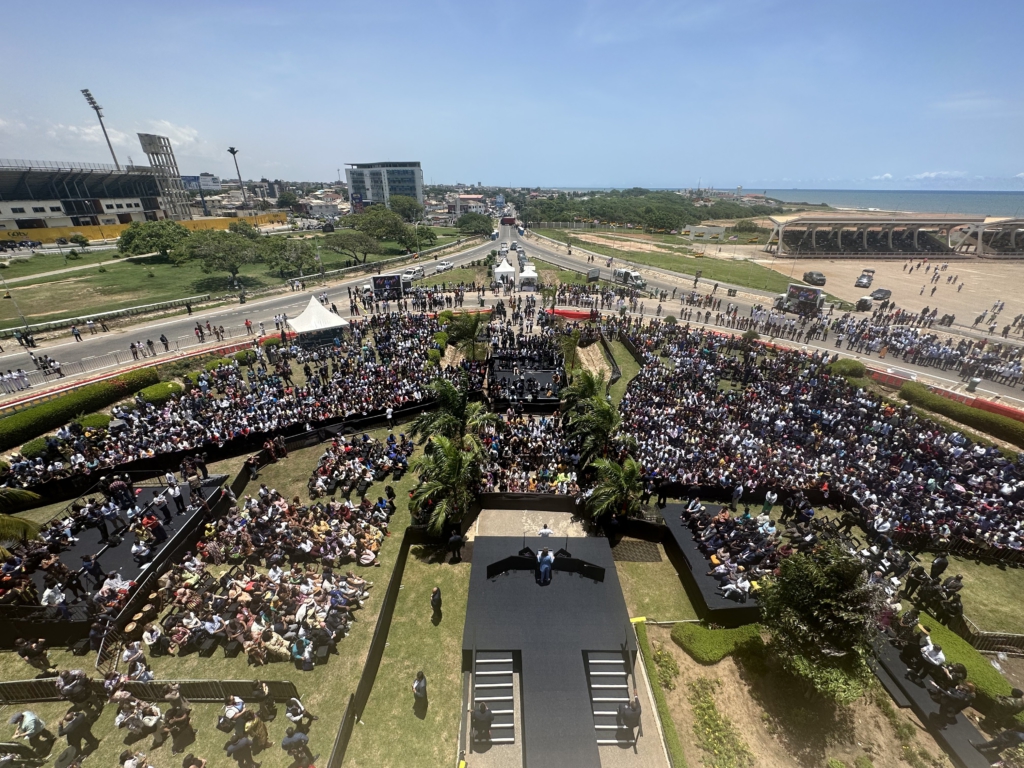 .@VP Harris delivers remarks at Black Star Gate in Accra, Ghana. Tune in now at https://t.co/QAFFInWNGa pic.twitter.com/OxEu5IUwIg

— Ernie Apreza (@ErnestoApreza46) March 28, 2023
Kamala Harris later explored the renowned Cape Coast Castle in the Central Region after delivering an address at the Black Star Square.
Vice President Kamala Harris and Second Gentleman Doug Emhoff are at the Cape Coast Castle.

The tour guide walked the second couple down and through the male dungeons. pic.twitter.com/cyoLbCo37i

— Eugene Daniels (@EugeneDaniels2) March 28, 2023
VP Harris and First Gentleman Emhoff visit the male slave dungeon at Cape Coast Castle. pic.twitter.com/qVDcHpVCPA

— Annie Linskey (@AnnieLinskey) March 28, 2023
She was captured seemingly emotionally after she was taken through the castle and the slave rooms underneath.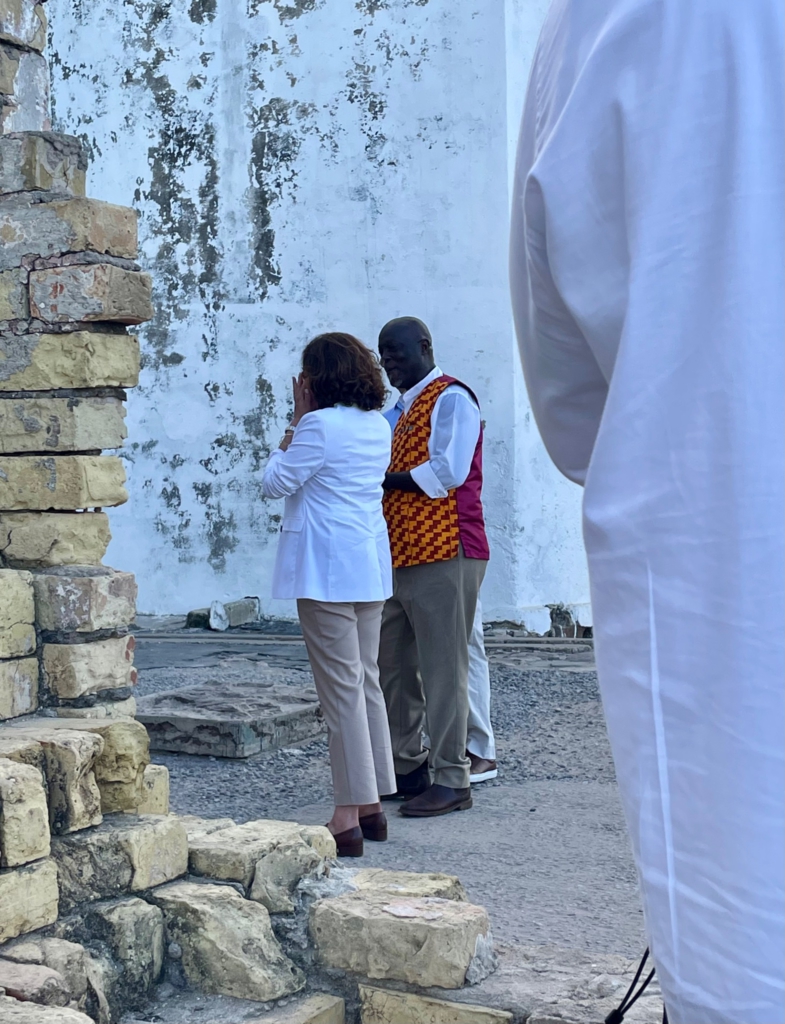 In remarks, Harris says "the descendants of the people who walked through that door… went on to fight for civil rights, fight for justice… and all of us regardless of your background have benefitted from their struggle."

— Akayla Gardner (@gardnerakayla) March 28, 2023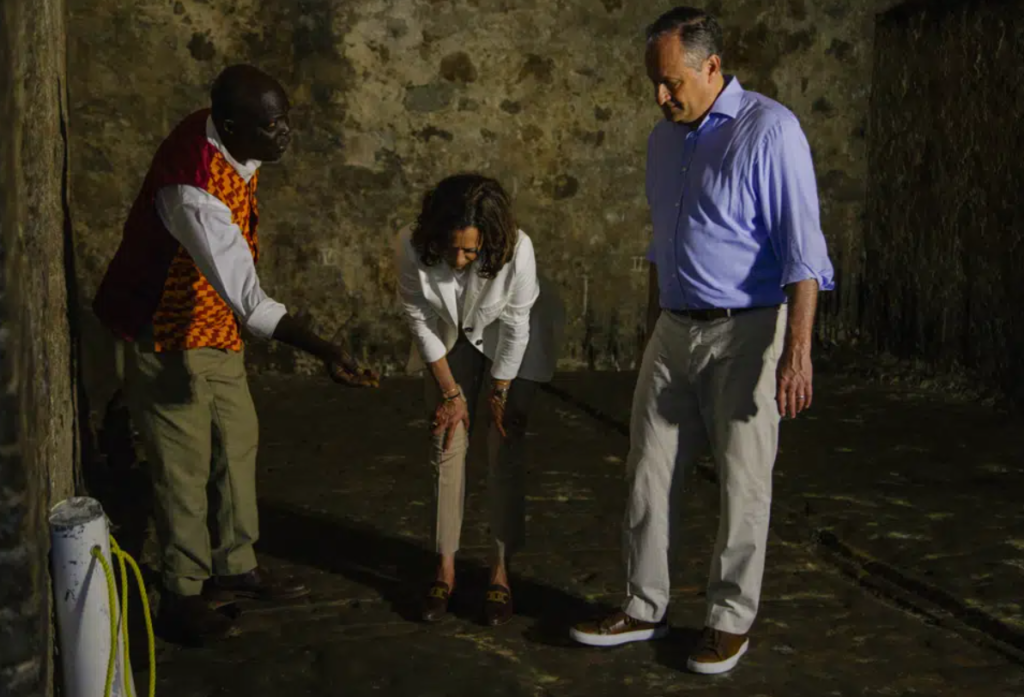 After she passed through the last point from which many enslaved Africans were shipped to the Americas, Kamala Harris urged that the stories of the struggles be told.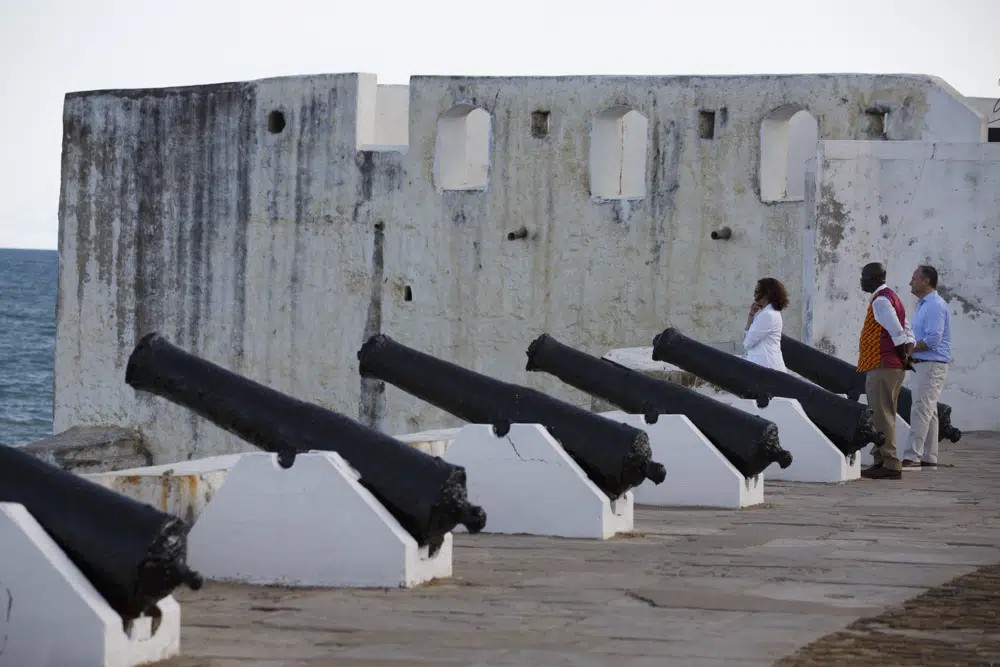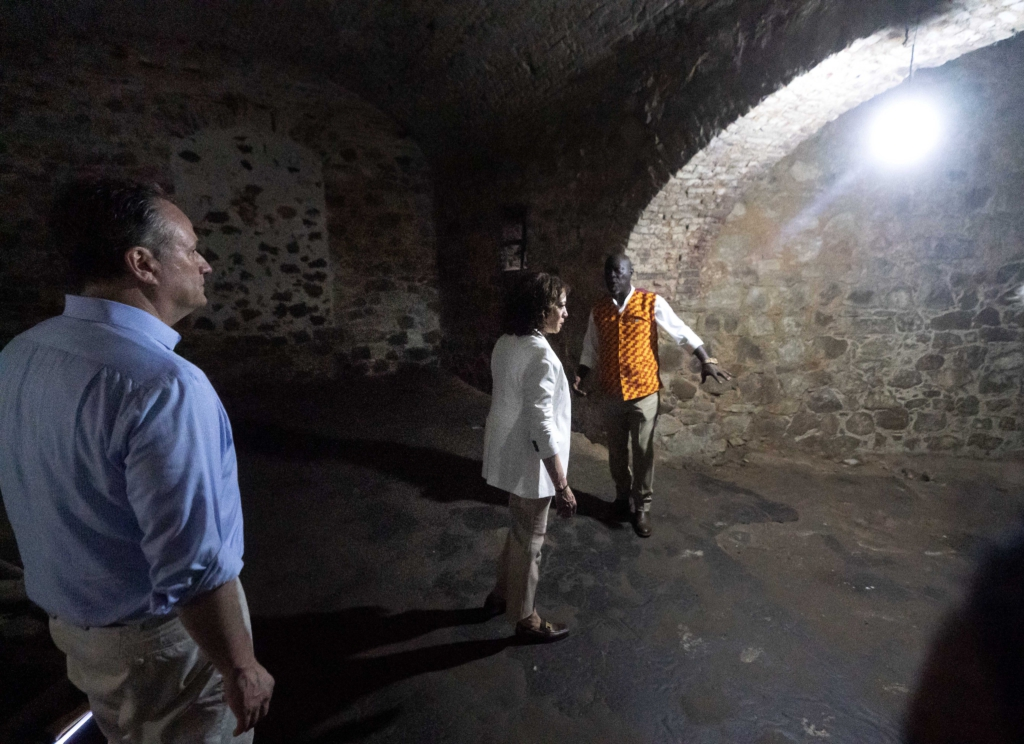 This, she explained, is because the people's experiences and survivals tell a story of endurance, faith, and believing in what is possible.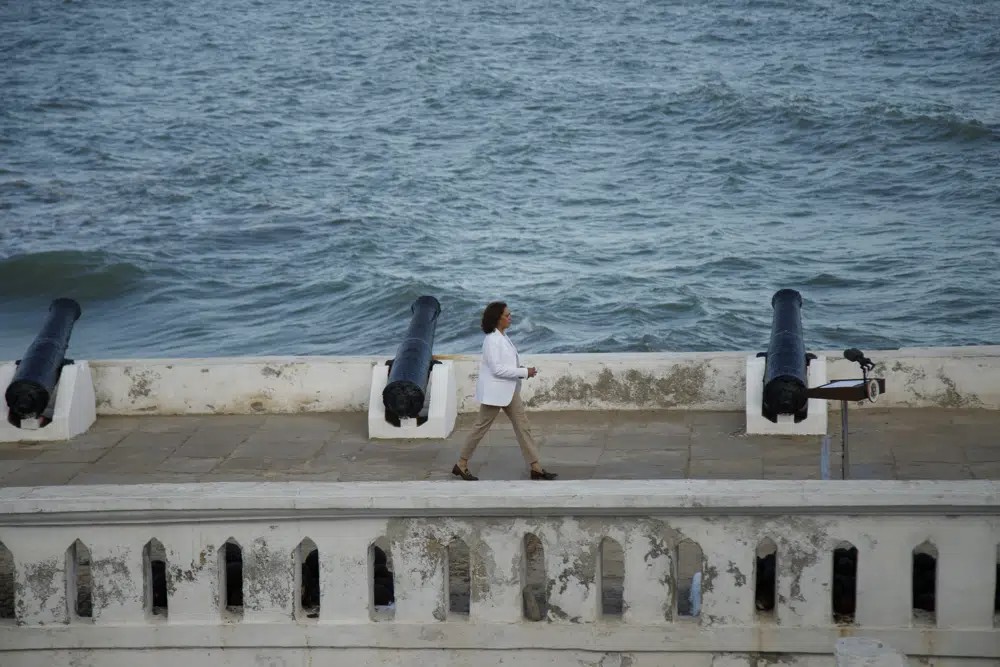 DISCLAIMER: The Views, Comments, Opinions, Contributions and Statements made by Readers and Contributors on this platform do not necessarily represent the views or policy of Multimedia Group Limited.