The Minister of State in charge of Tertiary Education has heaped raises on authorities of Kwame Nkrumah University of Science and Technology for converting all single sex halls in the school to unisex.
Professor Kwasi Yankah said the action by the university is aligned to the "integration" and "cohesion" that currently informs global policy.
Speaking during a familiarisation tour to the converted halls, Prof Yankah noted that the single sex hall system does not help in national development.
"If we continue to perpetuate the exclusive male and exclusive female thing within our setting, in the light of realities, we won't be helping in the realisation of the national development plan. So I am here to congratulate you for the wonderful thing done…" he said.
The educationist also noted that the step taken by the authorities of KNUST should serve as a roadmap for other universities to follow.
The minister extended his graces to the students and the management of the halls for facilitating peaceful co-existence among the residents of the halls.
"…the credit once again goes to the management and students who have cooperated in spite of the initial challenges [and the resistance shown from the male halls]," he said.
University Hall popularly referred to as 'Katanga' and Unity Hall, aka 'Conti' residents fiercely resisted the moves from the university authorities to assign females to their halls.
They staged demonstrations in the home city of the university, the Ashanti regional capital, Kumasi.
But after their cries were ignored by the authorities, their alumni of the two halls -- who would previously not see eye to eye -- joined forces and marched to the national capital Accra to stage another demonstration.
Those resisting the conversion of the halls argue that the single sex has become a tradition to them and anything contrary would be traumatising for them.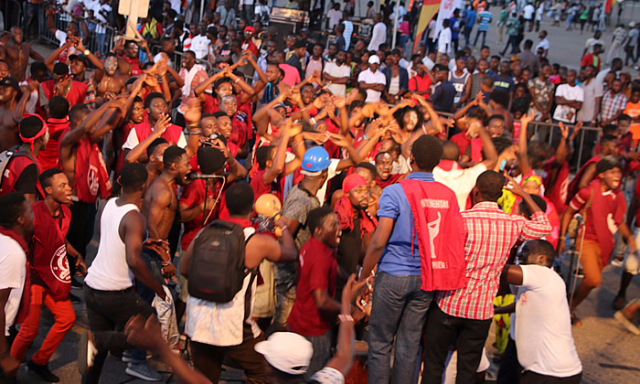 After all rogue means failed them, alumni of the two halls headed to the High Court to challenge the university's decision.
A subsequent suit was filed asking the court to place an injunction on the university from assigning females to the halls until the substantive matter was determined.
Related: Katanga, Unity Hall injunction application dismissed
A Kumasi High Court dismissed the injunction; stating that the female students were already assigned the halls and granting the injunction would be inimical to the activities of the school.
All students have since reported to school and Joy News checks reveal all the residents are living in harmony; contrary to initial fears the male students abusing the female counterparts.
Have your say
---
More

News

Headlines
---