A photograph circulating online that allegedly shows elderly men being detained by Nigerian army personnel in a forest is actually of Cameroonian soldiers with civilians from that country.
The image is from 2020, not this year as various publications have suggested.
The picture is being shared with a caption that reads: "This is how the Nigerian military are harassing, killing and maiming our fathers that went to farm… this happened in Abia state today 24th Aug 2022."
However, an investigation by the BBC Disinformation Unit has found that the image is from Cameroon and shows soldiers from that country's Rapid Intervention Battalion, known by its French acronym (BIR). They are accompanying civilians who reports say they had rescued from Cameroonian separatist fighters.
Using reverse search tools, we were able to trace the photo to a Facebook post with seven related photos from 16 October 2020.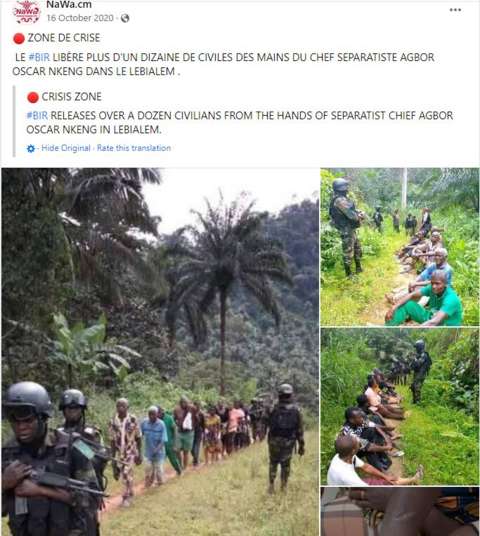 The caption states that the BIR had rescued dozens of civilians.
Checks with military fatigue database Camopedia also showed that the uniform of the soldiers in the photos matched that of the BIR.
A story published on October 17, 2020, by Cameroonian English language news website Kontripipo confirms that the military had rescued civilians in Cameroon the day before, using the same picture that has just gone viral in Nigeria.
Cameroon is Nigeria's neighbour to the east and shares similar topography and vegetation, which is helping give credence to this disinformation.
Both Cameroon and Nigeria are facing separatist campaigns that have given rise to disinformation of this nature in the past.