Activities marking the final funeral rites of former President Jerry John Rawlings will commence today, January, 24, 2021.
This follows the release of the funeral plan after a meeting between the Funeral Planning Committee, the family, the Anlo Traditional Council and other state agencies assisting with the funeral arrangements.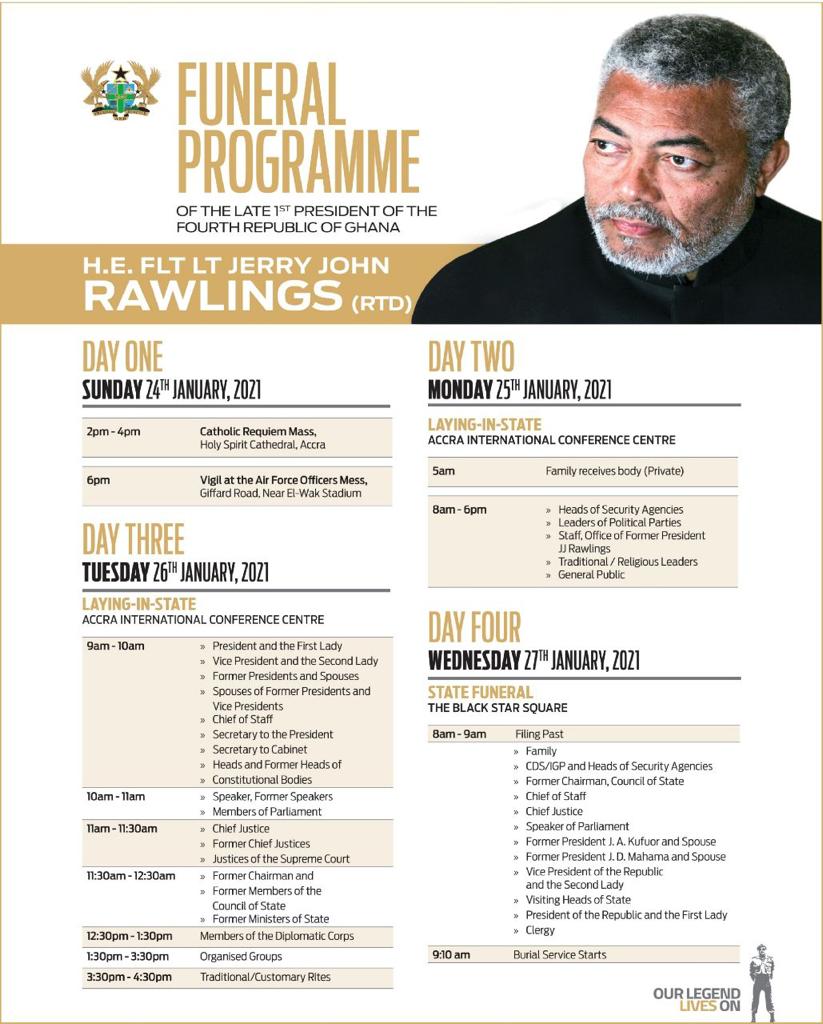 According to the line up, the funeral rites will start with a Catholic Requiem Mass at the Holy Spirit Cathedral at 2pm.
This will be followed with a vigil at the Air Force Officers Mess in Accra.
The former President will then be laid in state on Monday, January 25, and Tuesday, January 26, at the Accra International Conference Centre for various interest groups and members of the public to have an opportunity to pay their last respects.
Prior to the laying in state, the Anlo Traditional Council will host two days of traditional mourning for the departed former President who hailed from Anlo.
He will receive a full military burial service on Wednesday, January 27.
FILE PAST
Heads of security agencies, leaders of political parties and the general public will have the opportunity to file past the mortal remains of the former President on Monday, January 25.
On Tuesday January 26, President Nana Akufo-Addo, the Vice-President, Dr. Mahamudu Bawumia, former heads of state and heads of constitutional bodies, the Speaker of Parliament and former Speakers will also have the opportunity to pay their respects.
At 3 pm on the same day, traditional and customary rites will be held at the foyer of the conference centre with the body of the former President still in state.
Mr. Jerry John Rawlings died on Thursday, November 12, 2020.
He left behind a wife, former First Lady Konadu Agyemang Rawlings and four children.