Sepp Blatter has added to speculation that he could yet attempt to stay on as Fifa's president – three weeks after he announced his plan to step down over the organisation's corruption crisis.
Blatter, addressing an audience at the topping-out ceremony for Fifa's new museum in Zurich, said he had not resigned and had merely made his mandate available – and joked that he was "not ready for a museum, or for a waxwork".
Blatter, who opened his comments with a quote from Pablo Picasso – "Give me a museum, and I will fill it" – appeared "fresh and full of energy," according to the Swiss newspaper Blick, "with the worry-lines disappeared from his face".
The 79-year-old was quoted by the newspaper as responding to a question over his long-term future by saying: "I have not resigned. I am making my mandate available at an extraordinary congress."
Talking about the museum, he added: "Only those who know the past can understand the present and shape the future. Or in other words: the ball is round – but only those who come from outer space know the actual dimensions of our sport … For me personally, the museum is a labour of love. But do not get me wrong: I'm not ready for the museum nor for a waxwork yet."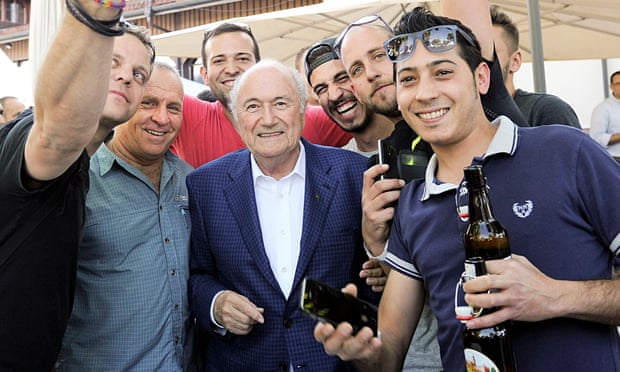 Speculation that Blatter could perform a remarkable U-turn on his decision was originally sparked by comments made to another Swiss paper, Schweiz am Sonntag, by the 74-year-old Zurich-based communications consultant Klaus Stöhlker.
Stöhlker acted as an advisor to Blatter throughout his low-key re-election campaign, when he was not supposed to draw on central Fifa resources, but his contract expired on 31 May. Fifa responded by stating that Stöhlker no longer has a mandate to speak for Blatter.
Scepticism from those hoping for reform is inevitable, since Blatter also promised in 2011 that his fourth term as president would be his last before changing his mind and declaring his "mission" unfinished.
Stöhlker had told the paper that Blatter had a "fair chance" of remaining in power, adding: "It's hard to find someone who is an equal. Blatter has built the organisation into a global, highly successful company – and he's a top diplomat."
–