The Minister of Food and Agriculture Dr. Owusu Afriyie Akoto has paid a courtesy call on the Paramount chief of the New Juaben traditional area, Daasebre Prof. Emeritus Oti Boateng as part of his tour to interact with various stakeholders in the Eastern Region.
The Minister reiterated the commitment of government to improve agriculture to enhance food security and job creation.
"Government is committed to providing the necessary support to make agriculture more attractive. We have come up with more innovative ways to encourage all to go into it. It is the more reason why I am here to seek your wise counsel in order to guide us," he said.
In his address, Daasebre Oti Boateng saw the need to mechanize agriculture in Ghana to optimize the efficiency and income status of smallholder farmers and make them globally competitive.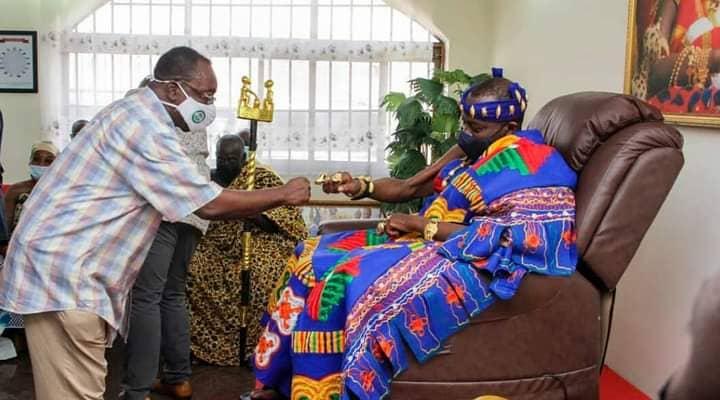 He presented to the Minister "Root-Based Model for sustainable development of Africa book" authored by himself through research which contains lessons that could excellently accomplish the overall agenda of the agriculture sector.
Daasebre Oti Boateng said "there is the need to pay close attention to land usage urging government to employ commitment and sincerity in re-thinking, a re-planning and a re-working of these lands, increase the capacities of the agricultural sector to be more productive, innovative and profitable".
Daasebre Oti Boateng said, Ghanaian farmers are hardworking but need support to be globally competitive to meet demands in the food supply chain sector to cut down imports.
Among the Delegation were the Eastern Regional Minister, Seth Acheampong and Isaac Appaw Gyasi, MCE for New Juaben South.