Adom Praiz is marking its 10th-anniversary celebration with 10 gospel stars.
In a sense, it is a sort of one star, one anniversary and a celebration of how one step at a time becomes 10 years in no time.
It began with a bang in 2009. Inspirational gospel songs swept over the packed audience – first gently when it was a worship song and forcefully with it was praises.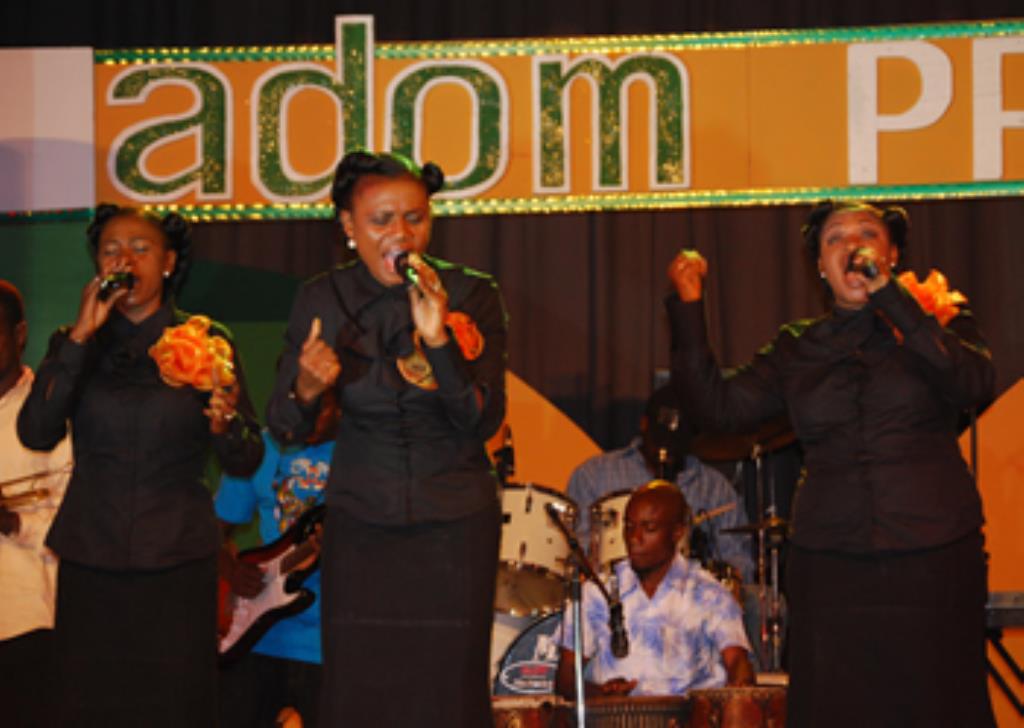 Photo: Daughters of Glorious Jesus performing at Adom Praiz 2009
All thanks to some 20 gospel artistes crammed on the bill that August 24, 2009, at the Accra International Conference Centre.
Since that first edition, many international gospel stars have graced the Adom Praiz stage. It is was not the norm back in the day to have international gospel artistes hop onto a flight and point to Ghana.
It was not.
But with remarkable regularity and production unintimidated by big names, Adom FM has pulled to Ghana, Ron Kenoly, Cece Winans, Israel Houghton, Kirk Franklin, The Brooklyn Tabernacle Choir and Hezekiah Walker.
And pulling down familiar artistes from the Northern hemisphere won't stop. But it has been paused. For 2019, there is no pulling down, there is only going back.
It is a pilgrimage, a holy return to the roots of Ghana gospel's biggest calendar event. To the Ghanaian artistes who have made this brand great and have themselves become great because of the brand.
A list which must include Daughters of Glorious Jesus whose songs have been preserved through time because God's word is timeless.
We must feature Cindy Thompson whose debut album in 1999 caught fire in Ghana that has not been doused because the Holy Spirit lit that fire.
We must pay homage to Prof. Kofi Abraham on the list because his songs pay such homage to God and our eternal need for him.
And we look back at the music works of Obaapa Christie, Kwaku Gyasi Francis Amo whose praises can bring back the psalmist's word that "God is fearful in our praises".
And look even further back in time to those of Yaw Agyeman Badu. Those days when a suit was a mini parachute but also those days when the likes of Rev. YABs showed in their songs a pure love for gospel untainted with irrelevant focus on Maslow's first hierarchy of needs – food.
Those were the days of authentic gospel songs which the likes of Joe Mettle have in our time worked to preserve by spurning a contemporariness around them.
And so yes- Joe Mettle is coming. Picking 10 gospel artistes out of many authentic names will always result in some injustice to some names. But gospel artistes are generally the people who don't really fret over recognition because they all sing to get only Jesus Christ recognised.
This is the line-up of artistes who are set to lead gospel lovers to the Adom Praiz pilgrimage on Friday night of September 6, 2019, at the Perez Dome in Dzorwulu in Accra.
A pilgrimage that will cost you a 60 cedis – far cheaper than a pilgrimage to Israel, the birth place of Jesus Christ.
DISCLAIMER: The Views, Comments, Opinions, Contributions and Statements made by Readers and Contributors on this platform do not necessarily represent the views or policy of Multimedia Group Limited.