Back in the early 1990s, an extraordinary programme exploded on late-night British TV: a hyper-coloured, hyperactive pick'n'mix of lo-fi transatlantic clips, featuring unconventional stars (weirdly catchy canine Filthy The Dog; Cuban crooner Margarita Pracatan; a naked 'Screaming Man'; a sparkling young RuPaul), all presented by hip hostess Laurie Pike (catchphrase: "Hel-lo!").
This was Manhattan Cable: a compilation series produced by Randy Barbato and long-standing creative partner Fenton Bailey, which drew from the unruly, outspoken world of US public-access TV – a broadcasting realm now described by Barbato as "YouTube before YouTube".
For a London teenaged viewer, raised on four terrestrial channels, Manhattan Cable felt incendiary: it could be wildly funny, excitingly risqué, and feverishly surreal, and it was the kind of show you'd rush to tell your friends about. Public-access TV would gain mainstream representation through catchphrase-strewn hits like Wayne's World (Mike Myers's comedy sketch based on smalltown teens with their own TV show, developed into a 1992 movie).
But for Bailey and Barbato – NYU Film students who'd settled in the city's East Village by the late-'80s – that era's public-access TV represented unbridled new possibilities: "The stuff was very anarchic, punk, DIY, breaking the rules… and even though it was super-cheap, it had passion, vision and originality," recalls British-born Bailey, who saw public-access TV as the counterpoint to the "extremely stiff, conservative nature" of the contemporary British mainstream.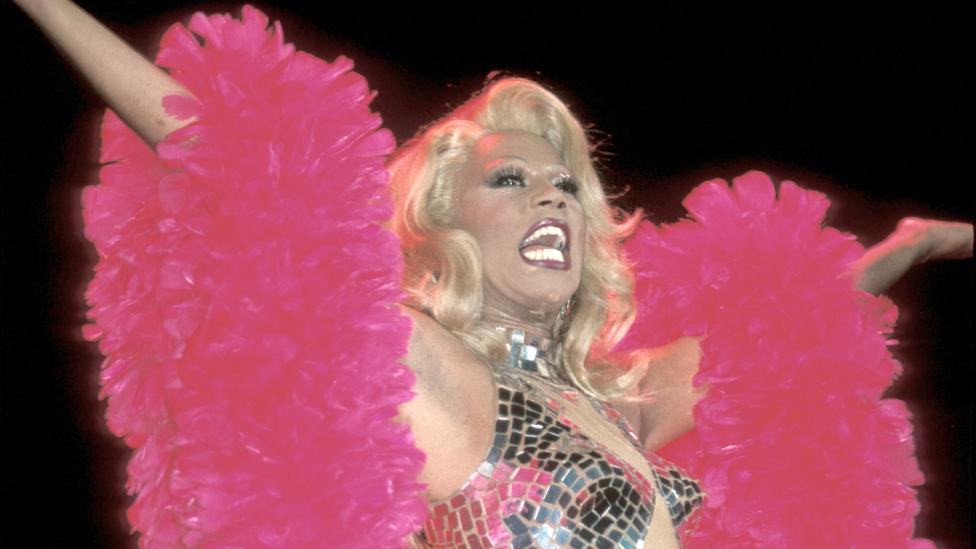 Barbato adds that the irrepressible energy showcased in Manhattan Cable really stemmed from its source: "In downtown New York, there was this incredible thriving 'ferment' of musicians, artists, independent filmmakers, all mashed up," he says. "Culture was coming together; uptown socialites had no problem coming downtown to see drag queens at the Pyramid Club [a legendary East Village drag venue, which was also where the duo would first meet RuPaul].
"We would watch public-access TV in the same way that we'd watch YouTube now; we were personally obsessed with it, and we realised that it had stars. The very best clips of Manhattan Cable were bite-sized 'viral videos'. No-one else was telling these stories on TV, and they were so interesting to us."
Primetime pioneers
In her book Public Access Television: America's Electronic Soapbox (1999), US academic Laura R Linder traces the "regulatory and philosophic" roots of the medium back to the 1967 US Public Broadcasting Act, and the Canadian National Film Board's social service organisation, Challenge For Change. Late-'60s portable videocam technology also became increasingly affordable and user-friendly, opening up DIY film opportunities.
Linder describes how, by the early '70s, public-access TV pioneers like George Stoney and Red Burns (founders of NYU's Alternate Media Centre) were even taking screenings out to viewers who didn't have cable service at home: "Stoney and Burns would set up viewings in vacant storefronts, community centres, apartment lobbies, and even in the back of Stoney's station wagon, so people could watch the programmes."
Stand-out public-access shows would reflect that heady, messy mash-up of art, music and activism; NYC's TV Party (1978-1982) was co-hosted by Glenn O'Brien and Blondie guitarist Chris Stein, and featured appearances from the likes of Jean-Michel Basquiat, Debbie Harry (of course), David Bowie and Klaus Nomi.
Atlanta production The American Music Show (TAMS), which ran for 25 years from its 1981 inception, would prove a launchpad for RuPaul – who describes TAMS producer Dick Richards as a mentor, and who can be seen in a mid-'80s clip from the show, marching against the Ku Klux Klan in Georgia, alongside drag queen Wanda Peek: street activism at its most fabulous.
Nowadays, RuPaul's mega-successful Drag Race series is the jewel in the crown at Bailey and Barbato's prolific World of Wonder (WOW) production house. "We knew that RuPaul had something special," says Bailey. "Not because we're geniuses, but because Ru knew. Ru was just a fully-formed star – even the version we saw in 1982 – and the rest of the world would have to catch up."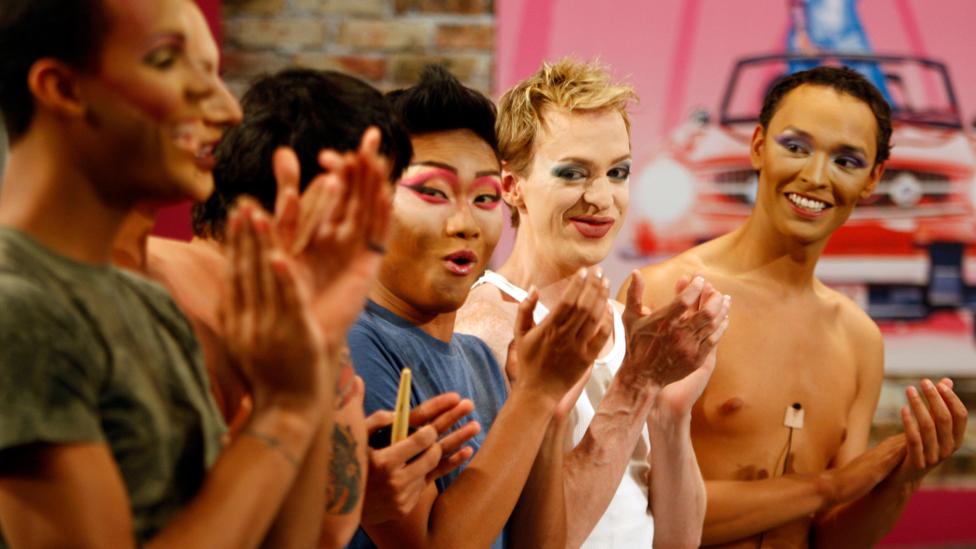 "The energy of Drag Race is the same – making something out of nothing, turning everything inside out. It's disrespectful, but in a celebratory way," says Barbato. "I do think that public-access TV was absolutely seminal: it spoke to a pent-up creative demand, and the idea that so many of us can be creators. Creative freedom is the great thing. Networks are always going to be hampered by commercial considerations. We're trying to build a world where we don't have to be constrained by that…"
Bailey and Barbato would continue to take that approach with WOW productions, including a contemporary array of independent docs on worldofwonder.net. Following Manhattan Cable, they also turned to public access-style Brit transmissions, including the offbeat live phone-in show Ring My Bell (1991, also hosted by Pike) and Takeover TV (1995), which featured fledgling broadcasters Adam Buxton and Graham Norton. Buxton would tell The Independent newspaper in 1995: "Public access will happen over here in five or 10 years, when people are completely comfortable with camcorders. It's just a different mentality in England."
Hyperlocal TV
The contrasting mindsets might be true, but Britain did already have a public access/community TV heritage, as documented by the London Community Video Archive, which has digitised programmes from the late 1960s onwards. LCVA co-founder, writer, filmmaker and academic Ed Webb-Ingall describes his fascination with these transmissions.
"I was trying to understand different forms of self-representation and image – and the origins, culturally and socially, as well as technologically," he says, pointing out that in the 1970s, various British regions – including the emerging 'new town' of Milton Keynes – had their own, hyperlocal cable TV networks. These often blended entertainment and social messages, as he explains: "They could use cable TV to communicate on a local community level, broadcasting public messages into people's homes."
The LCVA's collection of films is raw and resonant, offering perspectives rarely highlighted in mainstream programming, from immigrant experiences to portraits of black British youth, single mothers, and 'ordinary housewives' interviewed (one memorable black-and-white show, Things That Mother Never Told Us, opens with an impassioned folk serenade in '70s Milton Keynes).
The digital era has brought the possibility of a universal platform (albeit still a revenue-obsessed one); video-hosting site YouTube (created in 2005, and bought by Google for $1.65bn the following year) certainly seems to echo public-access TV spirit in its 'Broadcast Yourself' slogan. Webb-Ingall argues that there are inherent differences, too.
"People making public-access TV work knew their audience, and they spoke directly to them; these weren't the people being represented by the media," says Webb-Ingall. "They focused on the community, whereas YouTube isn't about the collective."
There are still exciting, subversive moments on social media, as he points out – including the teenage activist Feroza Aziz, who created a TikTok clip masquerading as a make-up demo, which actually protested about the oppression of China's Uighur Muslims.
Culture jamming
"There's an interesting line to follow with the politics of surveillance – and turning the camera back on to the state," says Webb-Ingall. "There's still some interesting 'culture jamming' going on under the radar…" 'Culture jamming' might also be applied to the prolific work of British multimedia artist Michael Barnes-Wynters, whose latest project Take Back Control is inspired by public-access TV, among a plethora of personal influences spanning proud Jamaican heritage to post-punk and club culture movements.
Barnes-Wynters recalls his first glimpse of public access TV, brought back on VHS tapes from NYC by his then housemate in Bristol. "Peering into TV Party's B&W, wonky, experimental and anarchic world of creativity across from the Pond was not only a revelation but an inspiration," he says. "Seeing others – Jean-Michel Basquiat, Fab Five Freddy – who not only looked like me, but were creatively exploring/ experimenting with a medium – broadcasting – which seemed to be out of our reach was my catalyst to go and explore how can we share our world here in the UK."
Barnes-Wynters threw himself into Britain's febrile, DIY-driven pirate radio scene, before moving into televisual forms. "This broadcasting 'access' proved there were many of us worldwide creating new visions, musical forms, spoken word and also speaking politically from the same page," he says. He took inspiration from Basquiat and Keith Haring's vivacious energies to launch his own creative vehicle, Doodlebug, in 1991 (which extended to a YouTube channel in 2006), and has also presented programmes with Manchester's Contact Theatre.
"Autonomy is key, and like TV Party, Doodlebug was a 'lab' to explore provocations whilst embracing magic moments and failures," says Barnes-Wynters. He originally developed Take Back Control as a live TV "modular lab" for The Lowry gallery in Salford, and has now taken it online, with a call for open submissions from DIY filmmakers.
"Take Back Control is a 72-hour (pilot) 'cult transmission' unleashing future grassroot gems as it wrestles deep into an AV realm of sublime mind food, nourishing provocations and era-defining soundtrack, courtesy of its stream of radical whispers, soiled pictures, fuzzed-out airwaves, sparky meaningful conversations and public interventions."
According to Barbato, "in a multi-channel universe, if you don't like what you see immediately, then you turn to something else." And in a multi-channel universe, there is always something strong enough to cut through the white noise – unpredictable, irrepressible bursts of creativity first pioneered by public-access TV.