Daily Graphic
*Intra-Continental Trade: Africa takes major leap, AfCTA secretariat opens.
*Let's end 'monecracy' in party politics – Speaker.
*I've opted out of December elections – Dr Edward Mahama.
*Graphic, political parties deepen engagement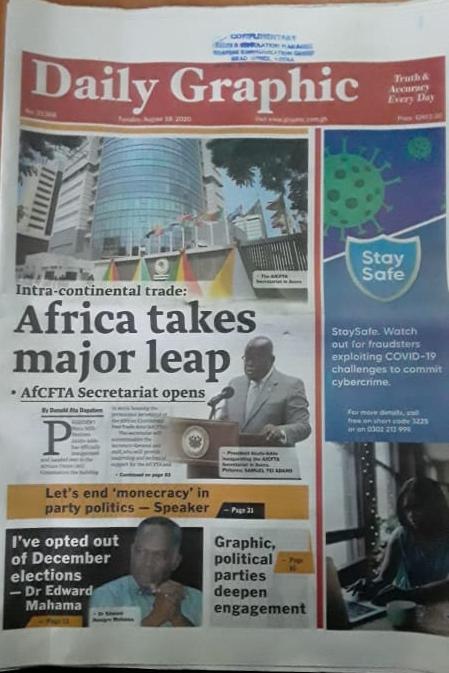 Daily Guide
*Nana opens Africa Trade Secretariat.
*'How Bede's balls were squeezed': Rawlings fires Ahwoi.
*'Witch' torture video emerges.
*Okyenhene 'fights' New Juabenhene.
*Free food for JHS candidates, teachers.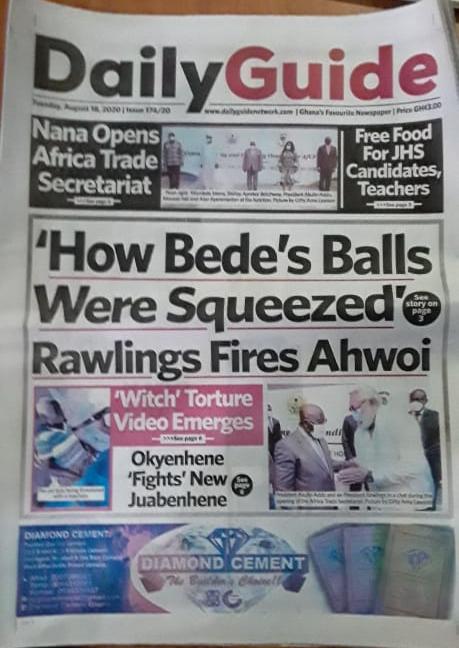 Daily Heritage
*Stop consumption policies: Invest in key sectors of economy – Mahama jabs Akufo-Addo.
*Give us our money – School of Hygiene students storm Ministry of Sanitation over unpaid allowances.
*Stop TDC from selling Tema Greenbelt lands – Concerned citizens of Tema to Tema but TDC parries allegations.
*I've lost over GHc30M to Covid 19 – Sawmill business operator.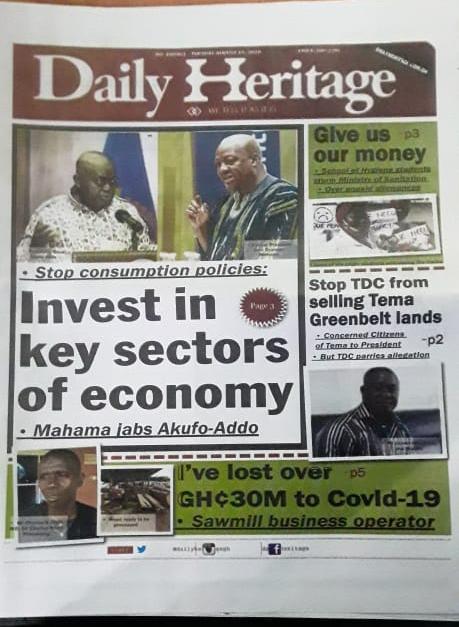 The Finder
*President commends EC for successful compilation of voters' register.
*Zipline delivers 3,000 Covid 19 samples, lauded for efforts in combating the pandemic.
*Ashanti Region now hotspot for road fatalities in Ghana – NRSA.
*President hands over AfCFTA secretariat to AU – Catalyst to boost trade to lift over 30m Africans out of extreme poverty.
*Covid 19: Ghana's death toll rises to 239, with 1,847 active cases.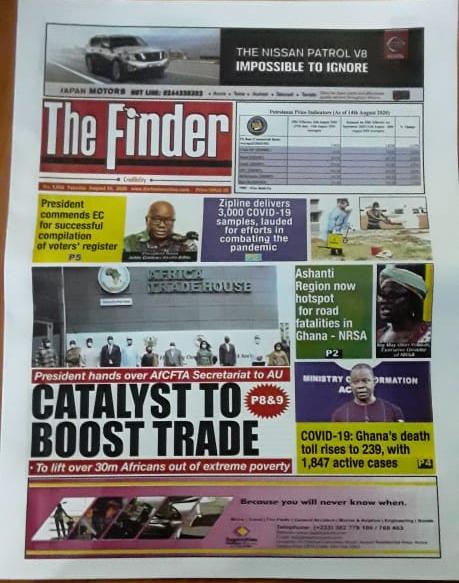 The Daily Statesman
*Akufo-Addo begins Western Region tour today.
*Bawumia accounts on gov't infrastructure projects tonight.
*Historic push for Africa's unity – Continental free trade set in motion in Ghana by President Akufo Addo.
*Rawlings drops bombshell – Says Ahwoi will John and Jane after 2020.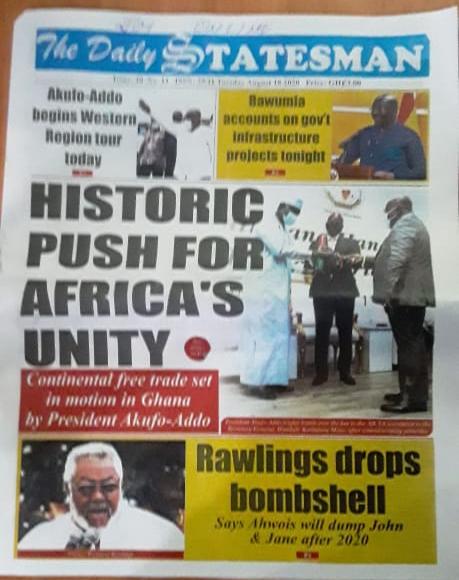 Business & Financial Times
*Africa is open for business as President hands over AfCFTA secretariat.
*JRFE calls on gov't to end Saiko now.
*Increase taxes to fund youth programmes – CDD's Afrobarometer report.
*Creating credit opportunities for rural farmers.
*Farmers want cocoa price increased to GHc700 per bag.