Kyiv's residents have bunkered down in metro stations for the night as Vladimir Putin unleashed a night of bombing on the Ukrainian capital.
Terrified families – including small children – sheltered underground in scenes reminiscent of the London Blitz in the 1940s.
Russia began a "full-scale" invasion of Ukraine in the early hours of Thursday morning, with residents in Kyiv ordered into bomb shelters and put under a strict curfew in an effort to limit casualties.
President Volodymyr Zelenskyy said confirmed the Russian assault began again at 4am local time.
The Ukrainian foreign minister, Dmytro Kuleba, said in a tweet just before 4am on that "horrific rocket strikes" hit Kyiv in an attack he compared to the city's 1941 shelling by Nazi Germany.
"Last time our capital experienced anything like this was in 1941 when it was attacked by Nazi Germany," he said.
"Ukraine defeated that evil and will defeat this one. Stop Putin. Isolate Russia. Sever all ties. Kick Russia out of (everywhere)."
During the first day of fighting, 137 Ukrainians were confirmed to have been killed.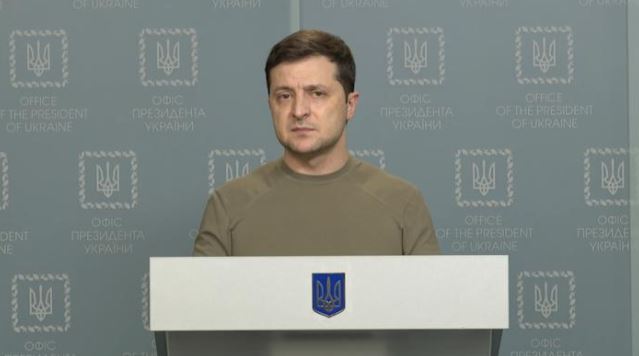 UK defence secretary Ben Wallace has said the estimated number of Russians killed so far is 450.
The Chernobyl nuclear exclusion zone was taken by Putin's forces after an intense fight over the area, the Ukrainian government said.
The Chernobyl plant is the site of the world's worst nuclear disaster, which took place in 1986 after one of its reactors exploded.
The plant sits on the border with Belarus and is directly north of Kyiv.
Russia has faced fierce opposition from the Ukrainian forces, with the UK's Ministry of Defence (MoD) said it is "unlikely" Russia achieved its planned objectives for the first day of its military.
The MoD said in a statement just after 1am: "The Ukrainian Armed Forces have reportedly halted Russia's advance towards Chernihiv. Fighting probably continues on the outskirts of the city.
"It is unlikely that Russia has achieved its planned Day 1 military objectives. Ukrainian forces have presented fierce resistance across all axes of Russia's advance."
In an address to the Ukrainian people on Thursday night, Zelenskyy shot down rumours he had fled the city with his wife Oleana and their two children Aleksandra, 17, and Kiril, nine.
Speaking in an olive green t-shirt, he said: "I know that a lot of misinformation and rumors are being spread now,' he said.
"In particular, it is claimed that I have left Kyiv.
"I remain in the capital, I am staying with my people,"
He added he will not be revealing the location of his family and said: "My family is not a traitor, but a citizen of Ukraine.
"According to our information, the enemy marked me as the number one target.
"My family is the number two goal.
"They want to destroy Ukraine politically by destroying the Head of State."