Twenty volunteers from Mfantseman Municipal, Ajumako/Enyan/Essiam and Gomoa West Districts have been trained to act as Support Champions to promote equal rights for women and girls with disabilities dubbed the PERD project.
Women In Need (WIN) is a women and girls'-based organisation that runs projects and activities geared towards the total welfare of women and girls.
The PERD project is an initiative that the organisation is using to reach out to women and girls living with disabilities (WGDs) in the Central Region of Ghana.
One of the objectives of the project is to contribute towards the protection of fundamental human rights, particularly, sexual and gender-based violence against women and girls with disabilities in Ghana.
 The organisation's strategy to deal with the challenge is to build the capacity of volunteers from the three municipal and district assemblies to serve as support champions to assist the project team.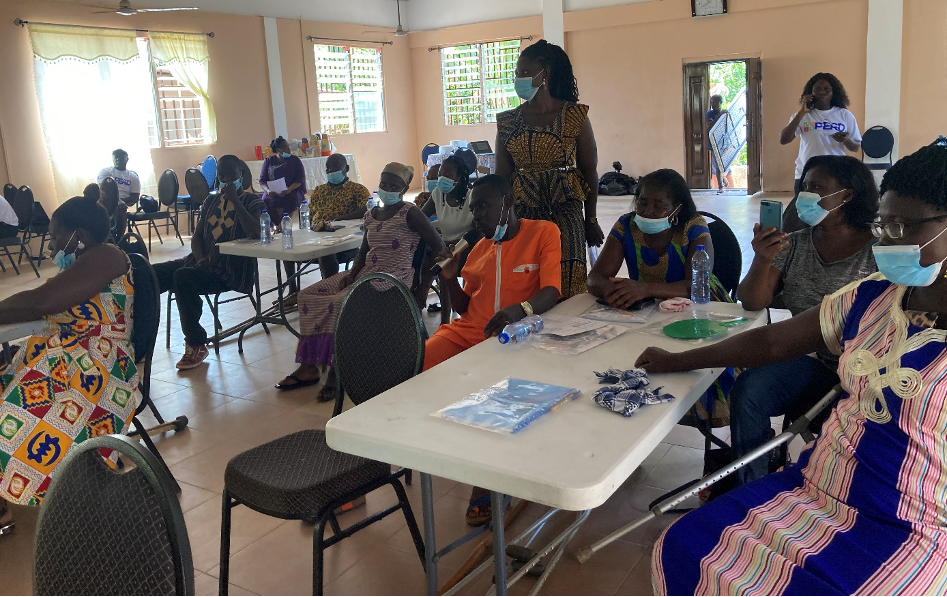 The Executive Director of Women In Need, Susie Arku, addressed the trainees after the program. She encouraged and admonished all women and girls with disabilities to fully embrace their capabilities and make the most out of the situations in which they find themselves.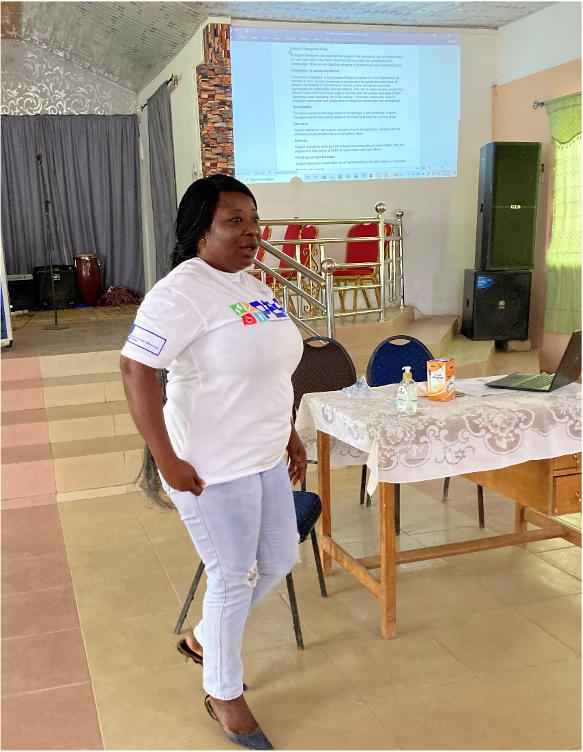 She charged them, "the task ahead is not something easy. You will encounter challenges, some may even come from people you want to help or your colleagues, but you must not give up because we all want to build a community and a country where the rights of women and girls with disabilities, and even all PWDs, are respected".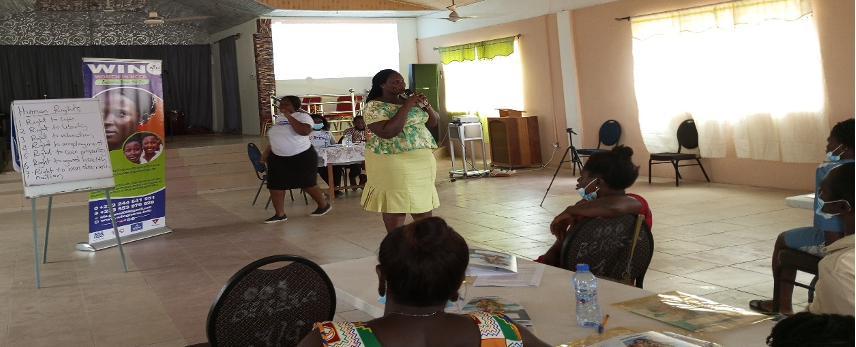 Gender Desk Officer for Gomoa West, Sophia Graham, gave some introduction to International Women's Day and how the day came about as the 8th of March every year has been set aside as IWD.
She said, "We must all come together and add our voices in any small way we can by breaking biases that have existed for a long time and have become barriers to women attaining their full potential in all aspects of their lives."
Alex Afful of the Commission on Human Rights and Administrative Justice (CHRAJ) office in Ajumako educated the trainees on human rights and the rights of persons with disabilities.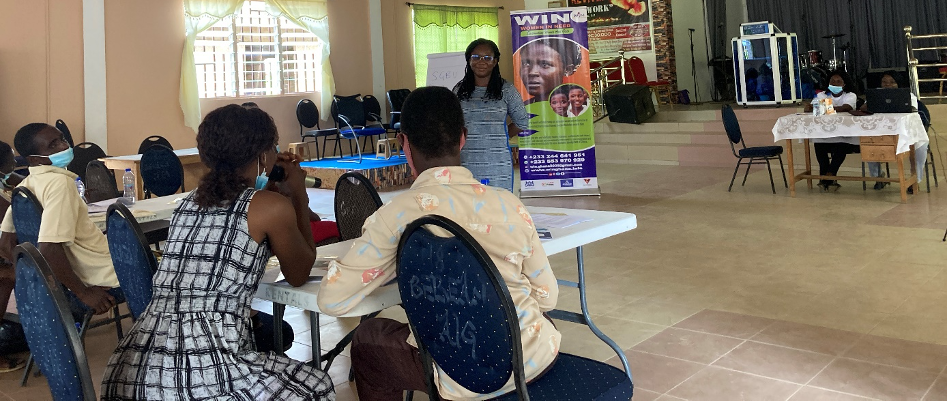 "Every human being is entitled to rights, no matter the race, colour, ethnic group or religious affiliation and same goes for women and girls with disabilities. You need to be aware of the rights you are entitled to so that no one can infringe on them," he stated.
A detective from the DOVVSU office in Ajumako/Enyan/Essiam District, Vivian Afful, explained that cultural and society has made it difficult to fight against SGBV because offenders who may be family or close relations are shielded.
She emphatically stated, "find and preserve evidence of the incident, things that will prove that there was an abuse or violence so that the offender can be prosecuted, go to the nearest police post immediately and report the incident as it has happened."
She concluded by saying parents have an important role in assisting in preventing sexual and gender-based violence (SGBV). She further charged trainees to be bold when it comes to reporting cases of SGBV and seeking for the right thing to be done.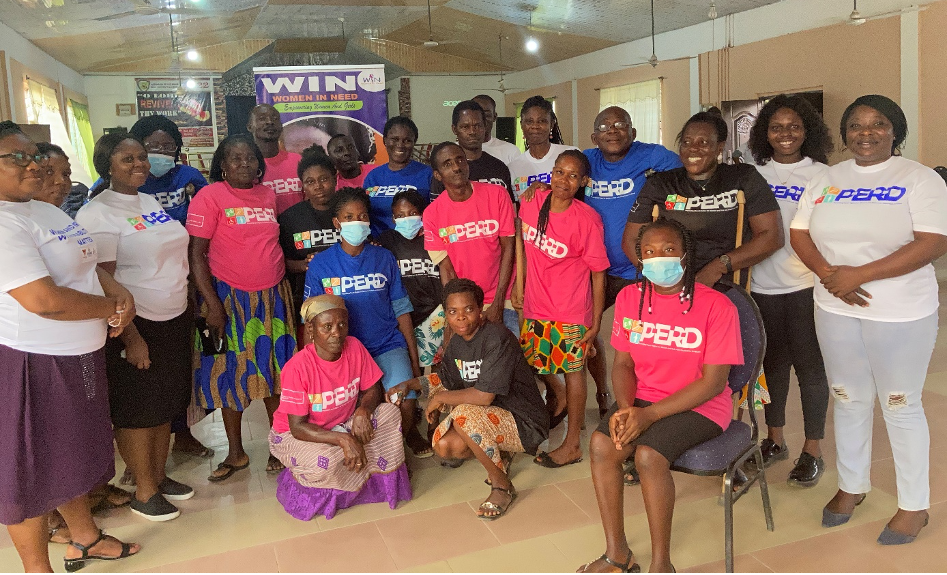 She noted that accepting money from offenders to cover up such cases only empowers others to commit more of such atrocities against women and girls with disabilities.
Head of the Department of Social Welfare, Mfantseman Municipal Assembly, Madam Abena Serwaa Opare, spoke on Women's Economic Empowerment. She charged the women to get some source of income so that they could be economically independent.
She elaborated on how participants can be change facilitators in their community, their areas of work, and the qualities of a community volunteer working for change.
Women In Need (WIN) is collaborating with Planned Parenthood Association of Ghana and the Africa Centre for Human Rights & Sustainable Development (AfCHuRSD), in implementing the same project in the Ashanti Region and the Northern part of Ghana, respectively.
The project is being funded by the Dutch Embassy in Ghana and, as part of the project strategies, selected persons with disabilities are trained as PERD Support Champions to promote women and girl-child rights and fight against sexual and gender-based violence.
The Promoting Equal Rights for Women and Girls with Disabilities Project (PERD) aims at promoting the fundamental human rights of WGDs, particularly the rights to employment and protection from sexual gender-based violence (SGBV) in Ghana.
DISCLAIMER: The Views, Comments, Opinions, Contributions and Statements made by Readers and Contributors on this platform do not necessarily represent the views or policy of Multimedia Group Limited.