Twenty-twenty is the year of staying at home and working from the dining table/couch/bed and your back is probably paying the price.
If it isn't yet, it's only a matter of time.
Either way, investing in a standing desk is the best way to help ensure you're working in a sustainable and healthy manner, without punishing your body in the process.
We've rounded up a selection of some of the best standing desks money can buy, to help make your decision a little bit easier.
Why do I need a standing desk?
If you spend multiple hours a day sitting in front of a screen, it's all too easy to slump over into bad-posture territory.
This can lead to stiffness, tightness and pain and, in extreme cases, you might even find yourself with more serious problems like bulging discs.
Standing desks help, because they encourage better posture while keeping your legs and core engaged throughout the day.
Not only that, but they can help keep you focused too, with less chance of napping on the job.
Should I stand all day?
It might make you feel tougher, but the best advice is to alternate between sitting and standing, to help avoid the negative effects associated with either.
Our bodies are designed for both and staying in any one position for too long isn't ideal. Switch around as you see fit and you'll reap the rewards.
Just remember to check with a doctor if you have any injuries or underlying problems that might be worth considering before buying one and you'll be golden.
What is the best standing desk to buy?
Here are a few options that should have you standing taller during your home-bound nine-to-five…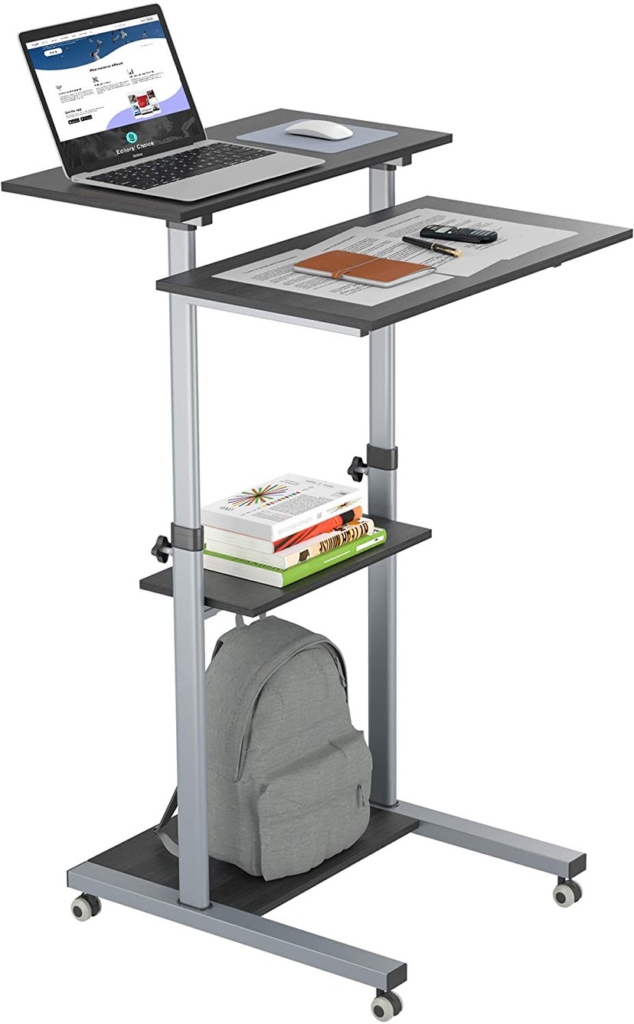 Bontec Mobile Workstation
This mobile workstation won't break the bank or take up much room. Sturdy enough for a laptop and peripherals, it can be wheeled around easily without dominating the room.
A choice worth considering, unless you've got a huge and heavy gaming PC/monitor setup to contend with.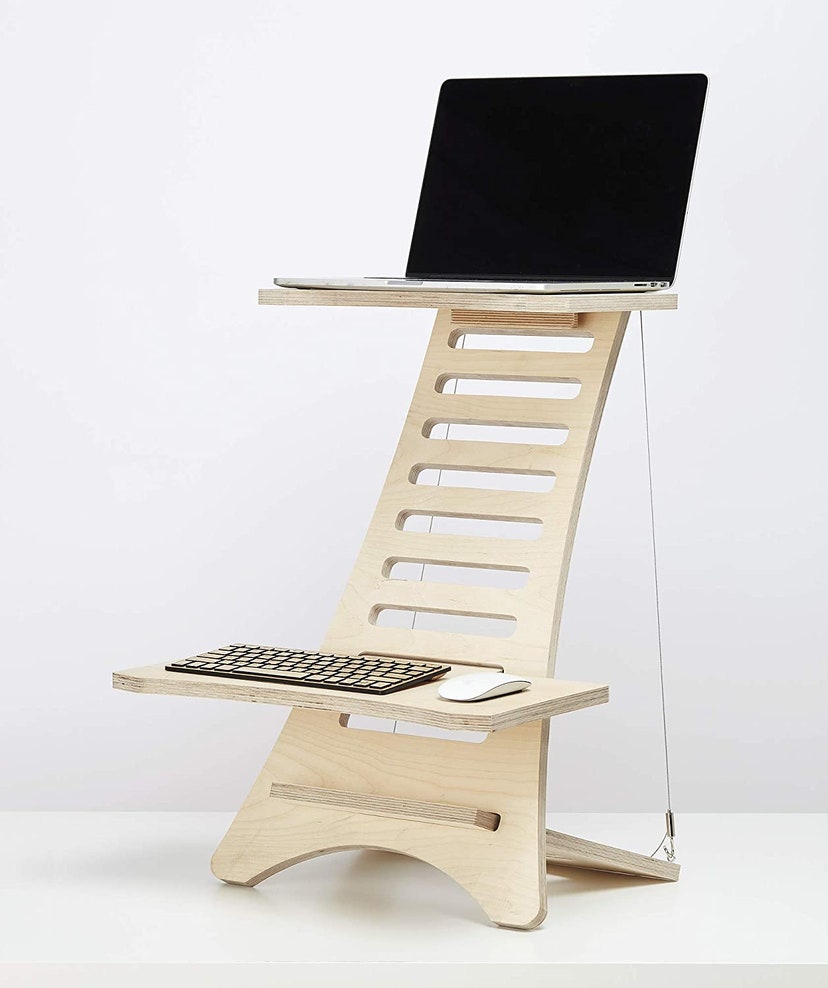 Sit Stand Workstation
This aptly named product features a very attractive naked wood finish, complete with metal support wires.
Assembled in seconds, it folds away in an instant and blends utilitarian style with practical functionality.
It won't hold anything heavier than a laptop, mind, but if that's all you need, this could be the perfect solution for your Scandi study.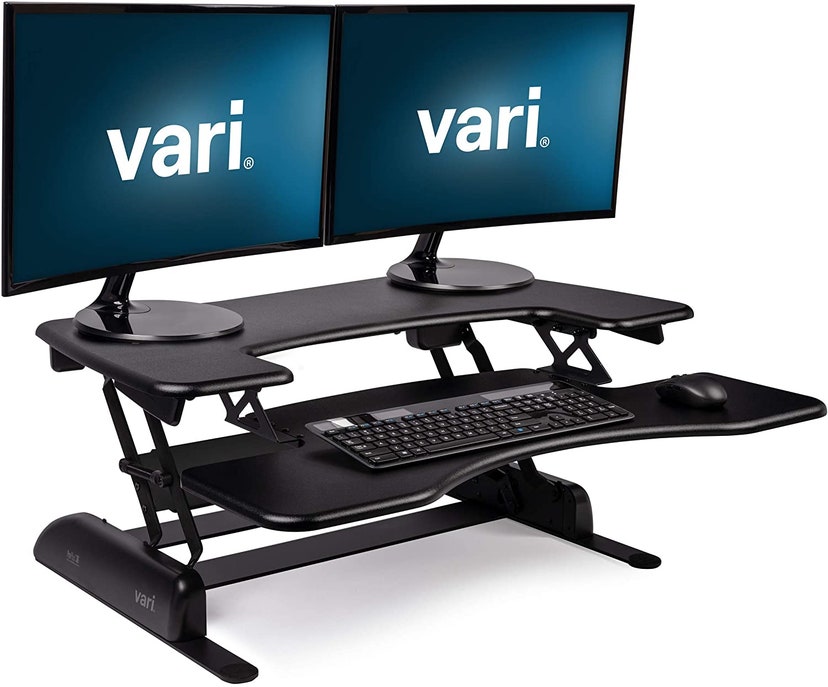 VariDesk Pro Plus 36
The Pro Plus 36 is a desktop unit that can transform any flat surface into a standing desk, thanks to its weighty base and spring-loaded mechanism.
With space for two monitors and the ability to move locations, it's one of the more flexible offerings here, although its style might not fit in with an ultra-minimal office.
Fellowes Lotus Sit Stand Workstation
This minimalist solution from Fellowes sits flush on your desk when sitting and can be easily lifted up to a standing position when required.
With 22 different height adjustments, it also supports dual monitors despite its svelte frame, making it a solid choice for multi-monitor multitaskers.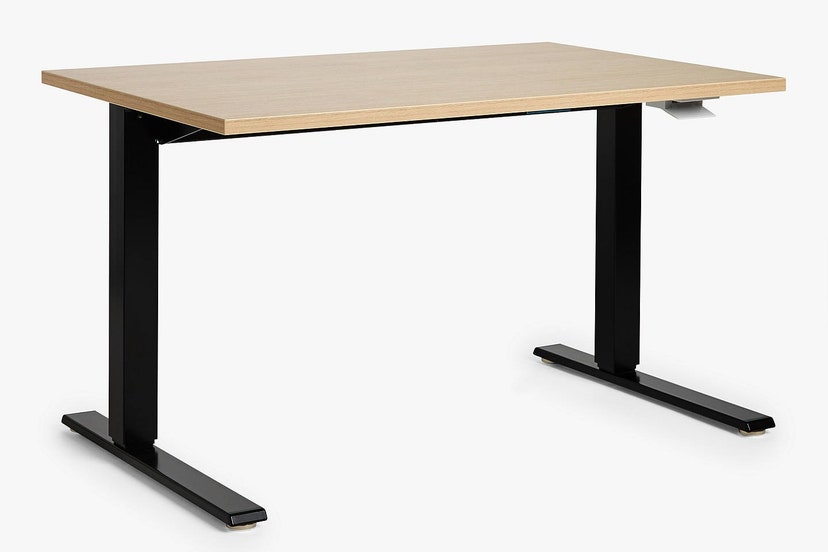 Humanscale Float height adjustable desk
This desk from Humanscale keeps things simple with a built-in counterbalance mechanism that lets you effortlessly raise and lower the desk with one hand.
It's a little pricey for an electric and motor-free option, but it's beautifully well made and will continue to work in the inevitable post-apocalyptic future when the power stations have been overrun by wildlife and weeds.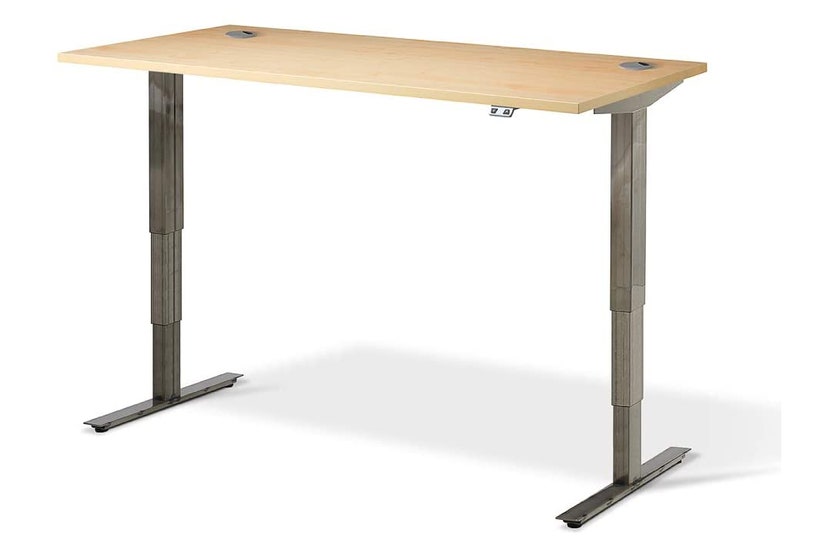 FLYTTA 2 Height Adjustable Electric Standing Desk
This electric-powered desk uses powerful dual motors to lift up to 120kg at the touch of a button, while looking smart in the process.
If you're sharing desks then its ability to store up to four different heights in its internal memory will be a godsend for short and tall cohabiters alike.